Member profile: Janice Broda
A member since 2014, Janice Broda has regularly attended Florida Wildflower Foundation symposiums, field trips and webinars. Exceptionally active in her community, she has served on the board of directors of the Indian River Mosquito Control District for nearly 30 years and is a founding member of her Florida Native Plant Society (FNPS) chapter. Janice currently coordinates the Volunteer Nature Stewardship Program for the Florida Medical Entomology Laboratory.
Join Janice Broda in supporting the Foundation by becoming a member or making a one-time donation to support our work.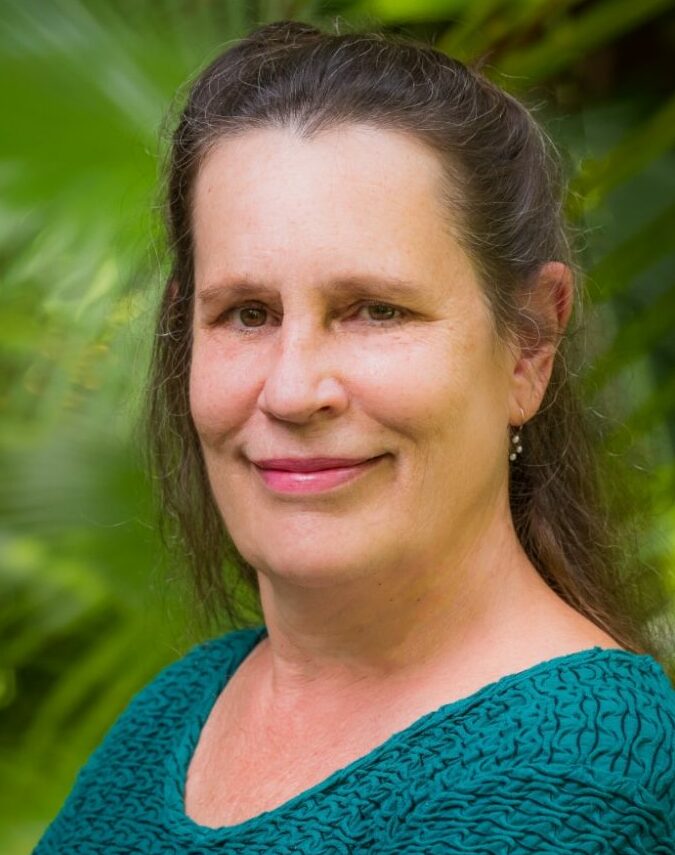 Tell us a little about yourself. You have a long track record of public service and have been a leader with Florida Native Plant Society for many years.
Florida captivated me. In 1997, I came to New College in Sarasota to study economics and psychology. I left for a year and a half to get a master's degree in economics and gladly returned to the state that I had grown to love and transformed my focus. My hobby became exploring and learning about Florida's rich natural environment. I was a founding member of the FNPS Eugenia Chapter, which serves Indian River County, and its chapter representative on FNPS board of directors for many years. I served on the FNPS state board for many years, first as secretary and ultimately as president from 1996 to 1998.
In 1991, my hobby and volunteer activities "paid off," and I began to work at the Florida Medical Entomology Laboratory, University of Florida, a research center devoted to the study of arthropods of medical significance. Since 2017, I have coordinated its Volunteer Nature Stewardship Program for the adjacent Oslo Riverfront Conservation Area.
In 1992, I was first elected to the board of directors of the Indian River Mosquito Control District (IRMCD) and have continued to be re-elected every 4 years since. I am proud to be part of an organization that protects public health, focuses on water control measures for mosquito control, safeguards the health of the Indian River Lagoon, and implements measures to protect honeybees and pollinators. From 1994 to 2010, I represented the IRMCD on the Indian River County Land Acquisition Advisory Committee, often as its chair.
Volunteer service brings me great joy, and I always learn lots. Right now, I am the secretary/program chair for the Eugenia Chapter and a member of the Landscape Committee of the Environmental Learning Center, which made a commitment to an all-native landscape when it was founded in 1988, a commitment that it recently re-affirmed.
So many people generously have shared their knowledge with me, mentored me and helped me. Never can I thank them enough. Never can I give back enough.
How did you first get involved with the Florida Wildflower Foundation and why do you stay involved?
Getting involved with the Florida Wildflower Foundation was a natural progression from my activities with FNPS. Wildflowers are a wonderful way to help people to connect with nature. The educational activities of the Foundation – symposiums, field trips, publications, and, more recently, virtual events – have expanded my knowledge and delighted me.
What do you wish everyone knew about Florida's wildflowers? Why should people care about them?
I wish that everyone understood that Florida's wildflowers have flourished for centuries but are in peril of being lost forever to overzealous and thoughtless development. People should care about Florida's wildflowers because they bring beauty and joy to our lives, and because they are significant part of the web of life that sustains us – the pollinators that we need, the birds that feed upon their seeds and other complex interactions that we do not understand.
Is there a moment you recall that first sparked your interest in the outdoors, specifically native flora?
I was fortunate to grow up in Mountainside, N.J., adjacent to the Watchung Reservation, at a time when children were encouraged to explore nature unfettered and unsupervised. My early memories of playing the "woods," of building a tree fort, and of playing in the gully (for which I was admonished and learned to do early enough so that I did not return home soggy) formed my interest in the outdoors. Back then I did not know that I was reveling in our native flora.
Plus, I was lucky to live next door to my paternal grandmother, who was an avid gardener of vegetables and flowers, and to neighbors Ruth and Dutch Christoffers, who, when I was young and the weather allowed, could be found each evening in their fabulous rock garden weeding, with a scotch or bourbon nearby. I enjoyed helping out in small ways with their award-winning chrysanthemums and watched them turn their hobby and passion into a part-time bouquet-a-week enterprise that became a stunningly successful floral business.
The singular beauty of Florida captured me during my college years on Sarasota Bay and changed my life.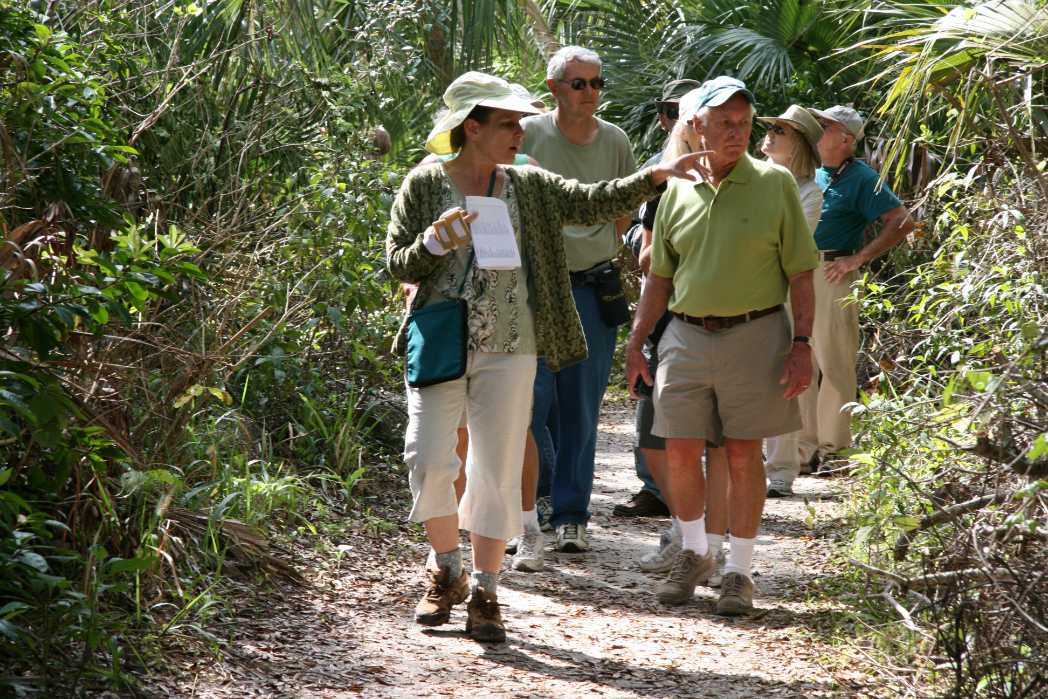 Is there a favorite area in Florida where you like to spend time in nature and enjoy wildflowers?
My favorite place is the Oslo Riverfront Conservation Area, the first natural area purchased for preservation and public enjoyment in Indian River County. This 440-acre preserve is nestled between the Indian River Lagoon and the Florida Medical Entomology Laboratory. It includes mesic and xeric hammock, scrubby pine flatwoods, mangrove forest, and even a smidge of freshwater wetlands. The resilience of nature is extraordinary, and seeing how this natural area has recovered from the back-to-back hurricanes Frances and Jeanne in 2004 is inspirational.
Do you have natives growing in your yard? If so, what do you have?
Native plants do best in our coastal yard where, on very windy occasions, even Dune sunflower (Helianthus debilis) is scalded by salty conditions. Our plant palette comes from what grows naturally and includes Bushy seaside oxeye (Borrichia frutescens), Gumbo limbo (Bursera simaruba), Baybean (Canavalia rosea), Florida fiddlewood (Citharexylum spinosum), Cocoplum (Chrysobalanus icaco), Seagrape (Coccoloba uvifera), Varnishleaf (Dodonaea viscosa), Beach creeper (Ernodea littoralis), Coralbean (Erythrina herbacea), Mangrove spider lily (Hymenocallis latifolia), Narrowleaf yellowtop (Flaveria linearis), Railroad vine (Ipomoea pes-caprae), Seacoast marshelder (Iva imbricata), Buttonsage (Lantana involucrata), Corkystem passionflower (Passiflora suberosa), Jamaican capertree (Quadrella jamaicensis), White indigoberry (Randia aculeata), Rougeplant (Rivina humilis), Cabbage palm (Sabal palmetto), Blue porterweed (Stachytarpheta jamaicensis) and Spanish bayonet (Yucca aloifolia). Welcome volunteers include Coastal searocket (Cakile lanceolata), Bayleaf capertree (Cynophalla flexuosa), Devil's potato (Echites umbellatus), Scorpionstail (Heliotropium angiospermum) and Juba's bush (Iresine diffusa). Over time in protected locations, I have been able to add Beautyberry (Callicarpa americana), Florida swampprivet (Forestiera segregata), Blolly (Guapira discolor), Wild coffee (Psychotria nervosa) and Paradisetree (Simarouba glauca).
What has been your greatest wildflower/landscape success? What challenges have you experienced in your landscape?
My greatest wildflower/landscape success has been our yard. Planting in sandy soil with salt spray and significant winds has strengthened my love of native plants and wildflowers. In the early and very open years, many, many plants have gone to glory. Now, 20 years later in protected microclimates, I can re-introduce plants like Beautyberry that failed in the early years.
Do you have any words of wisdom to share with new gardeners?
Think big. Start small. Be patient. Discover what succeeds in your landscape and build on your successes.Site preparation is critical! Do all that you can to vanquish weeds before you plant.
What do you like most about native wildflowers? Do you have a favorite?
Wildflowers are wonderous. They have flourished for centuries and continue to flourish without human help – supplemental irrigation, fertilizers and pesticides. Wildflowers show us how we can work with nature to beautify and enrich our world.
My favorite wildflower is Seaside gentian (Eustoma exaltatum). Purple is my favorite color and it contrasts stunningly with the silver-blue foliage.
What is the greatest challenge facing Florida's environment?
Florida faces so many environmental challenges, but the biggest challenge is to teach people to understand that their actions have consequences and what they do in their yards and their lives really matters.
What message would you like to share with others about the importance of Florida's native environment?
The silver lining in the COVID-19 virus storm cloud, I hope, is that more people will come to realize that humans are not separate and apart from nature but are part of the web of Life. Whatever we do to benefit Florida's environment directly and indirectly helps us.
Do you have any suggestions for the Florida Wildflower Foundation to help spread the word about wildflower appreciation or conservation?
Keep up the good work!
Meet more of our members
Get to know Florida Wildflower Foundation member Gail Taylor. She is an active State Wildflower license tag member, a member of the Foundation's Education Committee, and has volunteered at previous Florida Wildflower symposia.
Get to know Florida Wildflower Foundation member Jeff Weber. Jeff is dedicated to protecting and restoring Florida's natural ecology in his free time and in his as an environmental specialist with Sarasota County Parks.
As a Florida Wildflower Foundation board member, David Price brings deep knowledge accumulated over a diverse horticultural career.