Meet board member David Price
David Price brings to the Florida Wildflower Foundation board of directors knowledge accumulated over his diverse horticultural career. He was director of horticulture at Bok Tower Gardens in Lake Wales for 20 years and has been president for 11 years. He has served on many national and local public garden and conservation boards.
A National Historic Landmark, Bok Tower Gardens celebrates its 90th anniversary in 2019. Located on one of the highest points on the Lake Wales Ridge, the Frederick Law Olmsted-designed gardens surround Bok Tower. The 208-foot tower of coquina and carved pink marble is adorned with art deco sculpture of native plants and animals. One of the world's finest carillons is housed in the tower. Bok Tower Gardens has been affiliated for more than 30 years with the Center for Plant Conservation, which works to preserve Florida's rare plant species. Surrounding the tower are more than 670 acres of gardens and preserve and agricultural lands.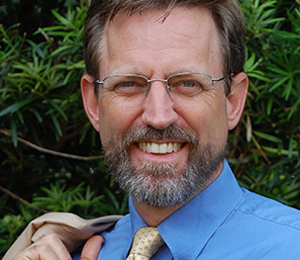 Bok Tower Gardens was designed by Olmsted, pioneer of naturalistic landscaping. What do you think it would have been like to have been part of his crew in Central Florida in 1923?
Olmsted got his inspiration from walking in the different ecosystems to see how plants grew and harmonized in nature. His style of working with his staff was a Socratic method where he encouraged debate and ideas as his crew walked through the places such as Highlands Hammock State Park to envision new landscapes. It would have been a stimulating and creative hike. Olmsted liked to climb on top of old barns or high trees to get the perspective of the place. He would have loved having a drone.
Bok's Endangered Plant Garden introduces visitors to rare Florida plants. Can you describe some of the current or past projects involving wildflowers?
We are studying many aspects of rare plant endemism. Areas such as pollinators, seed dispersal, genetic diversity, field surveys and clonal reproduction are important to saving these species. We have brought Ziziphus celata (Florida jujube) back from the brink of extinction, as the plant was not producing seeds in the wild. We were able to produce Ziziphus seed in our nursery through cross-pollination. These plants were introduced into the wild in known ranges and have produced seed.
The Pine Ridge Nature Trail at Bok winds through Longleaf pine/Turkey oak habitat, which is maintained with periodic burning. What special wildflower populations thrive there?
The Pine Ridge Preserve is part intact high pine savanna with a full complement of native grasses and wildflowers, including Blazing star (Liatris spp.), Lopsided Indiangrass (Sorghastrum secundum), Manyflower beardtongue (Penstemon multiflorus), Florida paintbrush
(Carphephorus corymbosus), and Partridge pea (Chamaecrista fasciculata). We have had a prescribed burn program on this land since 1988.
You are currently president and a founding member of the Green Horizon Land Trust. Do you have a favorite or unique area that has been protected?
The trust was created in 1991 to preserve environmentally important land around the Central Florida Ridge in Polk, Osceola, Highlands and Citrus counties. Donations, purchases and conservation easements have placed almost 6,000 acres into conservation.
We have saved a diversity of habitat, but I am most proud of saving high-quality scrub habitat lands. We were also able to preserve about 278 acres of old citrus grove that Bok Tower Garden has planted in Longleaf pine.
Can you recommend any public trails for wildflower viewing?
My favorite trail to hike is the Bluff Trail at Tiger Creek Preserve. Bok Tower Gardens led the effort to preserve Tiger Creek — first by Edward Bok in the 1920s, then by Bok Director Ken Morrison in the 1970s. Eventually, we turned the land over to The Nature Conservancy, which has expanded the property to over 5,000 acres.
Public gardens are important educational pathways for Florida's families and visitors. What do you think the challenges are in featuring wildflowers at public gardens?
Wildflowers can look messy as they fade. Gardening care must be given to keep things aesthetically pleasing without looking artificial. Burning is a great tool for this.
Which of the Florida Wildflower Foundation's program areas — planting/conservation, education and research — interest you the most?
I believe all of the areas are so important. It is like a three-legged stool — ignore one and you tip over.
You have an artistic side that captures the beauty of nature. What are you working on now?
The current piece I am sculpting has high pine savanna plants and leaf litter around its base. The subject is a large gopher tortoise surrounded by many of the commensal species of the burrow.