Member profile: Jeff Weber
Florida Wildflower Foundation member Jeff Weber works as an environmental specialist for Sarasota County Parks, Recreation and Natural Resources. He has been a dedicated participant in Foundation events and field trips since 2016. Always going that extra mile to bring enthusiasm to whatever he does, Jeff is the current reigning champion of the 2019 Ugly Christmas Sweater Contest held at the Foundation's annual Christmas tree cutting field trip in Ocala National Forest.
Join Jeff Weber in supporting the Foundation by becoming a member or making a one-time donation to support our work.
Tell us about yourself. What is your background?
I was born in Olean, N.Y., but have lived in Florida since I was 8 years old. I graduated from Seminole High School in Pinellas County and attended Eckerd College in St. Petersburg, where I earned a bachelor's degree in biology. I started my career with the Florida Park Service in 1985, working as a state park ranger at various Central Florida parks, including Gamble Plantation State Historic Site in Ellenton, Caladesi Island State Park in Dunedin and Wekiwa Springs State Park in Apopka. In 1989, I was promoted to a district biologist position within the Florida Park Service, working at Oscar Scherer State Park in Sarasota County, and held that position for approximately three years. Then, in 1992, I accepted my current position as an environmental specialist with Sarasota County Parks, Recreation and Natural Resources, where I enjoy the many rewards (and the occasional challenge) of managing five Sarasota County natural area preserves. In my spare time, I enjoy exploring local, state and national parks, nature photography, wildflower gardening and traveling to new and exciting places.
Is there a moment you recall that first sparked your interest in the outdoors, specifically native flora?
As a child living in rural western New York, I loved being outdoors. Whether searching for crayfish and salamanders in the cool mountain stream in my backyard or exploring the wide-open fields of wildflowers and the wooded hillsides nearby, I spent many hours outdoors after school and on weekends. I was a very lucky kid, growing up with fields of native milkweeds and buttercups all around. They were filled with a wide variety of butterflies and fascinating insects of all types. From my early childhood memories all the way into adulthood, I've always had a sense of wonder for the natural world and all things in it. The beauty of native wildflowers, the important role they play in local ecosystems, and the wonderful variation they display from region to region continue to fascinate me.
You are an annual participant on our Ocala National Forest Christmas tree cutting field trip. What do you enjoy about that field trip that keeps you coming back every year?
Truth be told, I love a good day trip to the Ocala National Forest! But seriously, more than that, I love reconnecting with old friends, meeting new friends, the fun of "hunting" for just the right tree and, in some small way, helping land managers with habitat restoration efforts in areas where they're trying to reduce the density of sand pines coming in.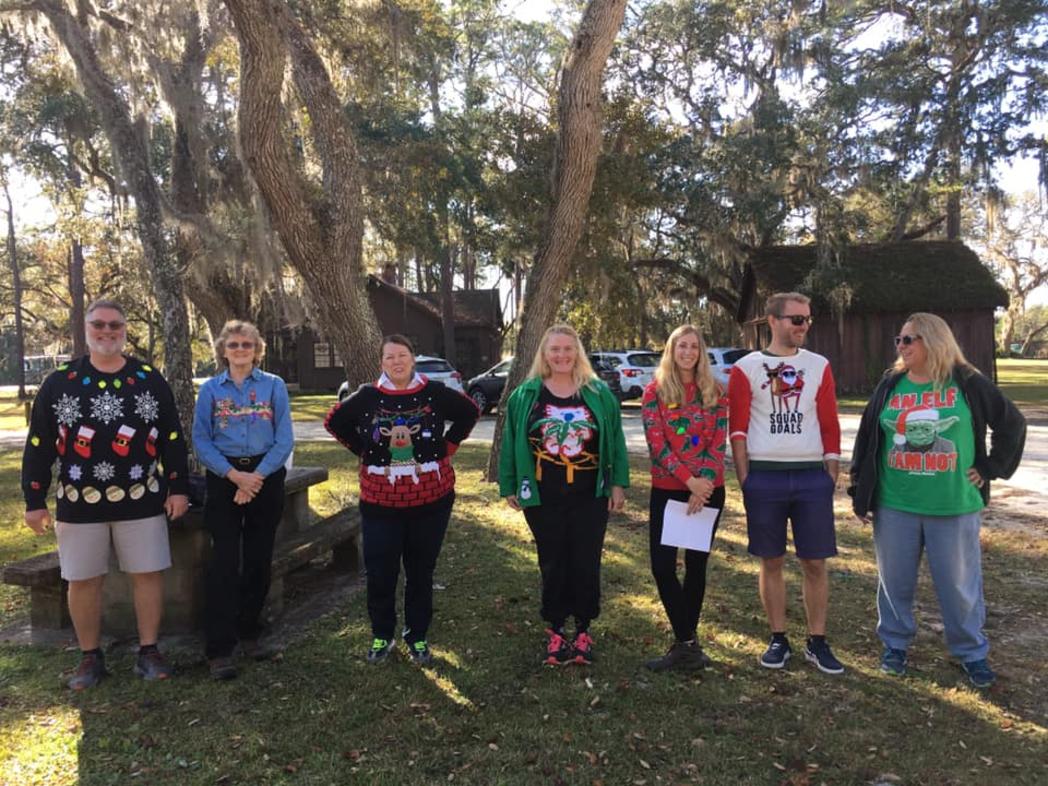 Do you have wildflowers/natives growing in your yard? If so, what do you have?
My yard is a hodge-podge of Bahia grass lawn with a few Crepe myrtles, Plumerias, Pygmy date palms, Podocarpus spp. and other non-natives with a wide variety of native plants added gradually over my 20 years in Sarasota. Each year I try to incorporate more and more natives into my home landscape. My pride and joy is a spectacular, mature 45-foot Pignut hickory tree (Carya glabra) in my backyard that provides food for the squirrels, abundant shade during the hot summer months and beautiful golden fall color each year. In addition, I have a Geiger tree (Cordia sebestena), Beautyberries (Callicarpa americana), Shiny wild coffee (Psychotria nervosa), Elderberry (Sambucus nigra subsp. canadensis), Coonties (Zamia integrifolia) and a variety of wildflowers, including Tropical sage (Salvia coccinea), Black-eyed Susans (Rudbeckia hirta), Partridge pea (Chamaecrista fasciculata), Yellowtops (Flaveria linearis), Butterfly milkweed (Asclepias tuberosa), Frostweed (Verbesina virginica), Porterweed (Stachytarpheta jamaicensis) and Spotted beebalm (Mondarda punctata).
What is the greatest challenge facing Florida's environment?
I would have to say habitat loss and fragmentation due to development. Every new subdivision, shopping center and highway displaces resident wildlife and replaces native habitat. Once it's lost, it's gone forever.
Do you have any suggestions for the Florida Wildflower Foundation to help spread the word about wildflower appreciation or conservation?
I'm so thrilled about our recent official collaboration with the Florida Native Plant Society. This is a fantastic step toward presenting a unified message about native wildflowers and native plants. I also applaud the Florida Wildflower Foundation's outreach and educational efforts through social media and our annual meetings, field trips and other events. Going forward, I'd love to see the organization continue to partner with state and local agencies and seek out opportunities for involvement in high visibility projects. If not already being done, I would love to see the Foundation host an educational booth at the annual Florida State Fair in Tampa and also at various county fairs throughout the state to reach an even wider audience.