Member profile: Gail Taylor
Get to know Florida Wildflower Foundation member Gail Taylor. She is an active State Wildflower license tag member, a member of the Foundation's Education Committee, and has volunteered at previous Florida Wildflower symposia. A native Floridian, Gail is also a member and former president of the Citrus Chapter of the Florida Native Plant Society. She and her husband own 15 acres in Citrus County where they grow hundreds of native wildflowers and plants.
Join Gail Taylor in supporting the Foundation by becoming a member or making a one-time donation to support our work.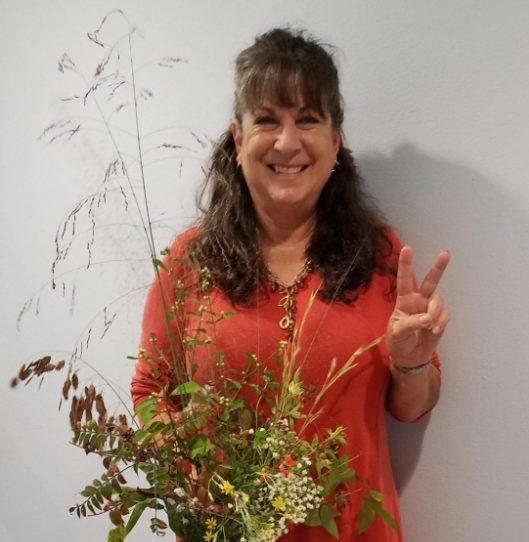 Tell us about yourself. What is your background?
My husband and I had a plan to leave the city and move to the country in 1999. We had lived in our South Tampa bungalow since 1973, and I had always been a gardener, but not with wildflowers or native plants. I had mostly hanging baskets of ferns and begonias (and still have most of them), and a yard full of fruit trees. We had a five-year plan to close our business at the end of 1998, sell our 1920s bungalow, and send our youngest child off to college. We kept to that plan. We decided to take our time to decide where we wanted to move, so we spent over a year riding our Harley to different areas of Florida. We decided on Crystal River. We initially looked for 15 acres treed and paved, and after nine months of looking, we decided on 5 acres in Crystal River. We picked the land, not the house on it. We moved here in October 2000 and have since purchased the house next door on 5 acres. Last year, we purchased a fully wooded 7½-acre lot next door. We now have our 15-plus acres and are thrilled to have such diversity on our land.
After moving here in 2000, we spent a year looking, learning and studying our property. It had been completely mowed for more than 15 years, and we knew that native plants existed but that we would have to wait for them to start growing back. We didn't plant anything for a year. After that time, we started planting trees, mostly Longleaf pines, since we already had them on the property. We were determined to get it back to what it was supposed to be.
You are a proud State Wildflower license plate holder! How did you hear about the Florida Wildflower Foundation and the license plate?
In 2001, the Citrus Chapter of the Florida Native Plant Society [FNPS] was formed, and I became a member. I also learned about the Florida Wildflower Foundation at around that time and watched and learned what I could. My husband and I were still working, so I was not able to devote a lot of time to my native plant/wildflower education, but I did read and study as much as I could. I didn't attend many events because I was still working.
As a treat to myself on my retirement and reaching Social Security age, I purchased my State Wildflower license plate. I am a proud wildflower license plate holder!
How did you get involved with our Education Committee, and what are your responsibilities?
Lisa asked me to be on the Education Committee. I'm guessing that she asked because she knew that I was president of the FNPS Citrus Chapter for several years and had been very involved in the operation of the chapter since 2012. I initially told her no because I didn't feel that I had any qualifications. I am not a scientist, a botanist, a biologist, an ecologist … but I am a lover of native plants and wildflowers, and am willing, wanting and able to teach the public more about them. I finally told her yes. We have had only one meeting so far, but I am eager to work with Lisa, Stacey, [committee chair] Melissa Hunt and the rest of the committee. I love challenges, creating and trying new things, and I look forward to what we can do.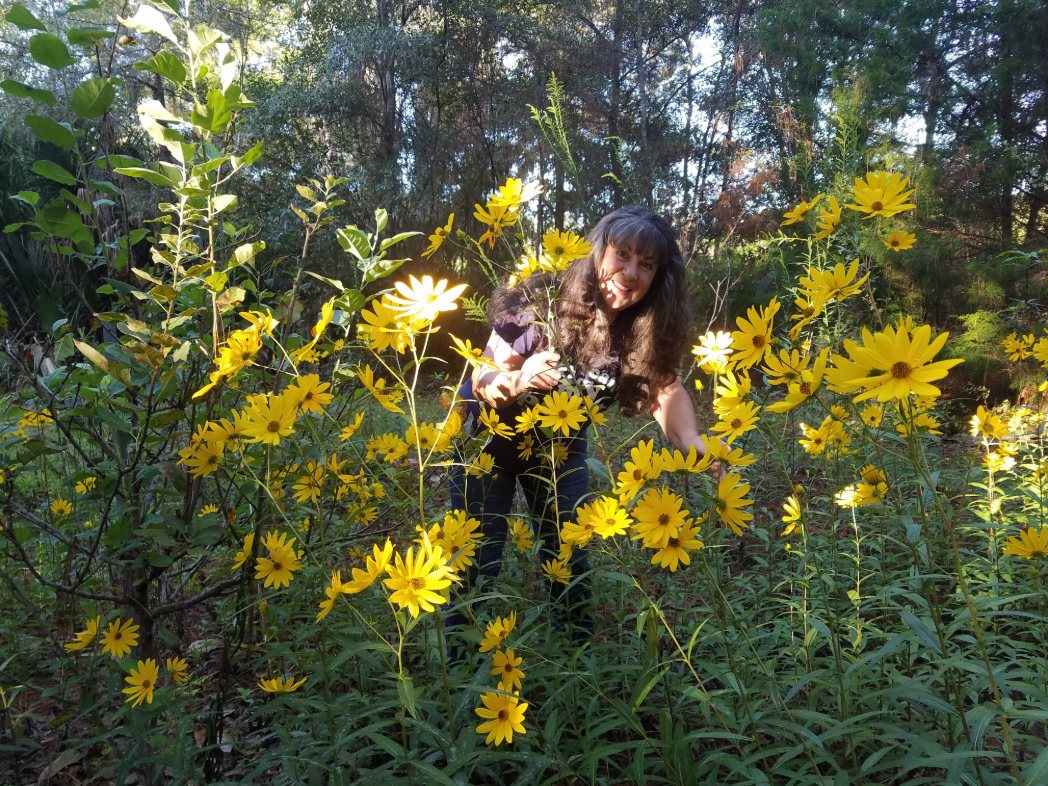 Is there a moment you recall that first sparked your interest in the outdoors, specifically native flora?
I grew up in Miami, and my Mom required a perfectly manicured lawn and plants. While in high school, I spent summers at a camp in north Georgia, and it was there I fell in love with nature, trees and everything outside. From that point on, I hoped to one day live where I could grow what I wanted, as much as I wanted, and enjoy the benefits. It took 30 years, but we have it! It is a joy each and every day, because no one day is the same as the one before, and each one brings me so much pleasure.
Do you have wildflowers/natives growing in your yard? If so, what do you have?
That's an interesting question. I just looked at the Citrus Chapter Spring 2020 Native Plant Sale list to see if I could get an idea of how many native plants I grow. We live in a mesic hammock with some areas that could be considered more of a sandhill. We also have two ponds on our property, and one of them is spring-fed. I have all 61 wildflower species on the chapter's plant sale list and more that are not listed. I grow all eight native vines on the list, plus a few others. Of the 17 ferns and grasses on the sale list, I grow all plus some. Of the 62 species of trees and shrubs on the list, I have 42. I also have several — more like 15 to 20 — that grow further north or further south. I have never counted exactly how many species of plants I have. I do like to treat myself to purchasing something that I don't have and will try any native plant that catches my eye. I love sharing my plants with other enthusiasts!
What do you like most about native wildflowers?
I LOVE everything about native wildflowers. What's not to like?
Do you have a favorite?
It's hard to pick a favorite wildflower. Each one has so many benefits to our wildlife, birds, bugs, pollinators and more. There is one plant I would love to have and have been unable to obtain — a Tarflower (Bejaria racemosa). I fell in love with Tarflower after attending a Florida Wildflower Foundation hike several years ago with "Sticky" Steve Morrison at Tiger Creek Preserve, one of the first events I took advantage of while a member of the Foundation family.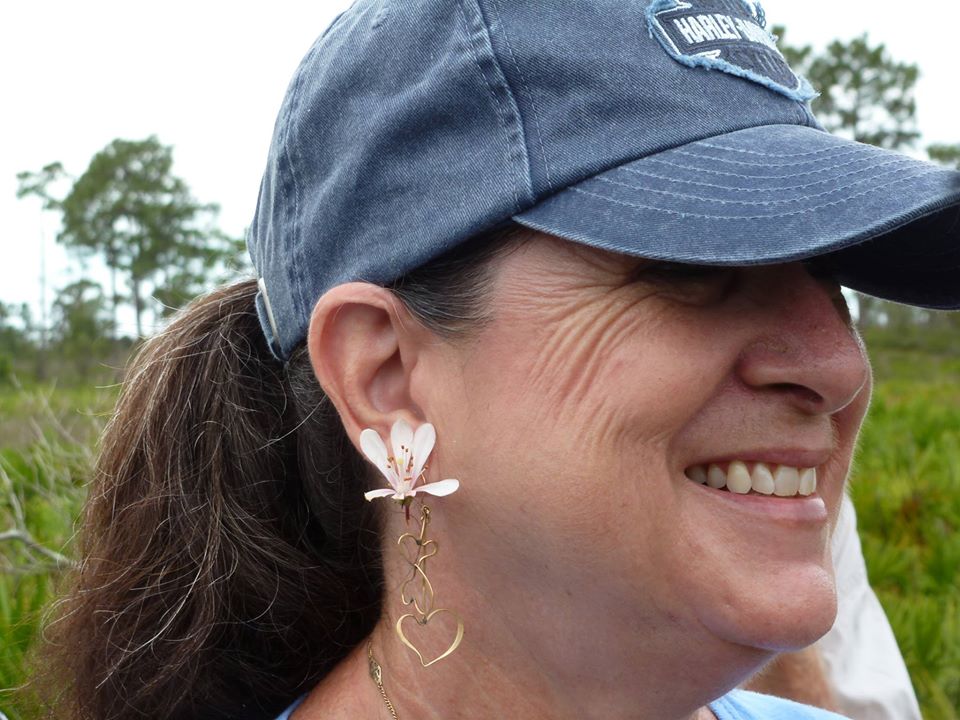 What message would you like to share with others about the importance of Florida's native environment?
Since I am a native Floridian, I want to do whatever I can to help educate the public and specifically those in my community about the importance of protecting our environment. One of many ways to do that is to plant native plants and wildflowers and sit back and enjoy the results of your efforts. The bugs, butterflies and other pollinators will delight your senses. The birds will join in, as well as all the other critters that enjoy "free rent" on our property. We have large lime rocks, tree snags and so much more for them to enjoy, including water, so we have a large variety of birds and critters. At one time, after first moving here, we kept a log of what we saw. I think we ran out of pages in our log.
What do you feel is the greatest challenge facing Florida's environment?
Overgrowth. Not protecting our land here in Florida for conservation.
Is there anything else you'd like people to know?
I would like to mention several Florida Wildflower Foundation individuals who have been very instrumental in my continuing education. First of all, [board member] Terry Zinn, with his invitation to visit his wildflower farm (which I have done twice). What a treat! [Research and planting contractor] Jeff Norcini, with his tremendous knowledge of planting wildflowers on our roadsides, and [former FWF contractor] Eleanor Dietrich, who invited all of us to learn more about wildflowers by viewing them on a field trip with [FSU Professor Emeritus] Loran Anderson on State Road 65 in the Panhandle. As a result of this, the Citrus Chapter now has helped to pass a county Wildflower Resolution to protect roadside wildflowers. [Planting contractor] Claudia Larsen's knowledge of growing native wildflowers from seed has been a tremendous benefit to my education. [FWF volunteer] Chris Waltz taught me how to plant a pollinator pot, and I now have many of them, to the delight of my butterflies and their caterpillars. Of course, Lisa and Stacey are some of the nicest, caring people I have ever met.
There are so many others I have met through this organization, and I am honored to be a part of the Florida Wildflower Foundation family. I just hope that I can impart a love of wildflowers and native plants the same way others have inspired me.