Our publications, events and projects give people the tools and knowledge they need to build and enjoy urban and roadside native wildflower corridors.
Publications
Download or view handouts and brochures that will guide you in building your habitat. Click here to order copies for an event or meeting.
The insects that pollinate our food crops and natural areas are in steep decline. Our suburban landscapes are more important than ever in supporting them. No place for a garden? No problem! Our new video and handout can help you create a small pollinator oasis in a pot! Versión en español disponible.
Past Webinars
Dr. Deah Lieurance walks you through the steps a non-native species takes towards becoming an invasive species, including the pathways for arrival, what facilitates establishment and spread of the species, and a range of negative impacts to the environment, economy and to human health.
James Stevenson with Pinellas UF/IFAS teaches you the truth about what species are responsible for common seasonal allergies, what species are NOT and how plants have evolved to take advantage of airborne pollination.
In this webinar, naturalist and forager Betsy Harris guides us through a year of seasonal eating, featuring edible native plants and wildflowers as inspiration for incorporating wild foods into our everyday diets.
Laura Langlois Zurro, founder of the Florida Native Bees Facebook group, takes us on a photographic journey of some of the bees that can be observed in Florida between November and March, as well as the plants they need to survive.
Anita Camacho, owner of Little Red Wagon Native Nursery and president of Tampa Bay Butterfly Foundation, Inc teaches us how we can make a difference for butterflies in our home landscape.
Executive Director Stacey Matrazzo shares her journey of transforming her home landscape into a native garden and highlights some of Florida's tried-and-true, easy-to-grow native plants. Learn how easy it is to beautify your landscape with natives and transform it into a living ecosystem with "real Florida" style.
Florida is home to more native carnivorous plants than any other U.S. state. Kenny Coogan, author of "Florida's Carnivorous Plants: Understanding, Identifying, and Cultivating the State's Native Species" teaches us about these natives with their unusual adaptations.
Often an afterthought, with more than 150,000 known species worldwide, moths are essential to the natural world. Akito Kawahara, University of Florida professor and Florida Museum of Natural History curator, speaks about local moths of Florida, and more!
Over millions of years, Florida's geology and plant communities have undergone a myriad of changes. Join James Stevenson to learn about the events that lead to the Florida native plants we know today.
Kirsten Sharp, co-owner of My Dragonfly Garden, shows you how to create an oasis for pollinators by planting pots with Florida's native wildflowers.
University of Florida Entomology and Nemotology PhD candidate John Ternest introduces you to some of the most common or notable Florida native bee species in this webinar.
Join the Florida Wildflower Foundation on Wednesday, April 20 at 2 pm for our next webinar. University of Florida professor and author Sandra B. Wilson will introduce some native wildflowers with ornamental potential and discuss the challenges and successes of propagation.
Aquatic biologist Sean Patton discusses the importance of aquatic habitat and shows participants how they can help create habitat in their own backyards.
FWF Executive Director Stacey Matrazzo discusses some of the invasive species commonly used in home landscapes and highlights the native plants to use in their place.
Biologist Michael Jenkins covers the work being conducted by the FPCP to conserve rare plants, current grant projects, and funding opportunities for conserving federally listed and "At-Risk" plants in Florida.
Field trips
Join the Florida Wildflower Foundation on Dec. 3 for our annual Christmas tree cutting event. A Forest Service biologist will introduce us to the Ocala National Forest and the incredible habitats being managed and restored there. Find out how the Forest Service balances providing resources to the public and conservation of these critical lands. Then we'll caravan to the Christmas tree cutting site, where everyone with a permit will have the opportunity to pick out and cut down their very own fresh-from-Florida sand pine.
Join us Saturday, Nov. 5 at 9:00 am for a tour of Lyonia Preserve led by resident expert Stephen Kintner. Named after the plant Rusty lyonia, the preserve consists of 360 acres of restored Florida scrub habitat. Come see the Garberia in full bloom!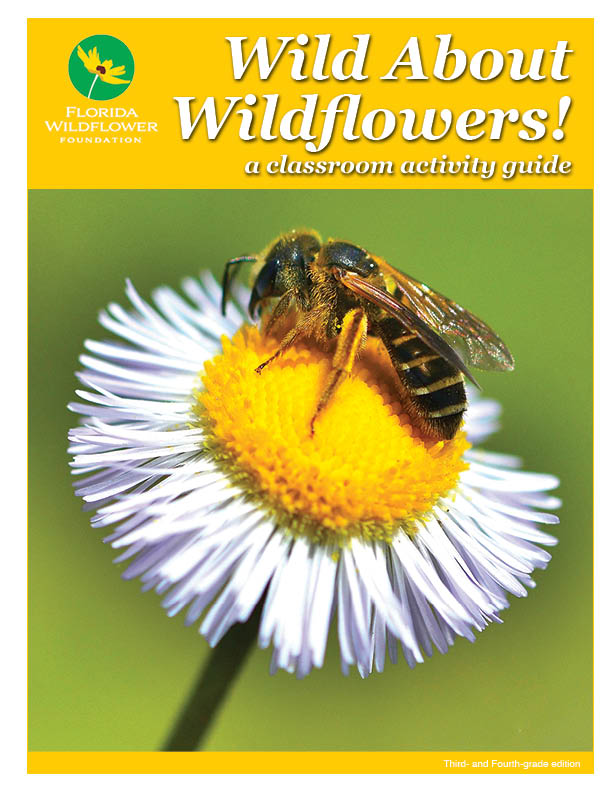 Classroom resources
The Florida Wildflower Foundations' Wild About Wildflowers! activity guide encourages students to learn about native wildflowers and their place in the environment through fun, engaging activities.
This rich, versatile resource will help students achieve a variety of Florida educational standards in math, science and language. When presented from start to finish, the guide gives students a comprehensive introduction to wildflowers, as well as to flowers in general.
Request a speaker
The Florida Wildflower Foundation provides speakers on a variety of topics related to Florida's native wildflowers, pollinators and sustainable landscaping practices.
Complete our short form to request a speaker for your meeting or event.
Need publications for an upcoming event? Fill out our form to request copies.