Our publications, events and projects give people the tools and knowledge they need to build and enjoy urban and roadside native wildflower corridors.
Publications
Download or view handouts and brochures that will guide you in building your habitat. Click here to order copies for an event or meeting.
The insects that pollinate our food crops and natural areas are in steep decline. Our suburban landscapes are more important than ever in supporting them. No place for a garden? No problem! Our new video and handout can help you create a small pollinator oasis in a pot!
Webinars
Join the Florida Wildflower Foundation on Wednesday, March 2 at 2:00pm for our next webinar. FWF Executive Director Stacey Matrazzo will discuss some of the invasive species commonly used in home landscapes and highlight the native plants to use in their place.
Join the Florida Wildflower Foundation on Wednesday, January 26 at 2:00pm for our next webinar. Biologist Michael Jenkins will cover the work being conducted by the FPCP to conserve rare plants, current grant projects, and funding opportunities for conserving federally listed and "At-Risk" plants in Florida.
Heartwood Preserve is an environmental sanctuary where end-of-life decisions are made in harmony with nature. Learn about conservation burial, the history of the land and the importance of fire ecology.
Lawns contribute substantially to climate change, air and water pollution, the extinction crisis and many other serious environmental problems. They also cover vast areas of the United States. In this presentation, Dr. Emily Roberson, director of the Native Plant Society of the United States, presents data on the surprisingly large scale of lawn-related environmental damage, as well as costs and labor.
In this webinar, Nancy Bissett will present easy-to-grow native wildflowers that attract a variety of butterflies and other pollinators essential to Florida's natural health. Nancy will cover detailed descriptions of each plant, including its flowering, seeding and growing conditions, such as light, moisture and soil needs.
Fall is planting time if you want to establish a wildflower garden from seed. Get ready by joining us at 2 p.m. Tuesday, July 13, for a free webinar on establishing your own native wildflower garden. Dr. Jeff Norcini, our Research and Planting consultant, will go over key points you'll need to know to tip the scales of success in your favor.
In this 90-minute workshop, we will launch the North Florida Wildflower Alliance and show participants how to help conserve roadside wildflowers and set up a wildflower program in their counties. Speakers include butterfly expert Dr. Jaret Daniels, Neil Greishaw of Alachua County's amazing roadside wildflower program, and Cindy Tramel of the Florida Department of Transportation.
Dr. Nash Turley of UCF will introduce his project Lawn to Wildflowers, a community science effort focused on converting lawns to pollinator-friendly wildflower habitat while engaging the public in collecting plant pollinator data.
What will Florida's ecosystems look and feel like in the future? Using herbarium records, scientists can predict how Florida's native plants will react to our changing climate. In this free webinar, Drs. Pamela and Douglas Soltis will discuss how an "evolutionary tree" is being built with molecular samples from herbarium collections to predict Florida's natural future.
Did you know that many of Florida's native plants are edible? Even some of those pesky "weeds" that pop up in our yards have culinary value. Watch "Incredible Edible Natives," presented by FWF Program Manager Stacey Matrazzo, to learn about the edible, medicinal and nutritional properties of some native plants commonly found in our yards and landscapes.
Join us for our next free webinar at 2 p.m. Oct. 13 as we learn about pollinator research in the Volusia Sandhill Ecosystem, a 0.5-hectare urban habitat fragment at the Gillespie Museum, Stetson University, DeLand.
Originally broadcast live on Sept. 15, this webinar features Liz Sparks and Suzanne Spencer who share tips and insights on how to work with your county and organize volunteers to help save roadside wildflowers.
Learn how to take the guesswork out of using native plants in urban settings in our free webinar, "Native Plants for Florida Gardens," on Aug. 5. featuring Stacey Matrazzo, FWF program manager and co-author of Native Plants for Florida Gardens. In her presentation, Stacey will highlight a selection of species and discuss how to use them to transform your landscape into a living ecosystem with "real Florida" style.
Learn about creating pollinator pathways in the built environment during a free webinar on July 7 featuring Dr. Jaret Daniels, who will explain how every landscape, large and small, is now critical to supporting the biodiversity that keeps our ecosystems functioning.
Join us as we kick of National Wildflower Week with a free webinar with author and researcher Doug Tallamy, author of Bringing Nature Home. Dr. Tallamy will present "A Guide to Restoring the Little Things that Run the World" at 2 p.m. May 4.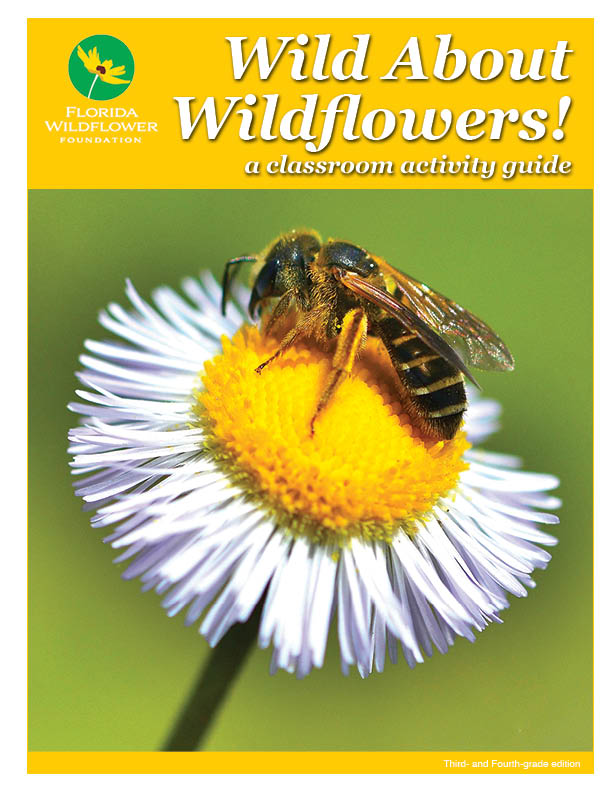 Classroom resources
The Florida Wildflower Foundations' Wild About Wildflowers! activity guide encourages students to learn about native wildflowers and their place in the environment through fun, engaging activities.
This rich, versatile resource will help students achieve a variety of Florida educational standards in math, science and language. When presented from start to finish, the guide gives students a comprehensive introduction to wildflowers, as well as to flowers in general.
Request a speaker
The Florida Wildflower Foundation provides speakers on a variety of topics related to Florida's native wildflowers, pollinators and sustainable landscaping practices.
Complete our short form to request a speaker for your meeting or event.
Need publications for an upcoming event? Fill out our form to request copies.