Our publications, events and projects give people the tools and knowledge they need to build and enjoy urban and roadside native wildflower corridors.
Publications
Download or view handouts and brochures that will guide you in building your habitat. Click here to order copies for an event or meeting.
The insects that pollinate our food crops and natural areas are in steep decline. Our suburban landscapes are more important than ever in supporting them. No place for a garden? No problem! Our new video and handout can help you create a small pollinator oasis in a pot! Versión en español disponible.
Upcoming Events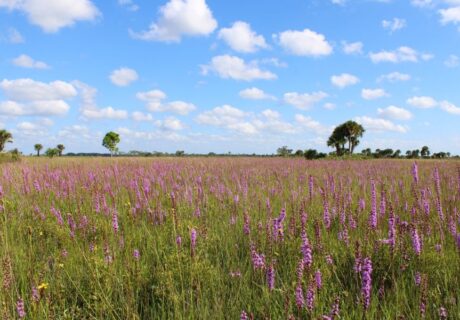 Join the Florida Wildflower Foundation and UF IFAS Center Director Dr. Brent Sellers for a guided fall wildflower tour of Deluca Preserve located in southern…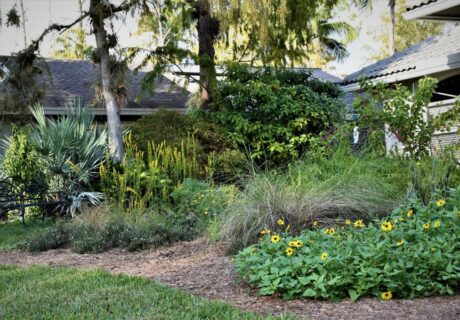 In this webinar, Florida Wildflower Foundation's Sara Burke will teach us proven strategies to change attitudes and habits to encourage natives instead of eradicating them…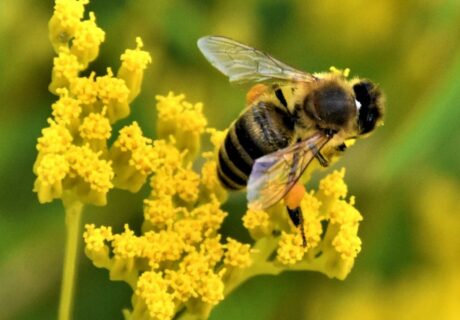 Join Florida Wildflower Foundation Board Member, CJ McCartney, to learn how you can make a huge difference for our butterflies, birds, bees and more!
Past Webinars
Restoration ecologist and landscape designer Nichole Perna discusses the best native landscape plants and practices for coastal communities. She covers which native wildflowers will fare the best in Florida's tough coastal environments
In this webinar, Brooke Moffis from Lake County UF/IFAS shares lessons about irrigation needs, soil amendments and plant survivorship from a cutting-edge research project.
In this webinar, George Gann and Cara Abbott of The Institute for Regional Conservation explain the various ways you can use the free online resource Natives For Your Neighborhood to help turn native plant gardening into ecosystem restoration.
In this webinar, Claudia Larsen shares techniques for collecting and propagating Florida wildflower seeds. A grower for more than 30 years, Claudia uses proven horticulture practices and other methods learned through years of personal experience. If you've always wanted to grow but don't know how, you won't want to miss this webinar.
In this webinar, Lilly Anderson-Messec teaches you about the threats facing Monarchs and what actions you can take in your yard to help them.
Tina McIntyre with Seminole UF/IFAS teaches you how to choose native host plants, flowering and fruiting shrubs and trees, and other key elements, so you can enjoy birds, bees and butterflies in your yard year-round!
Dr. Deah Lieurance walks you through the steps a non-native species takes towards becoming an invasive species, including the pathways for arrival, what facilitates establishment and spread of the species, and a range of negative impacts to the environment, economy and to human health.
James Stevenson with Pinellas UF/IFAS teaches you the truth about what species are responsible for common seasonal allergies, what species are NOT and how plants have evolved to take advantage of airborne pollination.
In this webinar, naturalist and forager Betsy Harris guides us through a year of seasonal eating, featuring edible native plants and wildflowers as inspiration for incorporating wild foods into our everyday diets.
Laura Langlois Zurro, founder of the Florida Native Bees Facebook group, takes us on a photographic journey of some of the bees that can be observed in Florida between November and March, as well as the plants they need to survive.
Anita Camacho, owner of Little Red Wagon Native Nursery and president of Tampa Bay Butterfly Foundation, Inc teaches us how we can make a difference for butterflies in our home landscape.
Executive Director Stacey Matrazzo shares her journey of transforming her home landscape into a native garden and highlights some of Florida's tried-and-true, easy-to-grow native plants. Learn how easy it is to beautify your landscape with natives and transform it into a living ecosystem with "real Florida" style.
Florida is home to more native carnivorous plants than any other U.S. state. Kenny Coogan, author of "Florida's Carnivorous Plants: Understanding, Identifying, and Cultivating the State's Native Species" teaches us about these natives with their unusual adaptations.
Often an afterthought, with more than 150,000 known species worldwide, moths are essential to the natural world. Akito Kawahara, University of Florida professor and Florida Museum of Natural History curator, speaks about local moths of Florida, and more!
Over millions of years, Florida's geology and plant communities have undergone a myriad of changes. Join James Stevenson to learn about the events that lead to the Florida native plants we know today.
Field trips
Join the Florida Wildflower Foundation on Dec. 3 for our annual Christmas tree cutting event. A Forest Service biologist will introduce us to the Ocala National Forest and the incredible habitats being managed and restored there. Find out how the Forest Service balances providing resources to the public and conservation of these critical lands. Then we'll caravan to the Christmas tree cutting site, where everyone with a permit will have the opportunity to pick out and cut down their very own fresh-from-Florida sand pine.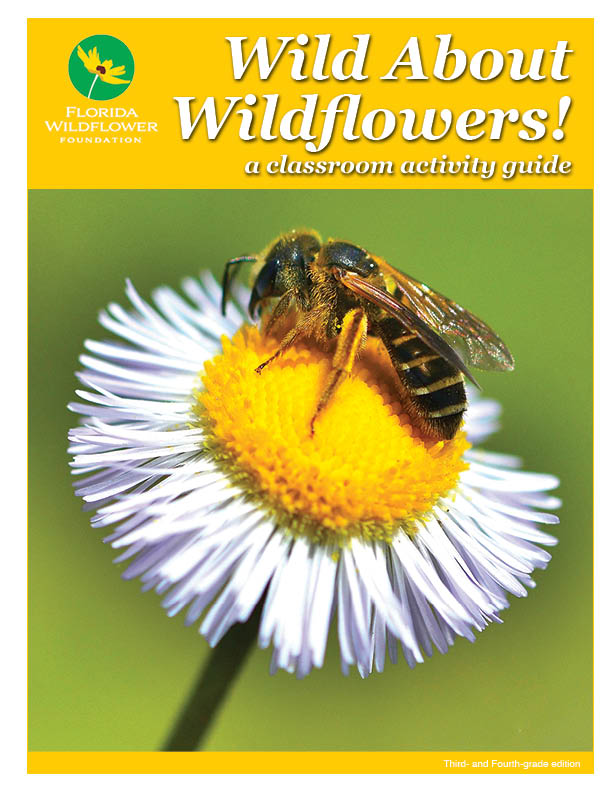 Classroom resources
The Florida Wildflower Foundations' Wild About Wildflowers! activity guide encourages students to learn about native wildflowers and their place in the environment through fun, engaging activities.
This rich, versatile resource will help students achieve a variety of Florida educational standards in math, science and language. When presented from start to finish, the guide gives students a comprehensive introduction to wildflowers, as well as to flowers in general.
Request a speaker
The Florida Wildflower Foundation provides speakers on a variety of topics related to Florida's native wildflowers, pollinators and sustainable landscaping practices.
Complete our short form to request a speaker for your meeting or event.
Need publications for an upcoming event? Fill out our form to request copies.