Pictured above: Velvetleaf milkweed (Asclepias tomentosa) by Emily Bell. Click on terms for botanical definitions. View post as a PDF.
Velvetleaf milkweed (Asclepias tomentosa) is a robust wildflower found in sandy upland habitats across the Southeastern Coastal Plain. Like many of Florida's milkweeds, it is winter dormant, emerging in spring and blooming through the summer.
Stiff pubescent stems grow relatively straight and upwards. They are adorned with oppositely arranged ovate undulate leaves. The common name Velvetleaf refers to the texture of the leaves, which are densely covered in hairs. Pale green flowers are born in terminal umbels. The individual flowers have reflexed corollas and an upright corona.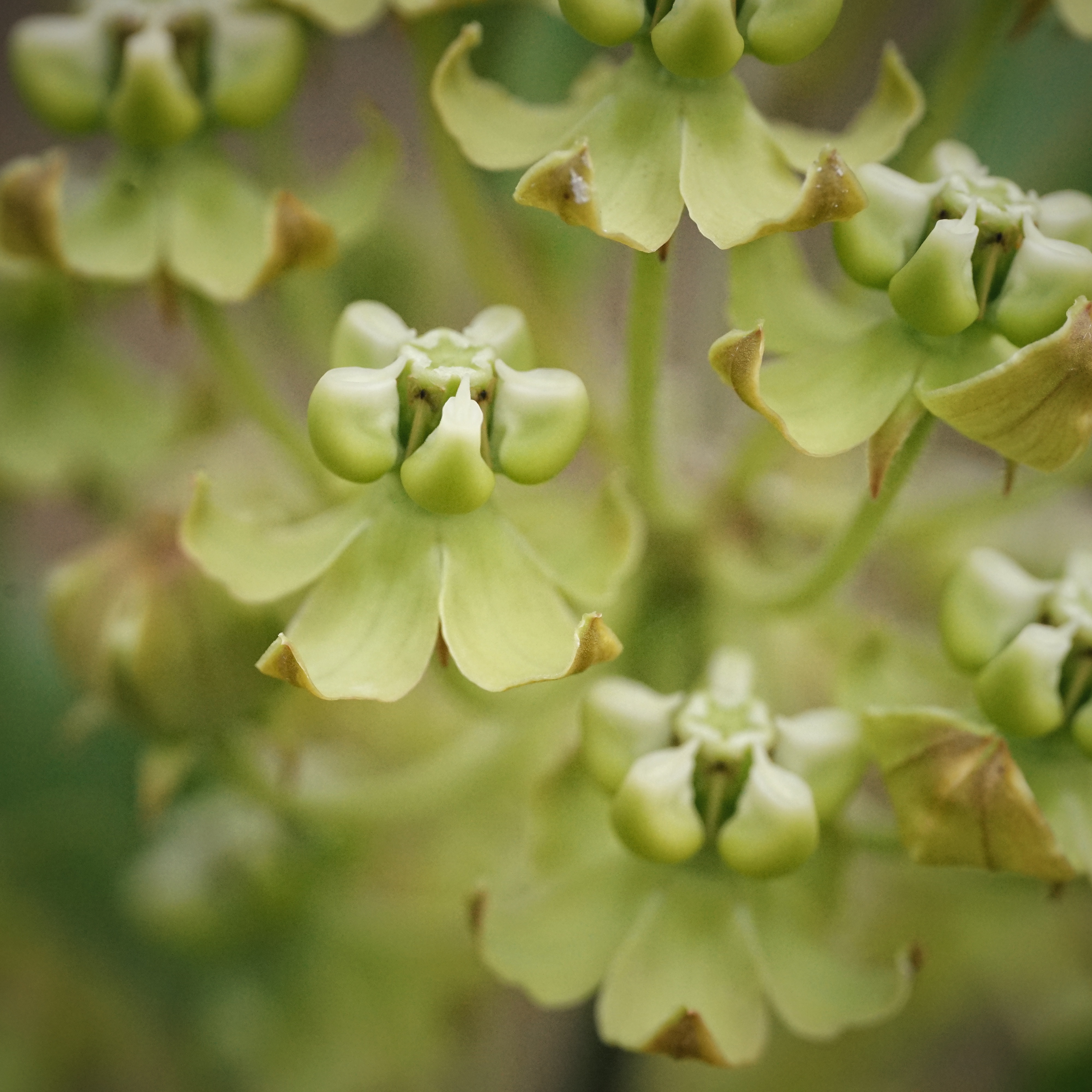 The genus Asclepias is named for Asclepius, the Greek god of healing. The species epithet tomentosa comes from the Latin tomentum meaning "covered with dense, short hairs," and refers to the texture of the plant's leaves.
Like all members of the Asclepias genus, Velvetleaf milkweed is a larval host plant for Monarch, Queen and Soldier butterflies. The plant contains a milky latex that is toxic to most animals, but Monarch, Queen and Soldier caterpillars are adapted to feed on them despite the chemical defense.
Family: Apocynaceae (Dogbane family)
Native range: From Liberty county east and throughout the peninsula but absent from southeast Florida.
To see where natural populations of Velvetleaf milkweed have been vouchered, visit florida.plantatlas.usf.edu.
Hardiness: Zones 8A–10A
Lifespan: Perennial
Soil: Sand
Exposure: Full sun
Growth habit: Up to 3 feet
Propagation: Seed
Velvetleaf milkweed is not commercially available. Visit a natural area to see it.
For more information on other Asclepias species, see these resources: