Bloom Report: For summer's best wildflowers, look to wet areas
Pictured above: Scarlet hibiscus (Hibiscus coccinea). Photo by John Moran
Overall, this has been a great year for wildflowers, and summer looks like it will be no exception. Unlike last year, when many areas were dry, rain has been frequent enough to keep summer wildflowers blooming in showy displays. And the good news is that the NOAA Climate Prediction Center is forecasting normal summer rainfall throughout Florida.
While the outlook is promising for wildflowers in general, the potential exists for exceptional displays of summer wildflowers in moist and wet areas because of frequent rain. Look for these displays in rural ditches and swales where reduced mowing has been implemented, especially in counties that have officially adopted a Wildflower Resolution – a pledge to encourage and implement practices that conserve and promote roadside wildflowers. For more information and a map of counties that have Wildflower Resolutions, visit Protect Roadside Wildflowers. In natural areas, look for vivid displays in pine flatwoods, especially those that are regularly burned.
In South Florida below Lake Okeechobee, aggressive roadside vegetation management practices, along with widespread exotic grasses, severely impede the occurrence of native wildflowers along roadsides. The best places to see native wildflowers in this part of the state are national, state, local and private preserves such as Audubon's Corkscrew Swamp Sanctuary and Everglades National Park. For instance, wildflower author Roger Hammer noted in late June that "… Wild allamanda (Pentalinon luteum) is putting on a show along the last 15 miles before Flamingo [Visitor Center in the Everglades], scrambling all over the roadside vegetation."
What makes moist and wet areas so good for summer wildflowers is the diversity of color of showy common species, nearly all of which occur statewide.
The pink Meadowbeauty (Rhexia spp.) Rosegentians (Sabatia spp.) with satiny luster; and shrub-like mallows (Hibiscus grandiflorus; Kosteletzkya pentacarpos)
The bright orange of Fewflower milkweed (Asclepias lanceolata) (pictured, right) and Orange milkwort (Polygala lutea) (get on your hands and knees to see this wildflower)
The cobalt blue of Skyflower (Hydrolea corymbosa)
The bright white of Crimsoneyed rosemallow (Hibiscus moscheutos (northern Florida only); Giant whitetop (Rhynchospora latifolia) (the showy parts of whitetop sedge flowers are bracts); and Starrush whitetop (Rhynchospora colorata).
The showy yellow of American Lotus (Nelumbo lutea) (ponds and lakes); and Leavenworth's tickseed (Coreopsis leavenworthii)
And the impossible-to-miss brilliant red of Scarlet rosemallow (Hibiscus coccineus; "plate-size" flowers; especially in swamps)(pictured above)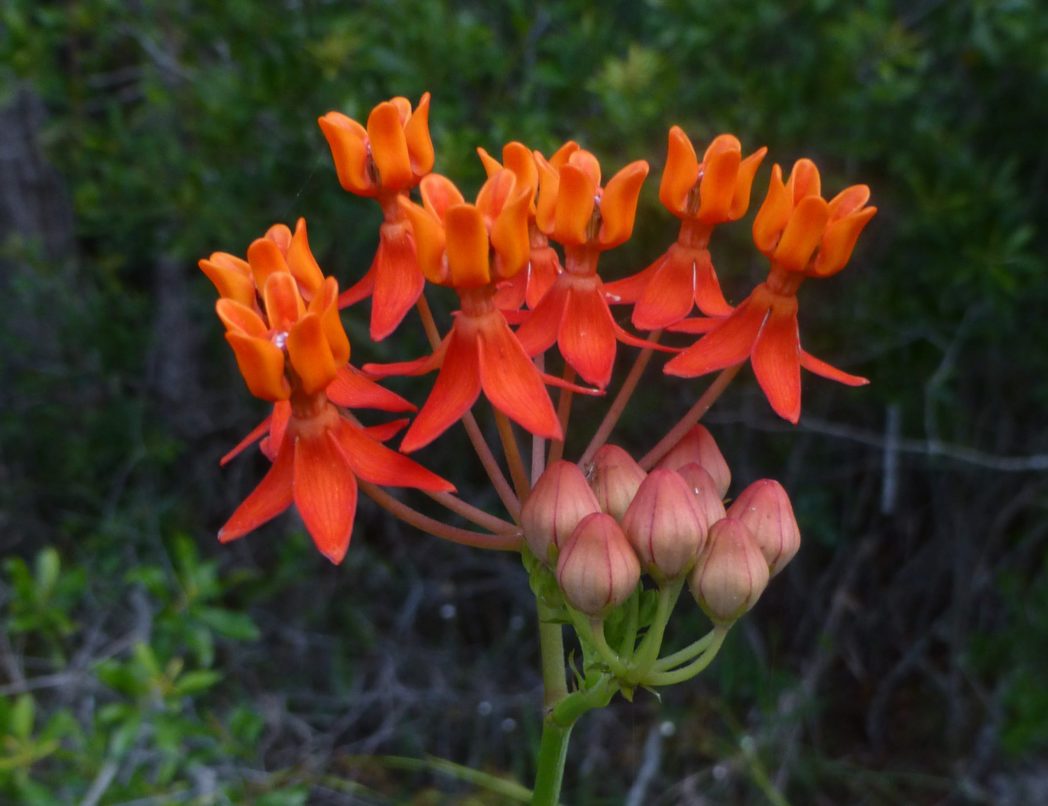 Get out soon to look for early summer-blooming wildflowers. Flowering seems a bit early for some bloomers, based on what's been seen in the Panhandle and northern peninsular Florida. Botanist Nancy Bissett of The Natives in Davenport has noted the earlier-than-normal seed ripening of some species in Central Florida, which may be an indicator of shorter blooming periods for some wildflowers.
Learn more
Dr. Jeff Norcini has a consulting business, OecoHort, LLC, and is FDOT's wildflower specialist, Tallahassee. Thanks to Nancy Bissett, Bob Farley, Roger Hammer and Claudia Larsen for the helpful information they provided.