News & Events
Latest from us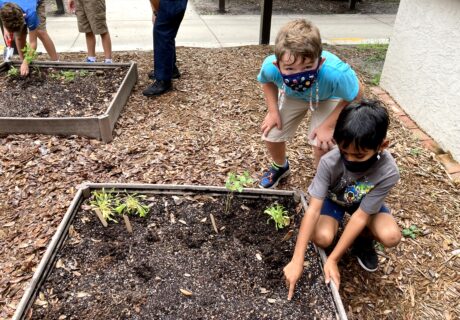 June 24, 2022
2022 Seedlings for Schools grant winners announced
Thirty schools throughout Florida have been awarded 2022 Seedlings for Schools grants from the Florida Wildflower Foundation. The grants give pre-K to high school teachers wildflower plants, personal gardening guidance and online teaching resources. Schools will receive the seedlings in September.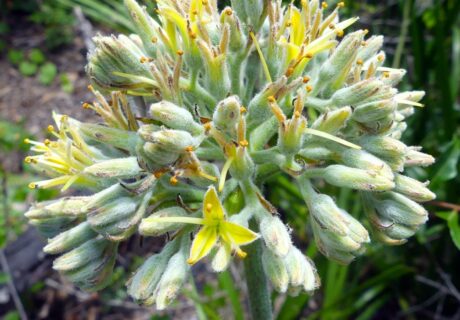 Carolina redroot
Carolina redroot (Lachnanthes caroliana) is a perennial herbaceous wildflower that blooms from summer into fall, attracting a variety of butterflies and moths.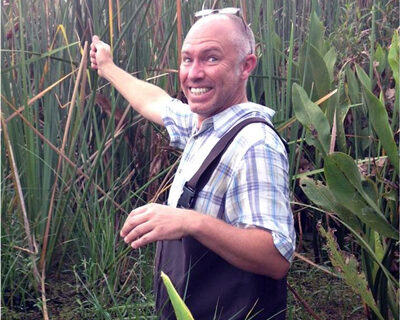 July 20, 2022 2:00 pm
Webinar: Before They Were Native — A Brief History of Florida's Flora
Over millions of years, Florida's geology and plant communities have undergone a myriad of changes. Join James Stevenson on July 20 at 2pm to learn about the events that lead to the Florida native plants we know today.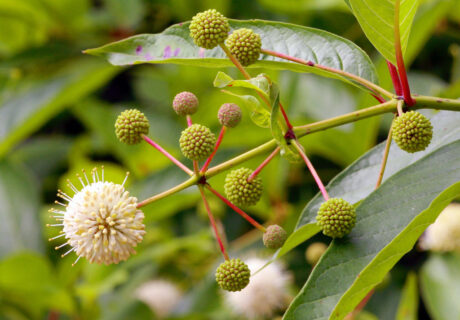 Buttonbush
Buttonbush (Cephalanthus occidentalis) is a wetland shrub with pincushion-like blooms that attract bees, butterflies and moths. Ducks and other birds eat the seeds and the foliage is browsed by deer.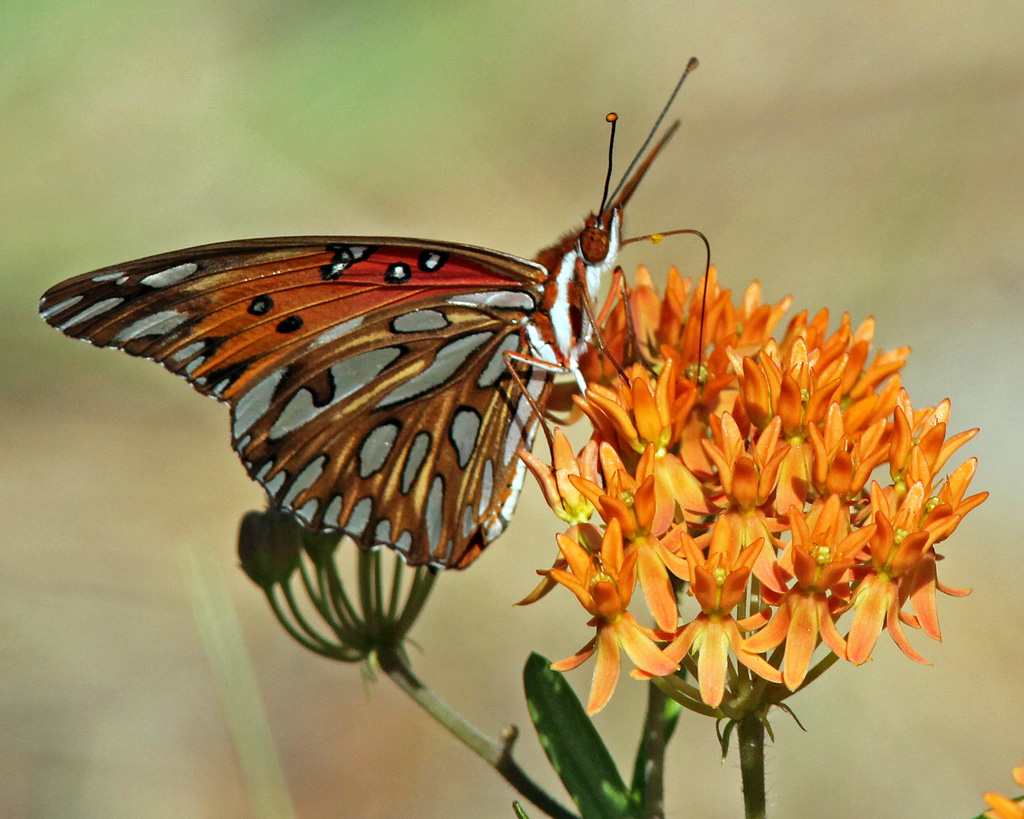 June 7, 2022
Summer is Milkweed Season
Of the 22 milkweed species that occur in Florida, all but one are native. Our native milkweeds bloom mainly in spring or summer; however, in summer, only four of them are common and relatively easy to spot. Do you know which milkweeds to look for this summer?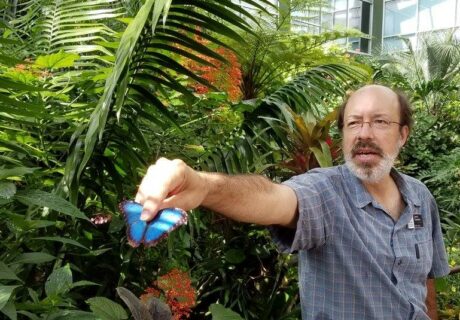 July 9, 2022 10:00 am
Field trip: Butterfly Rainforest
Join us for a behind-the-scenes tour of the Butterfly Rainforest at the Florida Museum of Natural History with Dr. Jaret Daniels Saturday, July 9 at 10am. Take a tour of this unique and ever-changing living ecosystem, which features hundreds of free-flying butterflies. Please note: Only members may purchase tickets for this exclusive field trip.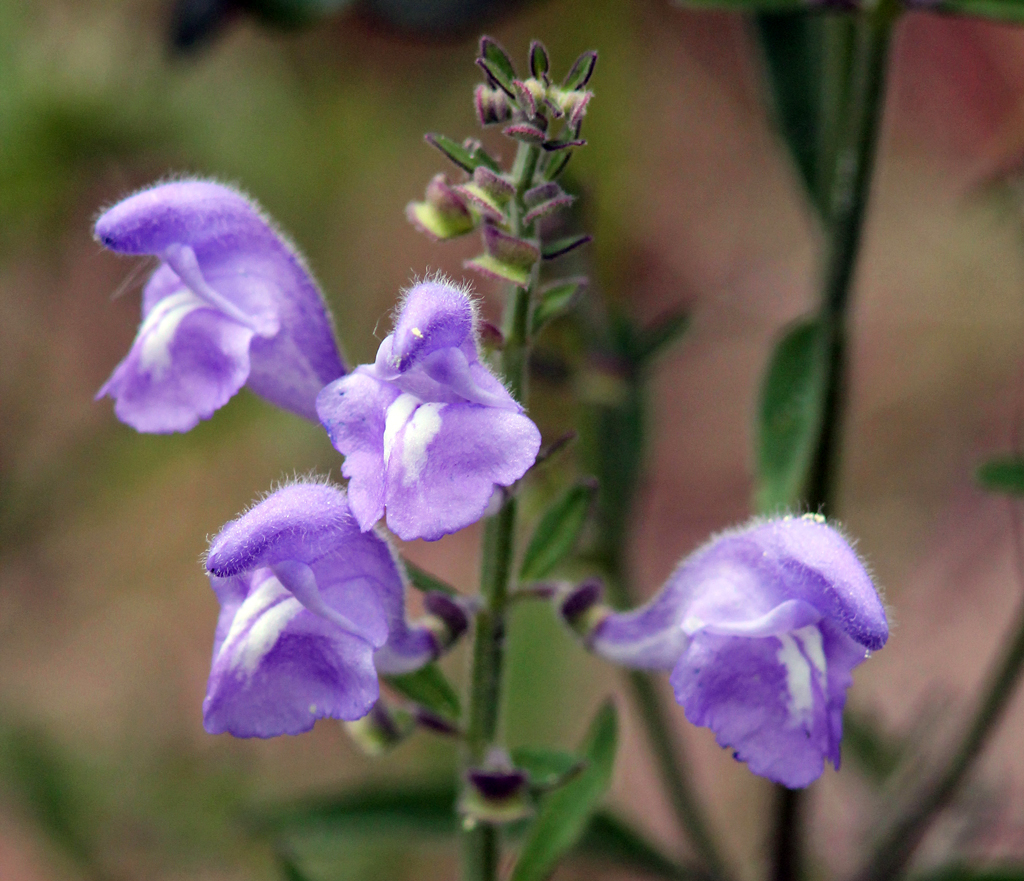 Helmet skullcap
Helmet skullcap (Scutellaria integrifolia) typically blooms in late spring and summer, attracting a wide range of bees, including leafcutter, cuckoo and bumble bees.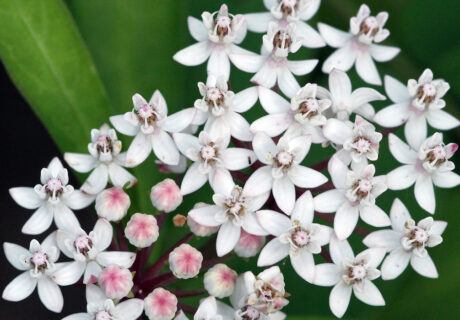 Swamp milkweed
Swamp milkweed (Asclepias perennis) blooms in late spring through early fall and attracts many pollinators. It is a larval host plant for Monarch, Queen and Soldier butterflies.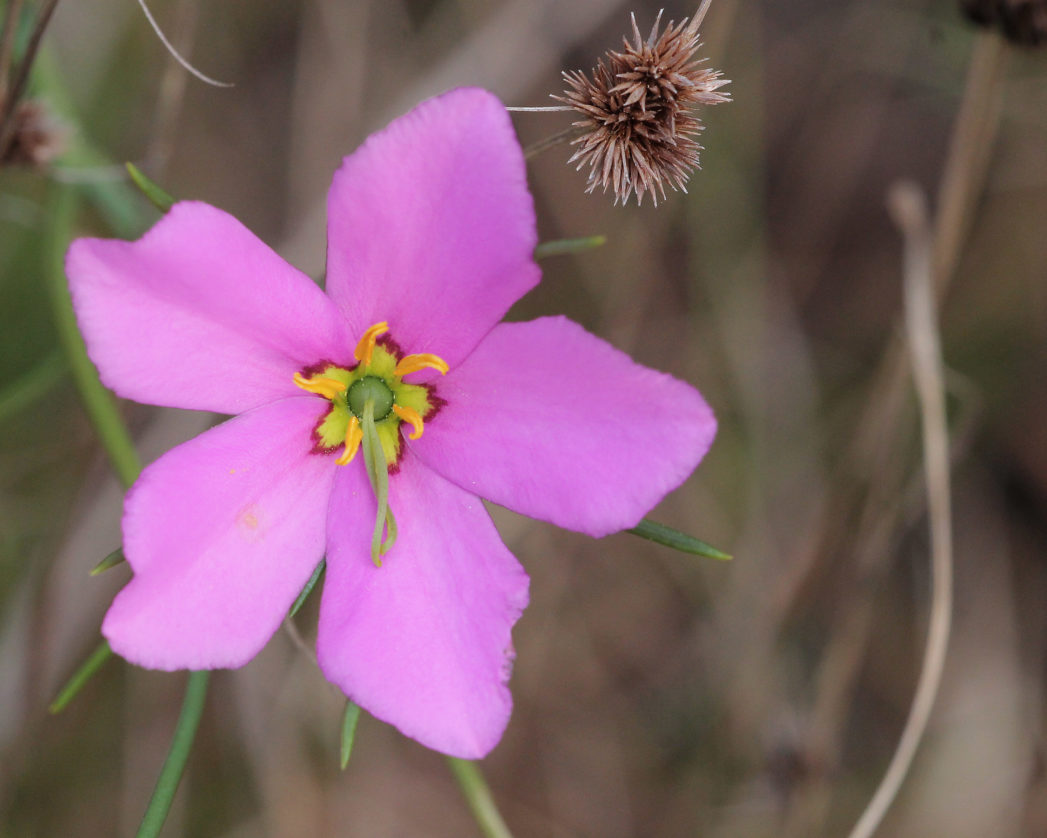 Marsh-pink
Marsh-pink (Sabatia grandiflora) is found in mesic pine flatwoods and wet prairies throughout Florida. It is almost endemic, occurring in only one county in Alabama outside of the state of Florida.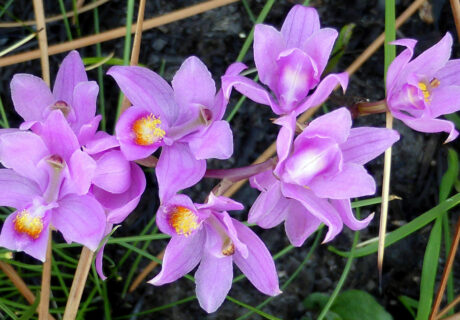 Manyflowered grasspink
Manyflowered grasspink (Calopogon multiflorus) is a state-threatened terrestrial orchid that blooms winter through spring, but most abundantly in March through May.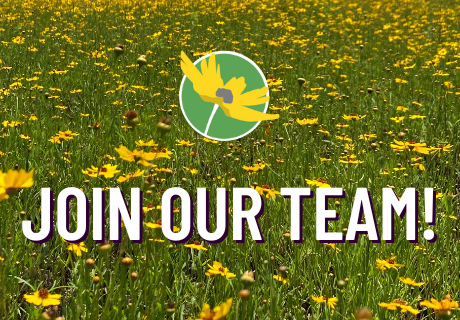 May 9, 2022
Panhandle Wildflower Alliance Liaison
The Florida Wildflower Foundation is seeking an hourly contractor for up to 40 hours per month to serve as its liaison to the Florida Department of Transportation and Florida Panhandle Wildflower Alliance in the 16 counties that comprise FDOT District 3. This contractor will report directly to the Florida Wildflower Foundation executive director.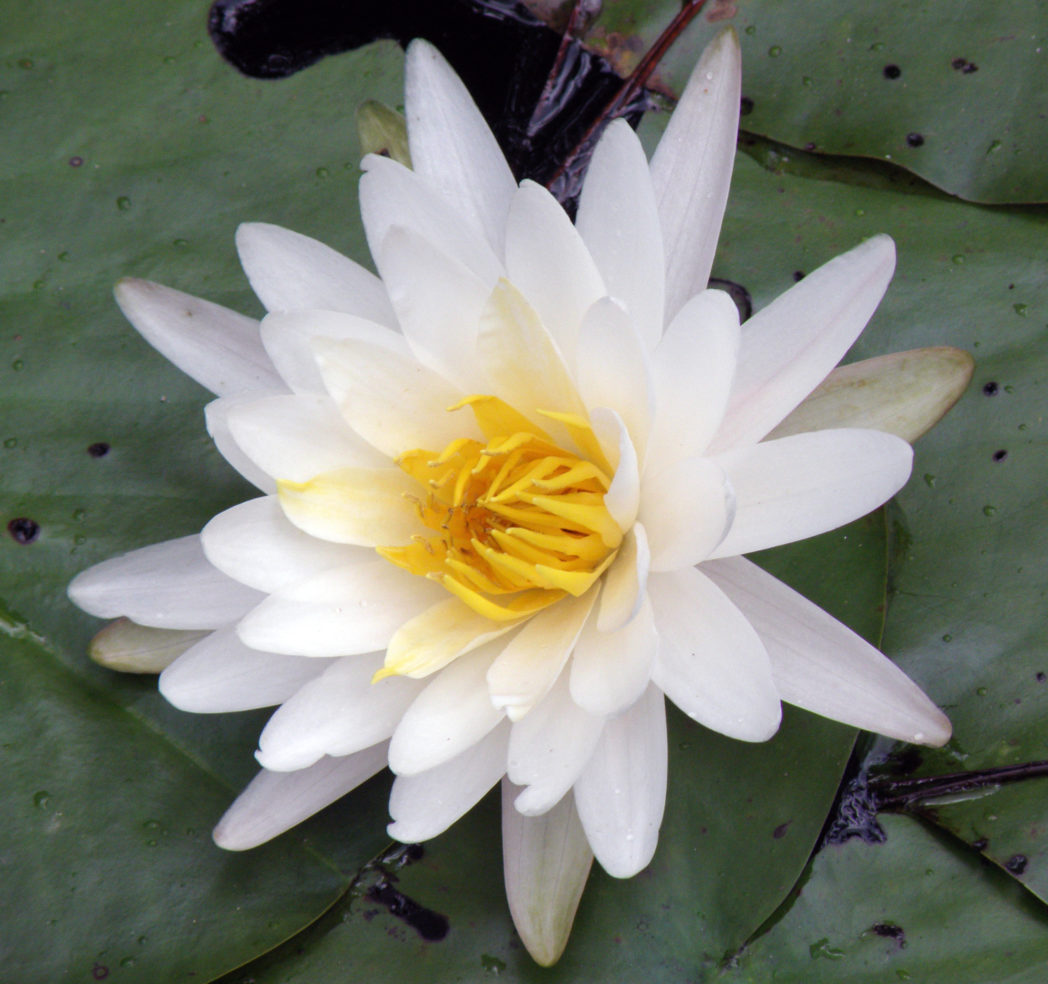 American white waterlily
American white waterlily (Nymphaea odorata) is a floating aquatic plant. Its large, solitary, fragrant white flowers bloom spring through fall in swamps, marshes, slow-moving streams and shallow lakes, ponds and ditches. The flowers are attractive to butterflies, but they are pollinated primarily by beetles. The plant is also known as Fragrant waterlily.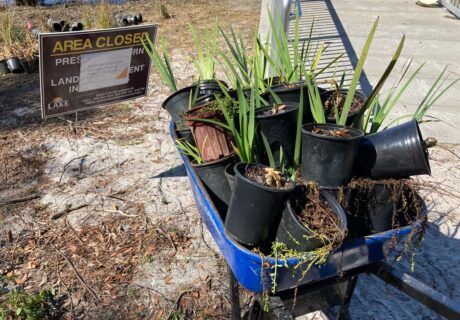 May 4, 2022
Lake County, FWF partner on shoreline pollinator habitat
A stretch of shoreline along Lake May will soon be aflutter with butterflies, bees, hummingbirds and other native pollinators thanks to Lake County Parks and Trails and the Florida Wildflower Foundation (FWF), who partnered to restore a littoral habitat in Lake May Reserve in Eustis.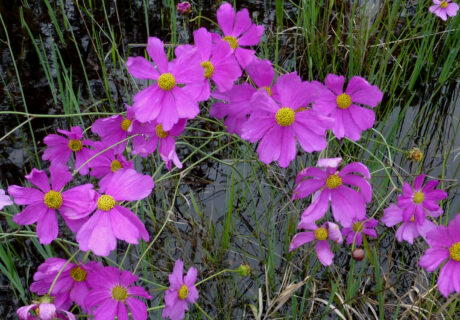 Swamp tickseed
Swamp tickseed (Coreopsis nudata) blooms in spring and is attractive to bees, although butterflies and other pollinators are known to visit them. Birds eat its seeds.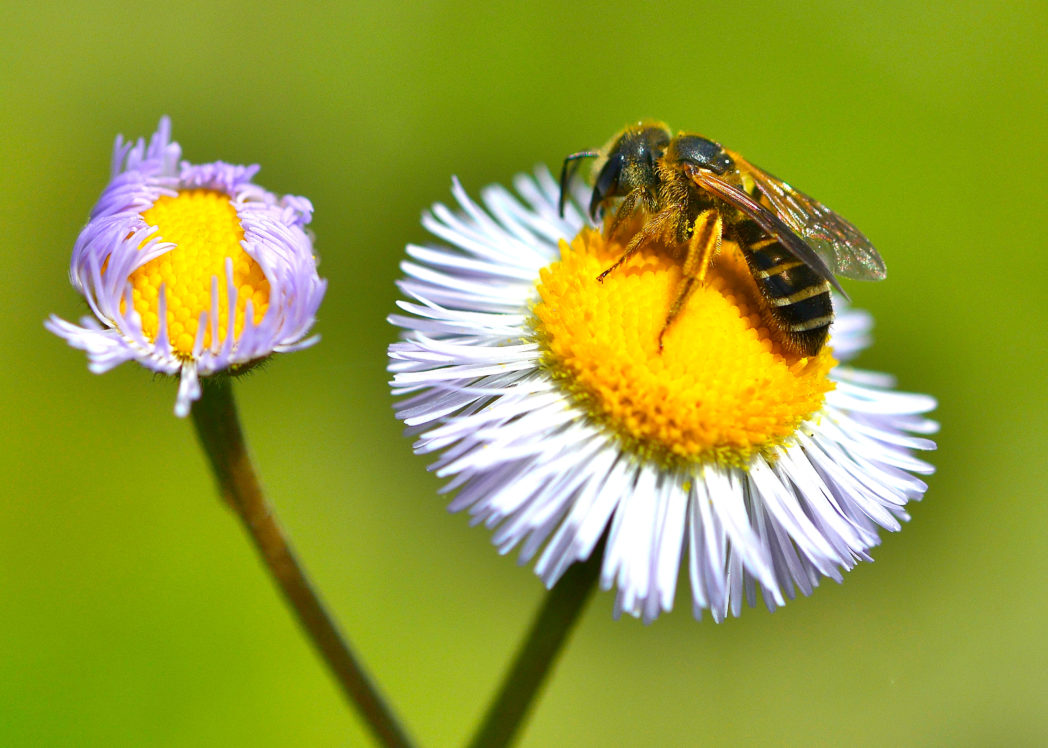 Oakleaf fleabane
Also known as Southern fleabane and Daisy fleabane, Oakleaf fleabane (Erigeron quercifolius) is a delicate, short-lived perennial wildflower. It typically blooms in spring and summer and attracts a variety of pollinators. It occurs naturally in sandhills and moist hammocks as well as in disturbed sites and along roadsides.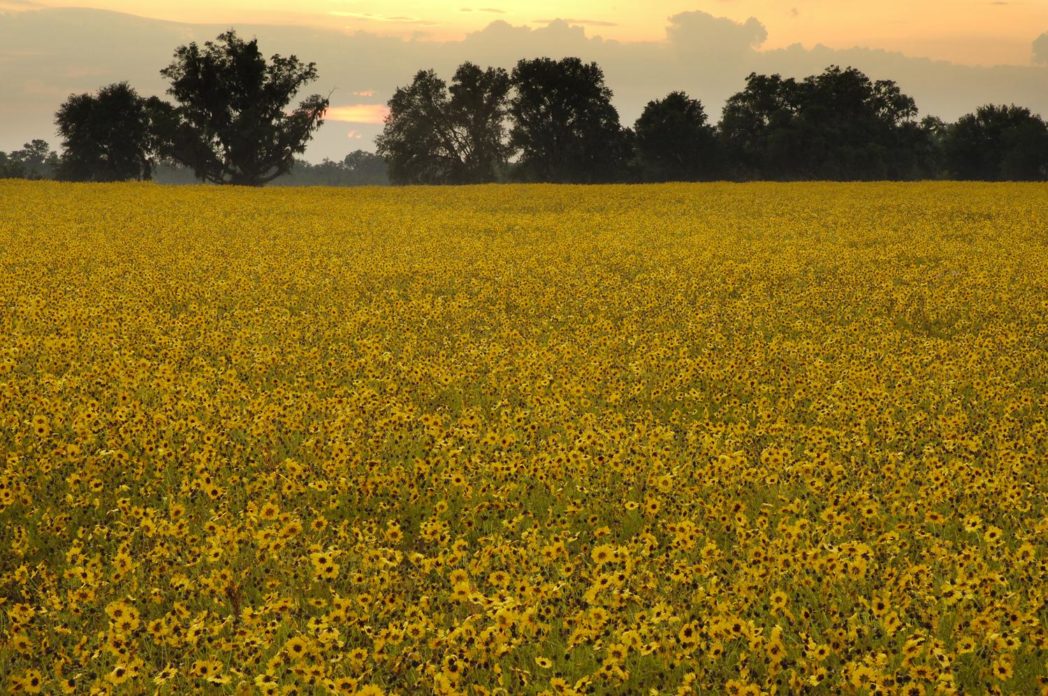 April 18, 2022
Field trip: Wildflower Farm
Due to popular demand we are offering another wildflower farm field trip in Alachua on Saturday, May 7, 2022 at 10:00 am. Join us as farm owner Terry Zinn gives a talk at his Alachua farm on wildflower farming and easy wildflowers to cultivate. He will then lead the group on a tour of the farm. Wildflowers of Florida Inc. offers 30 acres of wildflowers in full bloom and they are waiting for you!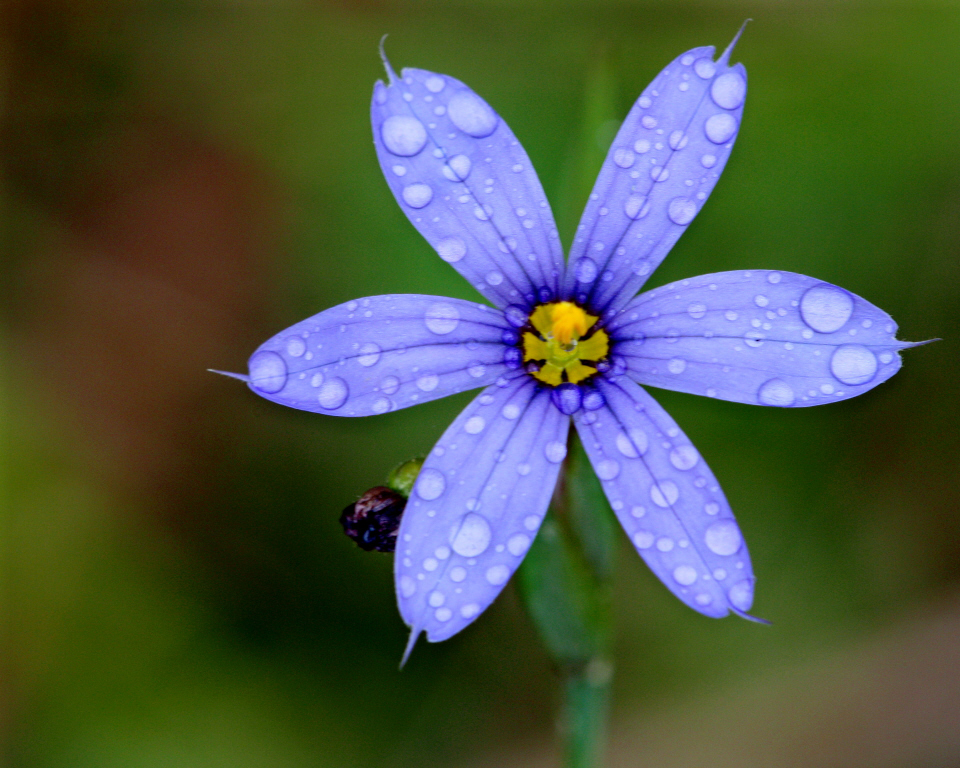 Blue-eyed grass
The low profile of Blue-eyed grass (Sisyrinchium angustifolium) makes it an excellent groundcover choice. It is fairly adaptable to a variety of conditions.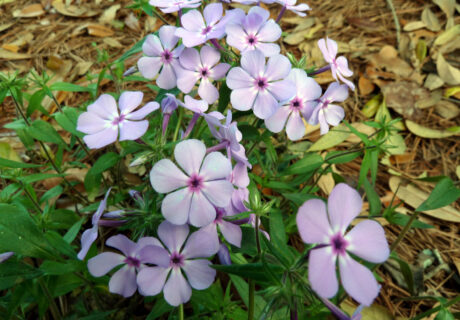 Wild blue phlox
Wild blue phlox (Phlox divaricate) is a delicate perennial wildflower. Its beautiful blooms appear from spring into early summer in slope forests, bluffs and calcareous hammocks.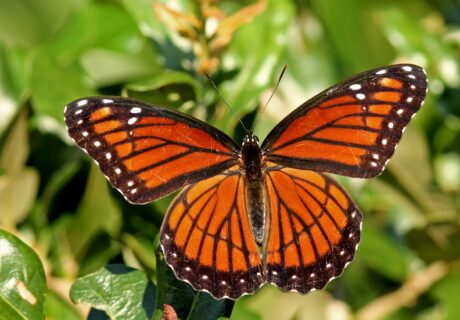 Viceroy
Viceroy and Monarch butterflies are distantly related through the family Nymphalidae. They have evolved to mimic each other through Mullerian mimicry, which is when two species that are both unpalatable to predators evolve to resemble each other for their mutual benefit. Although they are similar, you can spot the differences in a few ways.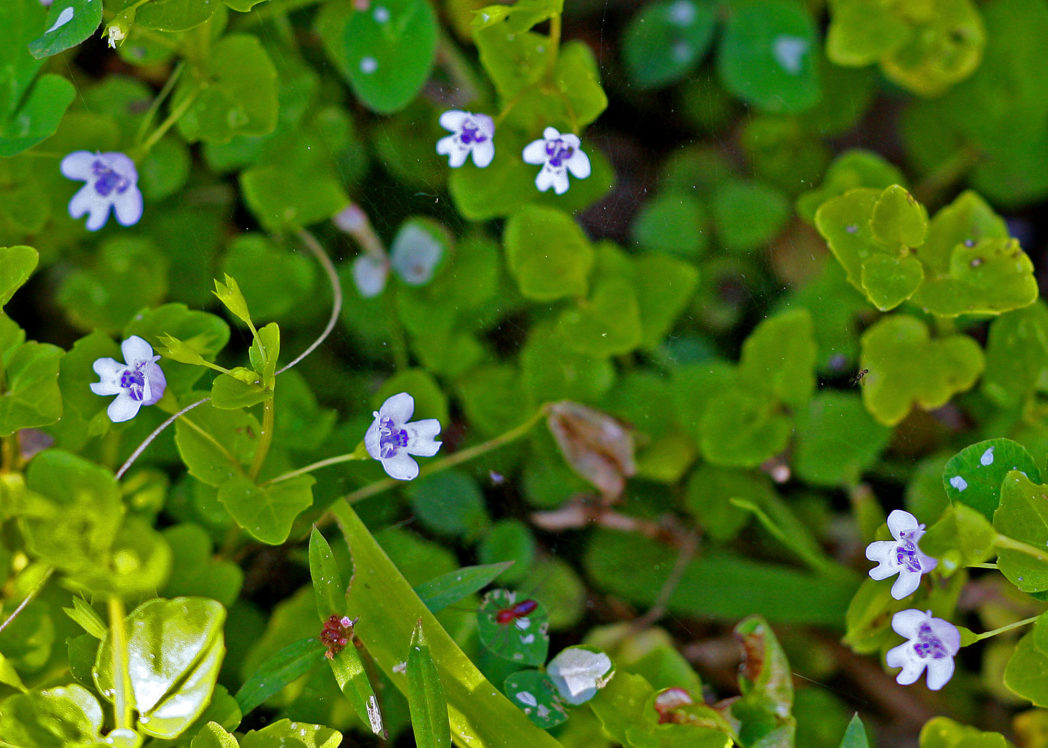 Browne's savory
Browne's savory (Clinopodium browneii) is a highly aromatic plant that can be used to make a tea or to add mint flavor to a salad or other dish.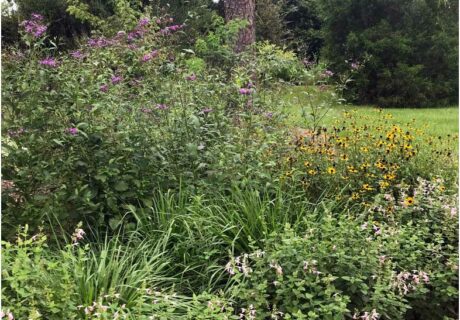 Webinar: Underutilized Native Wildflowers with Ornamental Potential
Join the Florida Wildflower Foundation on Wednesday, April 20 at 2 pm for our next webinar. University of Florida professor and author Sandra B. Wilson will introduce some native wildflowers with ornamental potential and discuss the challenges and successes of propagation.