News & Events
Latest from us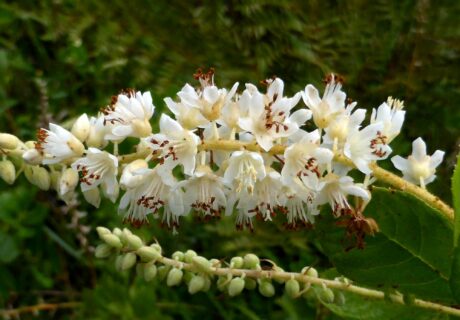 January 26, 2022
Summersweet
Summersweet (Clethra alnifolia) is an excellent plant for wildlife. Its showy, sweet-scented flowers bloom spring through summer, attracting hummingbirds, bees, butterflies and other pollinators. Birds and small mammals consume the fruits.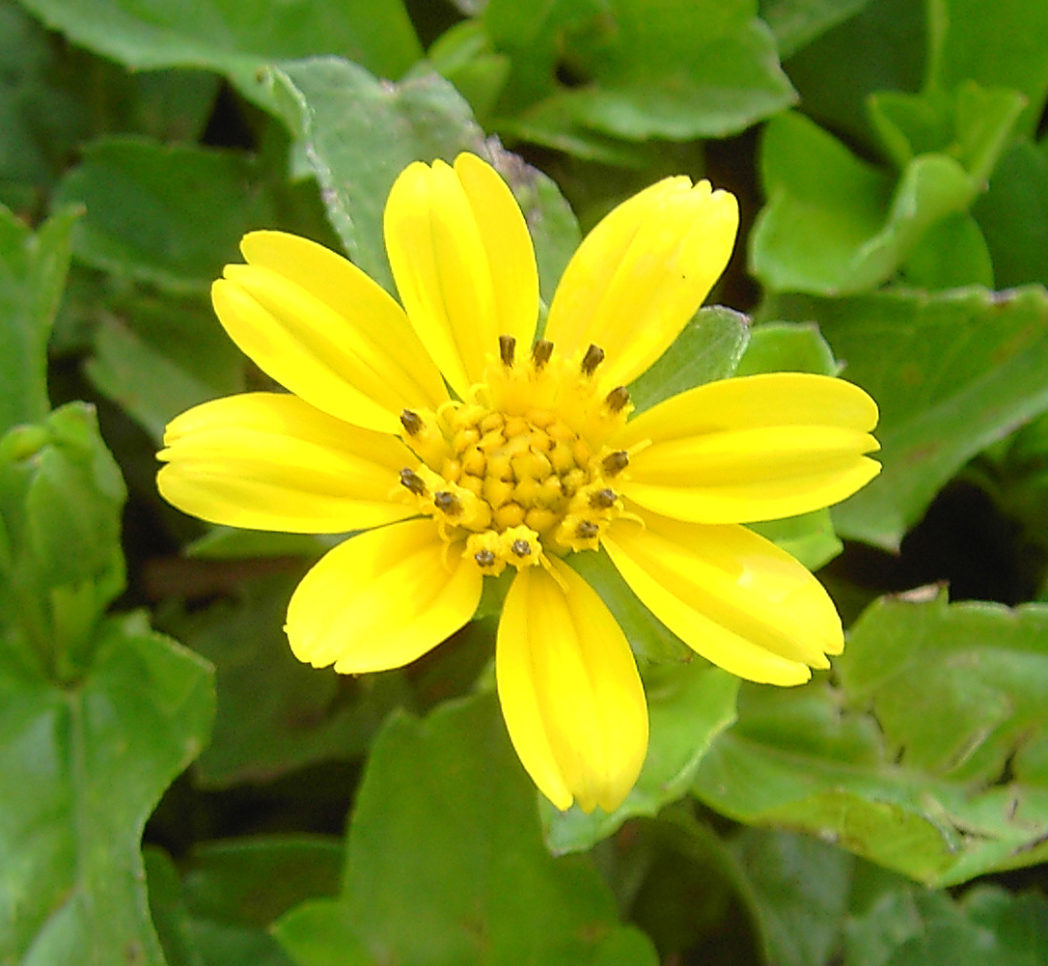 January 26, 2022
WEBINAR Invasive Alternatives: Winning the Battle Against Invasive Plants in Your Garden
Join the Florida Wildflower Foundation on Wednesday, March 2 at 2:00pm for our next webinar. FWF Executive Director Stacey Matrazzo will discuss some of the invasive species commonly used in home landscapes and highlight the native plants to use in their place.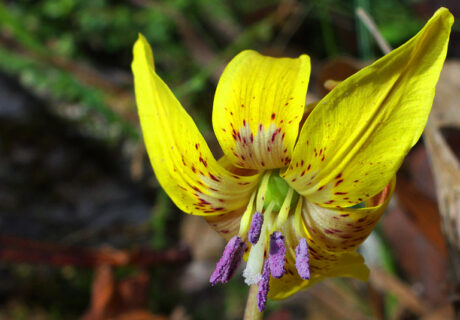 January 26, 2022
Feb. 12 Field trip to Angus Gholson Nature Park
Join the Florida Wildflower Foundation for a hike of Angus Gholson Nature Park in Chattahoochee led by Bob Farley on Saturday, February 12th at 9am.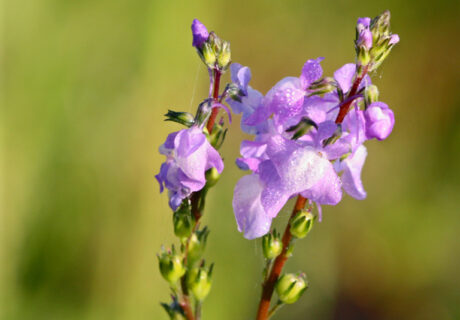 January 21, 2022
Blue toadflax
Blue toadflax (Linaria canadensis) is an annual wildflower that forms a delicate sea of lavender when in bloom. It is common along roadsides, and in pastures and other disturbed areas.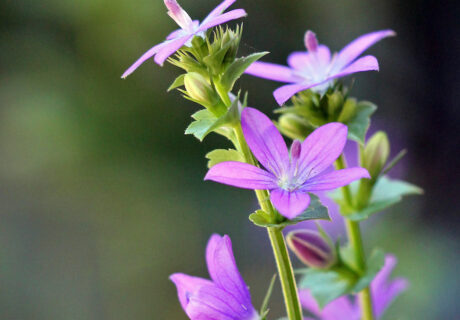 January 14, 2022
Venus' looking glass
Clasping Venus' looking-glass (Triodanis perfoliata) is an annual herbaceous wildflower that typically flowers late winter through spring. It is pollinated by bees, flies and small butterflies and moths.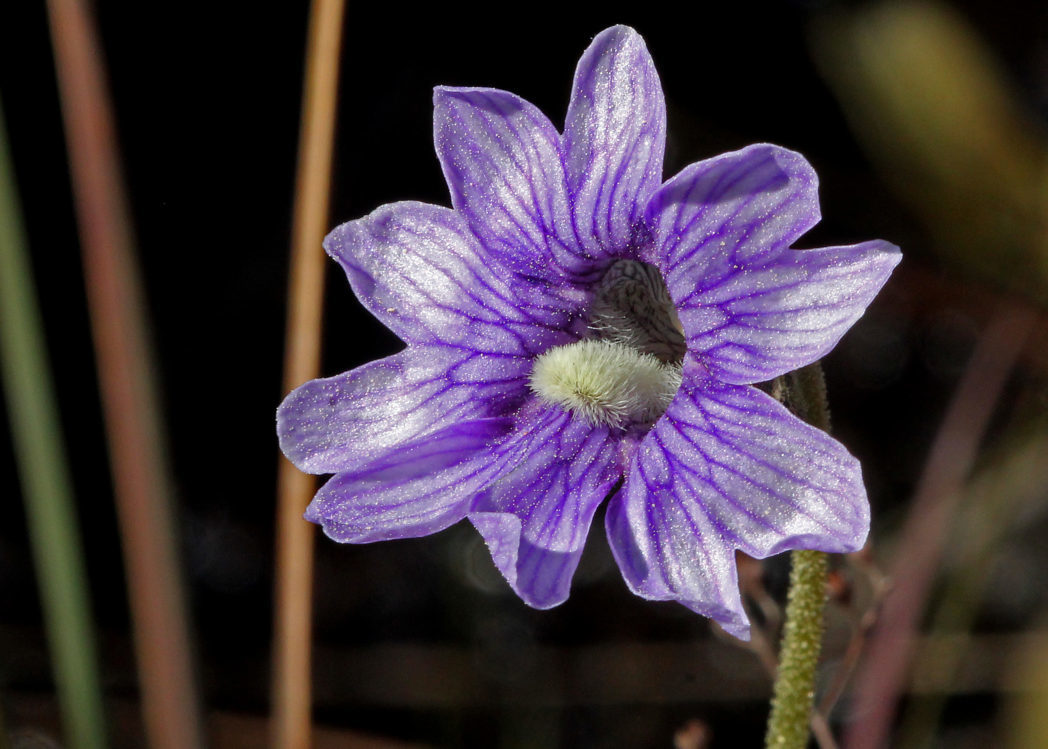 January 7, 2022
Blueflower butterwort
Blueflower butterwort (Pinguicula caerulea) is an insectivorous wildflower that typically blooms between January and May. It occurs naturally in bogs and low pinelands throughout much of the Florida peninsula.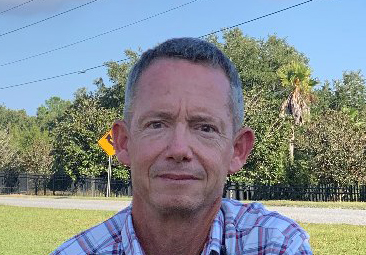 January 5, 2022
Meet board member Mark Russell
As a Florida Wildflower Foundation board member, Mark Russell brings his experience in horticulture installation and landscape design to his leadership role of the Foundation.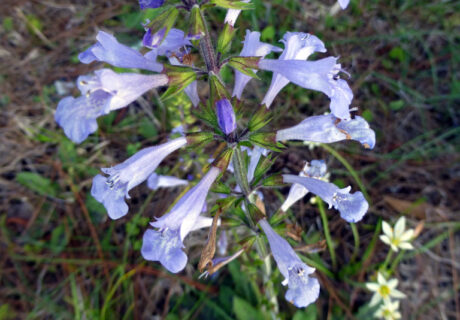 December 31, 2021
Lyreleaf sage
Lyreleaf sage (Salvia lyrata) is an attractive perennial with leafless spikes of tubular, lavender to bluish flowers. Bees are its predominant pollinator, but it also attracts butterflies and hummingbirds.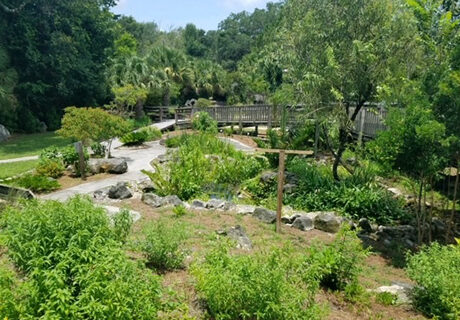 December 30, 2021
Jan. 23 Field trip to the Enchanted Forest Sanctuary
Join the Florida Wildflower Foundation for a tour of the Enchanted Forest Sanctuary in Titusville on Sunday, January 23rd at 10am. Naturalists Melanie Howarter and Karen Ferguson will lead us on a two mile hike through mesic hammock and oak-saw palmetto scrub.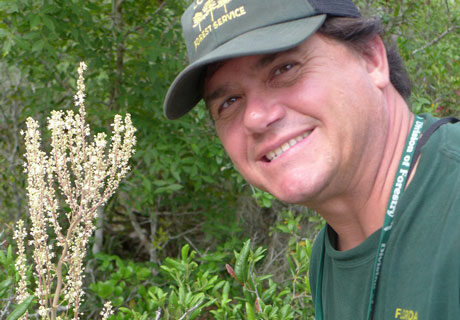 December 29, 2021
WEBINAR Florida Plant Conservation Program: 30 years and growing!
Join the Florida Wildflower Foundation on Wednesday, January 26 at 2:00pm for our next webinar. Biologist Michael Jenkins will cover the work being conducted by the FPCP to conserve rare plants, current grant projects, and funding opportunities for conserving federally listed and "At-Risk" plants in Florida.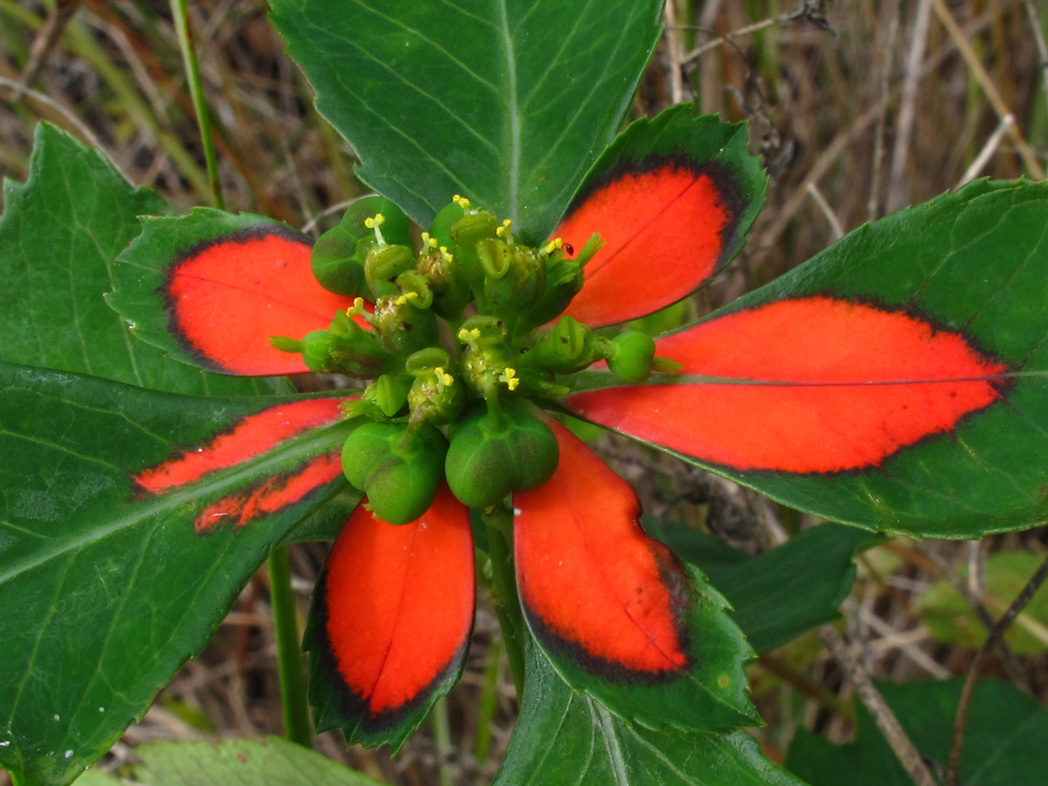 December 24, 2021
Paintedleaf
With so much attention given to the Christmas poinsettia, we thought it would be nice to pay homage to our native poinsettia, Paintedleaf (Euphorbia cyathorphora).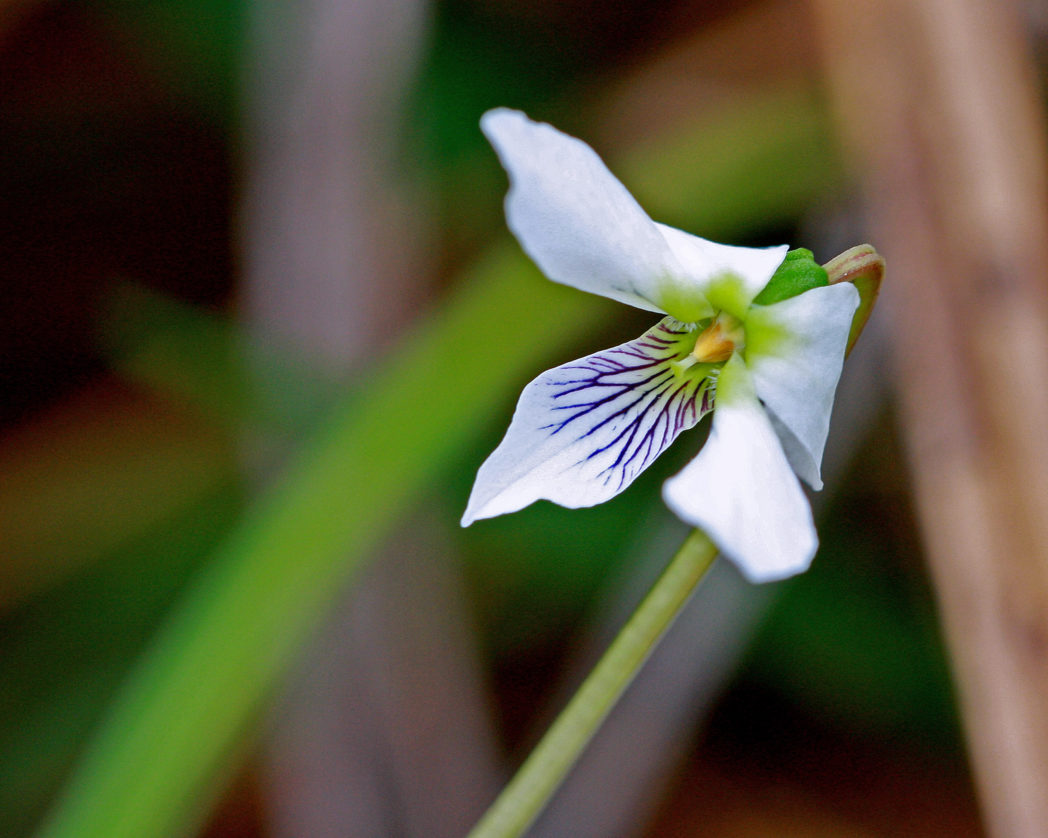 December 17, 2021
Bog white violet
Bog white violet (Viola lanceolata) is a diminutive perennial wildflower that occurs naturally in bogs and along the edges of ponds, marshes and other wetlands.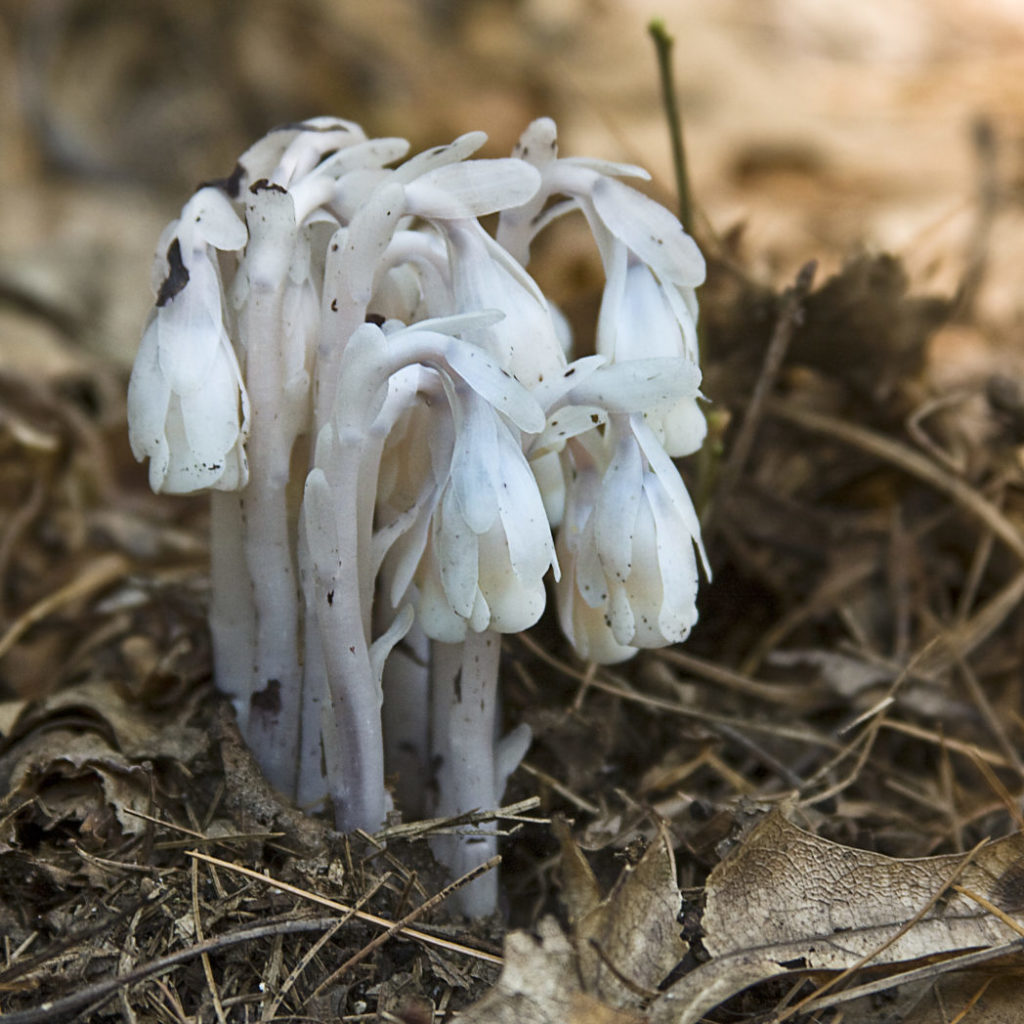 December 10, 2021
Indianpipe
Indianpipe (Monotropa uniflora) is an odd wildflower as it contains no chlorophyll. It begins its life as a white, translucent plant, turning pinkish and developing blackish-purple flecks as it matures.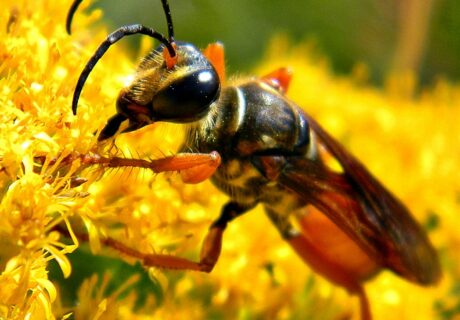 December 6, 2021
Great golden digger wasp
The Great golden digger wasp (Sphex ichneumoneus) is gentle and solitary, preferring flight over fight. These wasps can be seen nectaring from wildflowers in the summer months.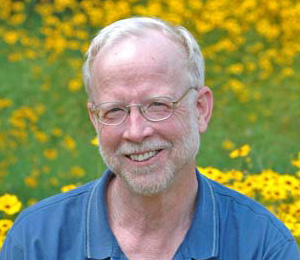 December 6, 2021
Terry Zinn honored with 2021 Coreopsis Award
Terry Zinn received the 2021 T. Elizabeth Pate Coreopsis Award in recognition of his advocacy for Florida's wildflowers. An environmental lawyer, biologist, wildlife ecologist and wildflower farmer, he has helped steer and build the Foundation's programs and is a guiding force behind its success.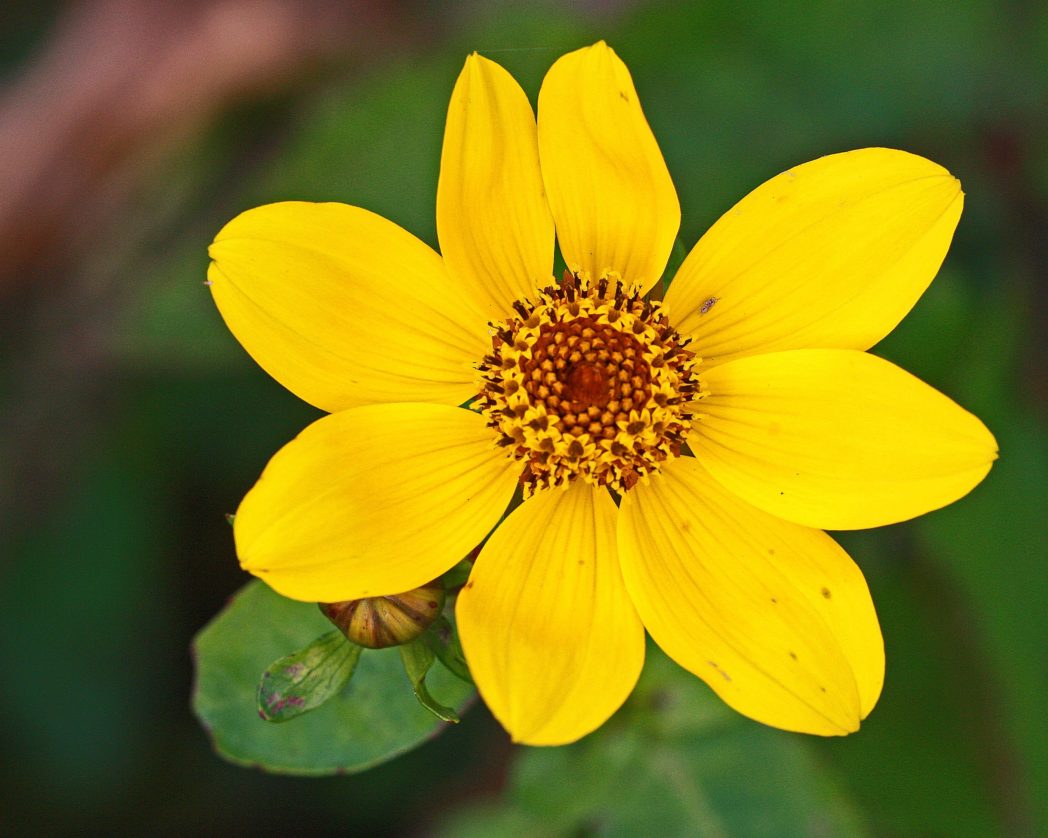 December 3, 2021
Burr marigold
Burr marigold (Bidens laevis) is an annual wildflower with bright yellow flowers that bloom in late fall through early winter. They attract many bees and butterflies.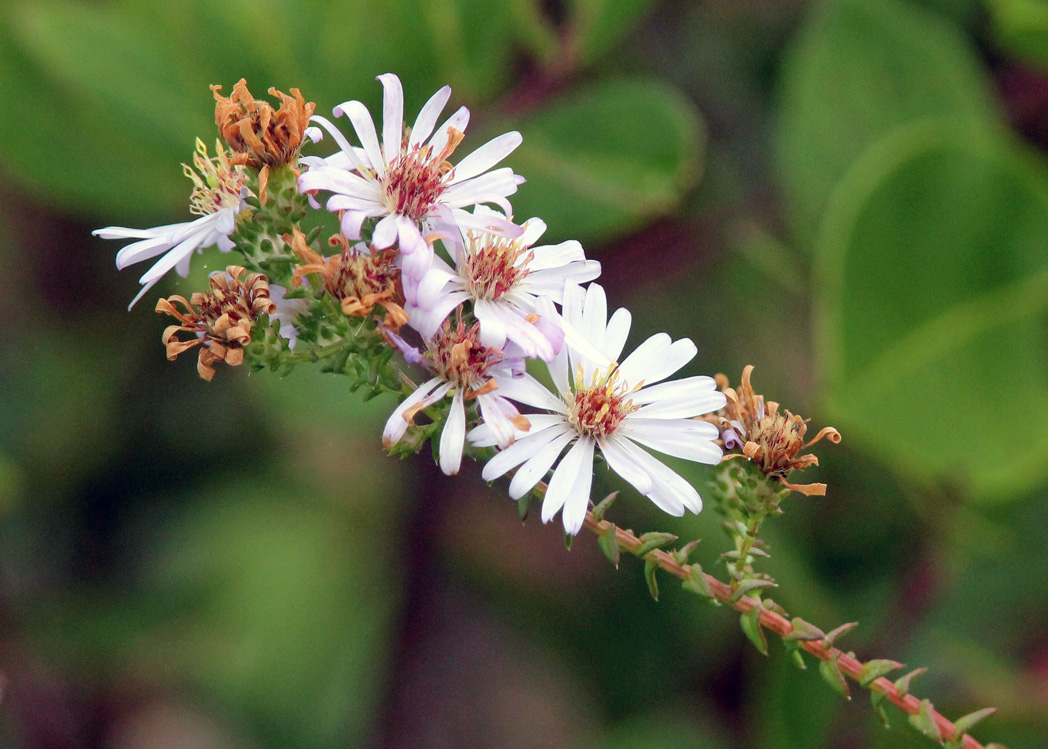 November 26, 2021
Walter's aster
Walter's aster (Symphyotrichum walteri) in late fall and early winter, providing nectar and pollen to butterflies, bees and other pollinators at a time when floral resources are limited.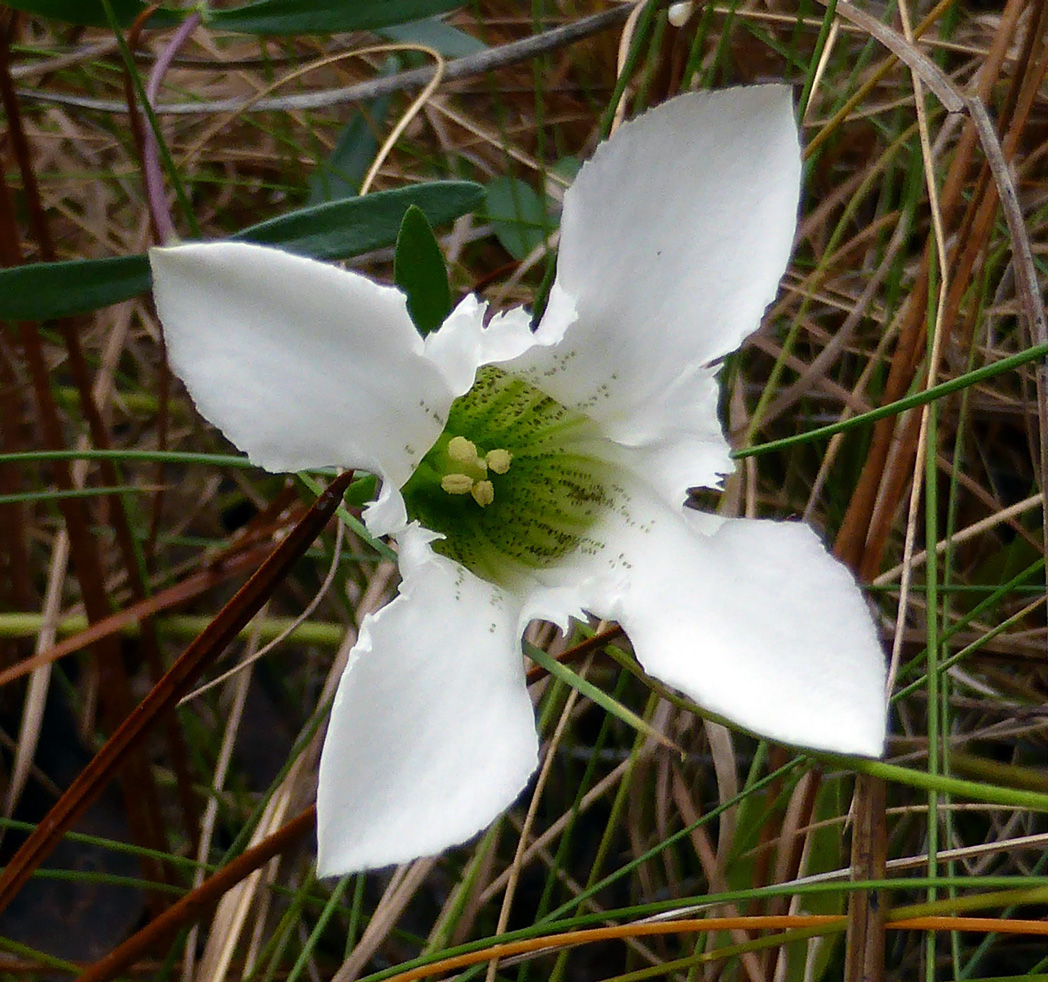 November 19, 2021
Wiregrass gentian
Wiregrass gentian (Gentiana pennilliana) is a rare herbaceous wildflower endemic to only nine Panhandle counties where it occurs naturally in pine flatwoods, wet prairies and seepage slopes.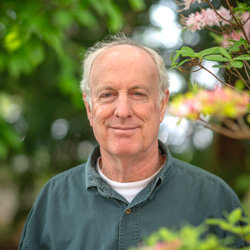 November 16, 2021
Wine and Wildflowers!
The Florida Wildflower Foundation and Florida's own Island Grove Wine Co. are teaming to host a unique virtual fundraiser supporting the Foundation's Pollinator Pathway projects. The event will feature special guest Doug Tallamy, author of Bringing Nature Home. Join us at 7 p.m. EST, Monday, November 29, for this innovative event.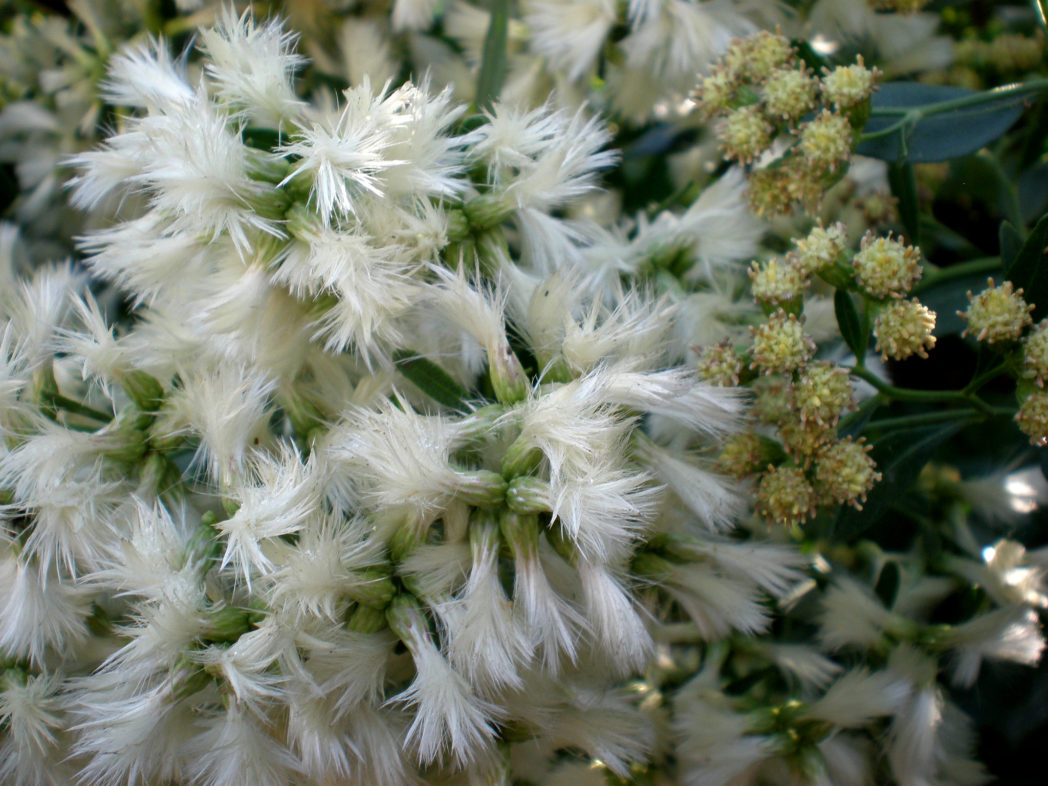 November 12, 2021
Saltbush
Also known as Groundsel tree and Sea myrtle, Saltbush (Baccharis halimifolia) is a long-lived perennial shrub that typically blooms in fall. It occurs naturally in coastal uplands and dunes, along pond margins, and in ditches and disturbed areas. It is an evergreen in the southern part of the state, but can be deciduous in northern Florida.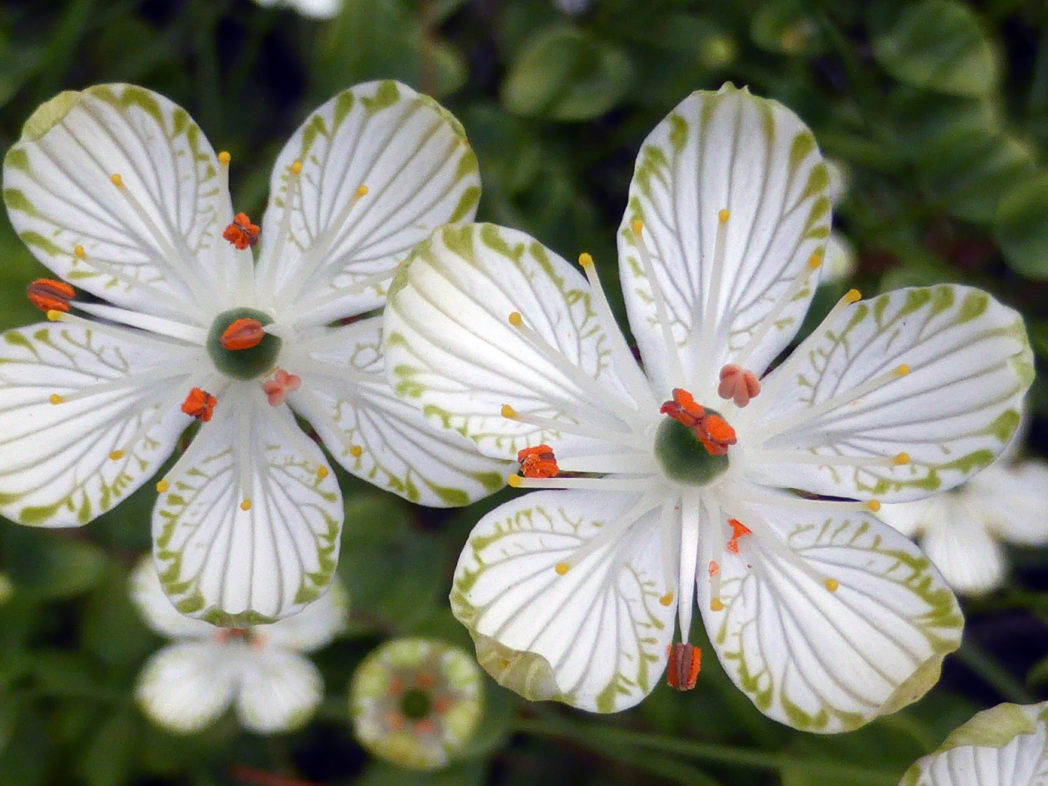 November 5, 2021
Grass-of-Parnassus
Largeleaf grass-of-Parnassus (Parnassia grandifolia) is a rare and wonderful wildflower. Every part of it is distinctively striking. It blooms only in fall, and is a state-listed endangered species.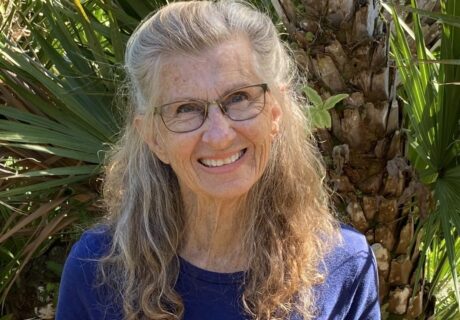 November 3, 2021
Member profile: Neta Villalobos-Bell
Neta Villalobos-Bell is passionate about native plants and the value they have for wildlife. She delights in tending to her native wildflowers, and is a huge advocate for creating habitat for Florida's butterflies and bees.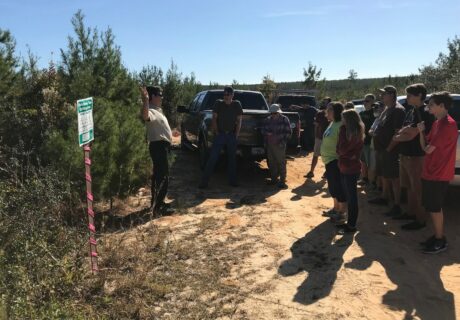 November 3, 2021
Field trip: 2021 Christmas tree cutting
Join the Florida Wildflower Foundation on Dec. 4 for our annual Christmas tree cutting event. Forest Service biologist Liz Ramirez will introduce us to the Ocala National Forest. Learn about how the forest service manages the scrub habitat and why they allow people to cut down trees there. Then we'll caravan to the Christmas tree cutting site, where everyone with a permit will have the opportunity to pick out and cut down their very own fresh-from-Florida sand pine.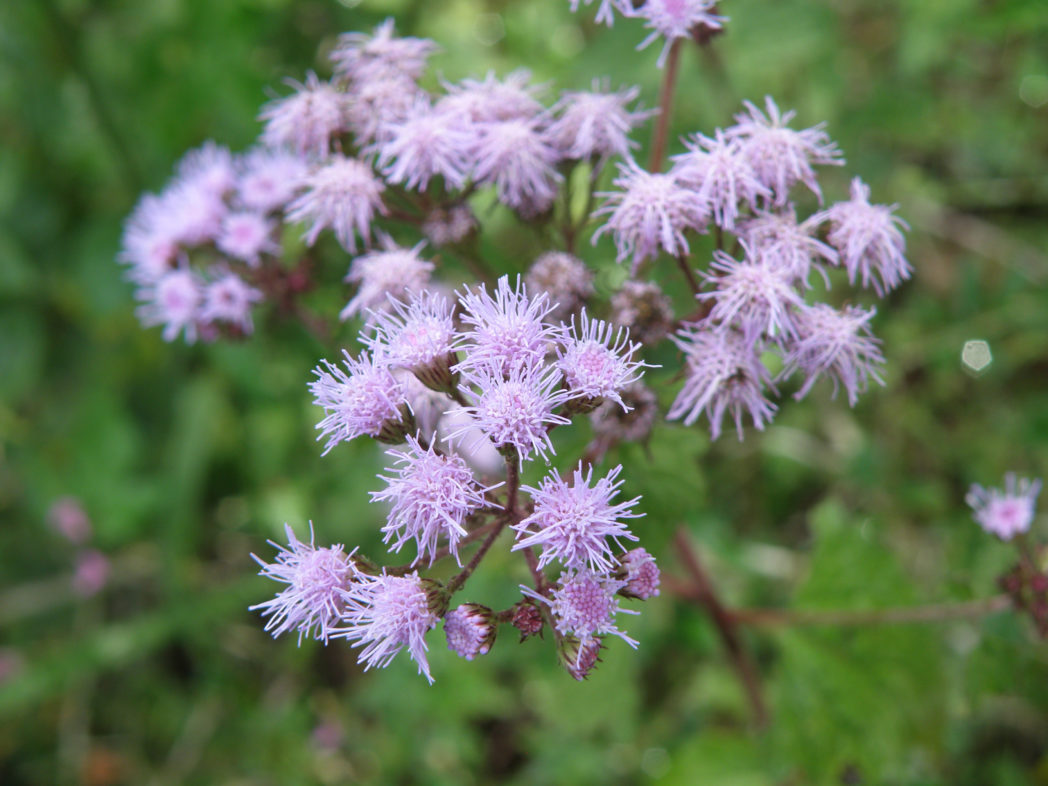 October 29, 2021
Mistflower
Mistflower (Conoclinium coelestinum) gives the appearance of a blue fog when blooming en masse. Its flowers are very attractive to pollinators, especially butterflies, moths and long-tongued bees.