Nature's mismatches — How you can help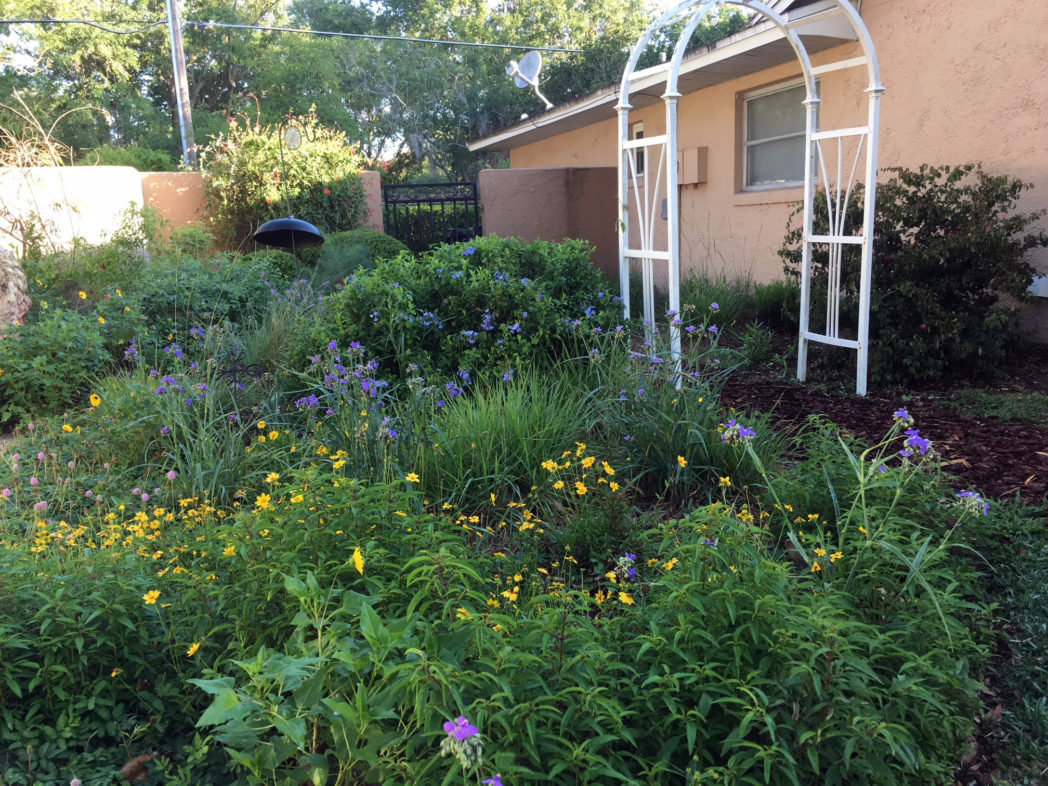 In the final installment of our series on the importance of phenological continuity, we leave you with a sense of hope — and a few tools to help make a difference.
by Laura Bennett-Kimble
Phenology, nature's calendar for matching plant maturity and animal needs, is ideal when plants are blooming and providing vegetative habitat and food for insects, birds and other animals in the right place and at the right time.
Unfortunately, early spring flowering can knock the system out of whack, which is what is happening across the globe. People can help mitigate the impacts of phenological mismatch in a number of ways, though.
"One of the best things an individual can do to support pollinators as they face the issue of phenological mismatch is to plant flowering plants with a variety of bloom times and floral traits," said Sarah Anderson, a University of Florida Ph.D. student researching bee phenology.
For honey bees and bumblebees that forage on a variety of flowering species, planting in such a manner can provide food for more of the year, according to Anderson. This ensures that even if bees are active earlier or later — or one plant doesn't bloom at its normal time, there are still floral resources available, she said.
"In a broader sense, anything that a person can do to support diverse pollinator habitats with abundant flowering plants is helpful," she added.
If a phenological mismatch between a plant and its pollinator causes the plant to go unpollinated, humans can hand pollinate, according to Rachel Mallinger, University of Florida Department of Entomology and Nematology assistant professor.
"This may not be something that your average person would do, but if you are managing populations of plants that are threatened and depend on animal pollinators, hand pollination can help to ensure successful reproduction," she said.
Planting native wildflowers also is a great way to support native bees, butterflies, birds and other wildlife that have coexisted for centuries, according to research. Native plant nurseries across the state provide a wealth of interesting native plants for purchase, along with information to help the plants thrive. (For information on growing wildflowers, visit the Florida Wildflower Foundation's Planting page.)
Citizen scientists play a part
Everyone can be a citizen scientist, sharing observations about when plants are flowering and when insects and bird show up in their yards. People have been compiling environmental data for decades, from Henry David Thoreau and his observations about Walden Pond, to lesser-known individuals such as hunting guide L.S. Quackenbush, who recorded detailed information about springtime appearances of migrating birds and plant buds in Maine in the 1940s and 1950s.
The USA National Phenology Network (USA-NPN), which "brings together citizen scientists, government agencies, non-profit groups, educators and students of all ages to monitor the impacts of climate change on plants and animals in the United States," according to its website, provides a platform to do just that.
Its Nature's Notebook project has become an ever-growing repository of ecological data from around the country. Information collected already has enabled scientists to make new discoveries about how phenology is changing, according to USA-NPN Outreach Coordinator Erin Posthumus.
"We've learned about how urbanization impacts leaf-out and flowering in plants, which plants are most at risk from late-season freezes, how milkweed flowering is shifting in response to climate change, and more," she said.
The organization would like more people to help document changes in phenology of plants and animals, including those in Florida. For example, Lanceleaf tickseed (Coreopsis lanceolata) is on the NPN list, but no Florida observations have been recorded yet, according to Posthumus.
Help for Monarchs
One USA-NPN project, the Nectar Connectors campaign, would be ideal for participants in Florida who love wildflowers, Posthumus added.
"We are looking for people to report the timing of flowering of nectar plants that are important for Monarch butterflies and other pollinators," Posthumus said. "There are 25 species of plants to choose from that occur in Florida. Data from this campaign will help managers know when and where nectar is available for Monarchs, and take steps to manage areas that may need more nectar plants."
Planting gardens with pollinators in mind, recording observations and paying attention to nature's calendar are all ways we can engage with and support ecological systems.
"Phenological mismatches have the potential to impact a wide range of organisms, all the way from tiny marine plankton to impressive birds of prey," Anderson said. "Phenological mismatches, especially between plants and pollinators, may negatively impact both natural ecosystems and food production. The good news is that much research is already underway on this topic, and as we grow our understanding of this issue, we will be better equipped to address the consequences of phenological mismatch in the future."
Read the rest of the series
Nature, like a machine, has processes that keep the system running smoothly. But when there's a mismatch between such things as flower bloom time and insect emergence, that machine ceases to function correctly.
According to the National Phenology Network, spring arrived about three weeks early in the southeastern United States, with the first tiny leaves and flower buds appearing notably earlier than usual in North Florida and, to a lesser degree, Central Florida.
To everything there is a season, but what if those seasons aren't as predictable as they once were? Anecdotal and scientific information increasingly show changes in when plants are blooming, fruiting and going to seed. And that can spell trouble.