Member profile: Walter and Karin Taylor
You will find Walter and Karin Taylor at most Florida Wildflower Foundation and Florida Native Plant Society events, many times volunteering their time to speak to others or sit at information tables and promote wildflowers. They are longtime residents of Florida and experts on wildflowers, with Walter having authored numerous field guides that have become indispensable to Florida wildflower enthusiasts.
Karin holds an MS degree in zoology, and Walter, a PhD in zoology, both obtained from Arizona State University. They have a daughter, Anna Ree, who holds a PhD in molecular neurobiology from Wake Forest Medical School (North Carolina) and works in the neuroscience area of the National Institutes of Health in Bethesda, MD.
Join the Taylors in supporting the Florida Wildflower Foundation by becoming a member or making a one-time donation to support our work.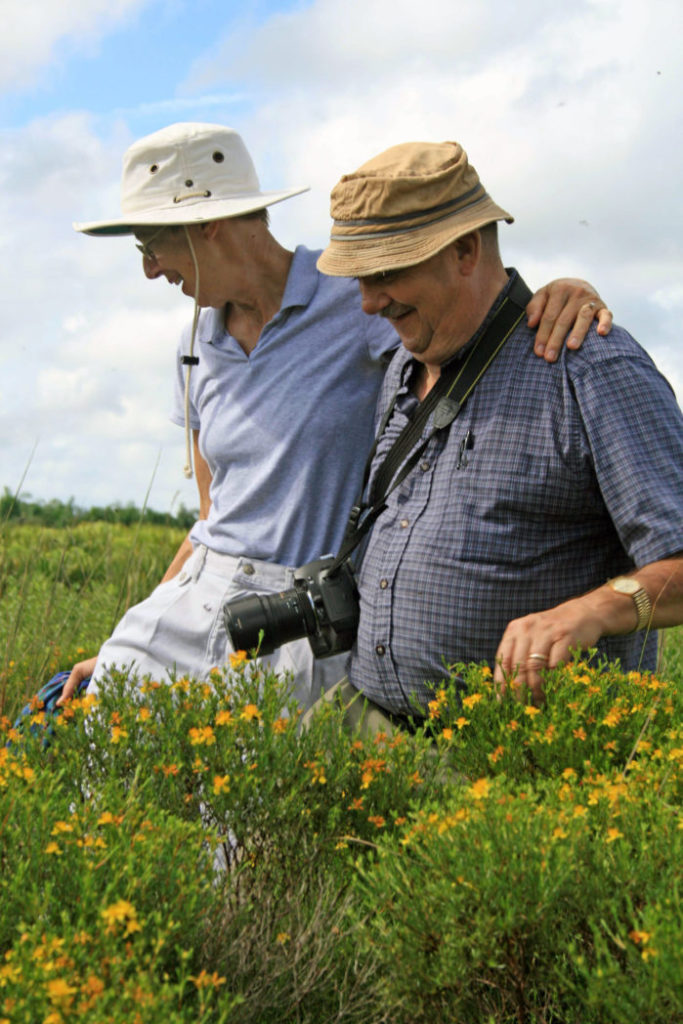 Tell our readers a little about yourselves.
Karin grew up on the side of a mountain at the outskirts of Asheville, N.C. I grew up in the Green River farming area of western Kentucky. Both of us spent much of our early years exploring the wonders of the outdoors. Karin made collections of wildflowers that grew on her mountain, and I chased and collected insects. In those days, you could "trespass" on folks' property without getting shot!
I couldn't help but notice the plants that were visited by insects, especially wildflowers and butterflies. Not only did I begin learning the names of the plants, but I also discovered they provided good sites to use my sweep net. I especially remember looking for all metamorphic stages of the monarch butterfly on the common milkweed, Asclepias syriaca. There were lots of these milkweeds growing in fields, pastures and along roadsides. I had a short stint of raising adult monarchs from the caterpillar stage. It was amazing how the larva formed the beautiful pale green, gold-dotted chrysalis. For my birthday, my mother gave me Frank E. Lutz's Field Book of Insects and the Golden Nature Guide of Insects. Karin's father had given her both volumes of Rickett's Wildflowers of the Southeast. We still have these. My uncle Carl Donahoo, who repaired and rebuilt tractors and other farm implements in his shop near where we lived, often chided me for wasting my time chasing "bugs." One good thing about his shop was the Grapette you could get out of his drink machine for a nickel. Why that pop is not available today is a mystery to me!
Shortly after I left home to enter Murray State, my parents passed and my insect collection was given to a local natural history museum. I had several glass-covered wooden cases and several cigar boxes filled with butterflies, moths, beetles, orthopterans and hemipterans. Karin had amassed an extensive collection of pressed wildflowers.
Both of us had great high school biology teachers. Mine was dubbed "Bug Nall" by her students. She was a super demanding teacher who did not tolerate any foolishness. For her class, we had to make an insect collection representing 10 orders of insects — that was a piece a cake for me.
Karin's and my interest in nature, biology and the outdoors never waned. In those days you seldom heard the words ecology, conservation, pollinators or the like. Although we both took the zoology tract of biology in college, our interest in the plants continued to grow. I still remember standing in the hallway of the biology department talking to my general botany and plant taxonomy instructor, Dr. A. M. Harvill, who often asked me when I was going to "divorce bones, muscles, and blood" and come over to the plant world. After Dr. Harvill left Murray State, he eventually moved to Virginia, where he was an early founder of the Atlas of Virginia and became an authority of Virginia plant distributions. The common chickweed, Stellaria media, was the first plant I ever keyed out, using the eighth edition of Gray's Manual of Botany.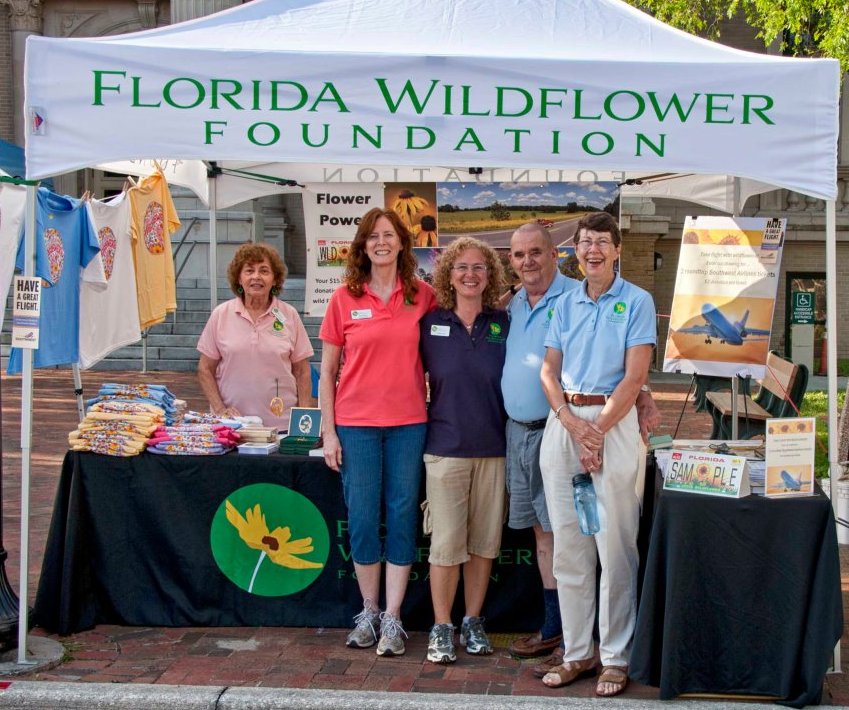 How long have you been in Florida?
We've been here 47 years. We have lived in the same house we purchased new in August 1969. I finished my active duty military stint at Fort Detrick, MD, and came to Florida to begin a teaching career at Florida Technological University (FTU), which later became the University of Central Florida (UCF), now the second largest university in the United States. Karin taught middle school in Orlando for several years. Besides teaching zoology courses, I taught local flora, Florida wildflowers, and Florida natural history before I retired in 2004 after 35 years at UCF.
Is there a moment you recall that first sparked your interest native flora?
Karin: Hiking Flattop Mountain in North Carolina with my faithful dog Suzette, who I thought helped ward off snakes.
Walter: Although I had an interest in plants in high school and at Murray State, the real spark came when students would ask me during our ornithology field trips, "What is that plant?" I specifically recall two plants that were often queried: Florida greeneyes (Berlandiera subacaulis) and the blue violet (Viola palmata), then named Viola septemloba. After replying "I don't know" numerous times, I decided I would just learn these plants. With Dick Wunderlin's book on Central Florida plants, Mary Frances Baker's wildflower book with keys, and a binocular scope and dissecting tools, I began to examine and key every blooming plant I could find on UCF campus, which then had a huge, diverse and rich flora. Had the Atlas of Vascular Plants been around at that time, I would have not had to work so hard. It wasn't long until I was "hooked" on Florida wildflowers; one thing led to another.
How did you become acquainted with the Florida Wildflower Foundation?
I remember Gary Henry, then executive director of the Foundation, coming to UCF to promote it and to tell us that funds were available for certain types of research. I never applied for funds, but it would have been nice to have had a few dollars!
Do you have any words of wisdom to share with people who are just getting to know about wildflowers?
Get off your duff and go in the fields, woods, swamps or wherever and look for the plants; they won't come to you. Learn the Florida ecological communities. Take along some good picture field guides — mine will help! Read the descriptions and learn some terminology and classification. If a person really wants to grasp these plants, they should be willing to work at their identifications. Yes, some plants can be tough and that is when you need to ask someone. Florida has some of the best state parks on Earth. Visit these and attend meetings and field trips offered by the Foundation and Florida Native Plant Society chapters.
Why should people care about wildflowers?
Wildflowers are an essential part of planet Earth, as is anything else — including humans! These plants are here for a reason and they should be protected and loved beyond reproach. Not only do wildflowers add color to the environment, but they also serve our pollinators, provide sources of inspiration to poets, artists and the ordinary Joe Blow who is willing to observe. Many wildflowers are sources for medicines and foods for humans and other animals. What would seed-eating birds (and there are lots of them) do without seeds produced by many wildflowers? Wildflowers are precious assets to mankind and therefore an important link in the "web of life."
Do you have a favorite wildflower or family of wildflowers?
Karin: Oakleaf hydrangea (Hydrangea quercifolia) and dune sunflower (Helianthus debilis). My favorite tree is the live oak (Quercus virginiana).
Walter: Florida greeneyes (Berlandiera subacaulis) got me started in the beautiful world of Florida wildflowers. I am especially fond of our weedy, less gorgeous wildflowers that most people ignore or stomp on with their feet! Sweetbroom or licoriceweed (Scoparia dulce), for example, has one of the most beautiful flowers of any plant when viewed under magnification. I have always been fond of milkweeds (Asclepias), and plants in the Asteraceae (daisy), Lamiaceae (mint), and Fabaceae (bean and pea) families.
Besides wildflowers what are some other favorite pastimes you enjoy.
Karin: Walking, reading and quilting.
Walter: Gardening, photography, playing the pipe organ and piano, and of course, looking for wildflowers, especially a new find.
Walter, what other botanist from history would you enjoy meeting and why?
The French botanist, André Michaux, who has become a part of my life for 15+ years. I know that man as well as members of my own family. Many of our wildflowers bear his name. I'd also like to meet Mary Francis Baker, an earlier promoter of Florida wildflowers who lived in Winter Park. Her little book with keys was a great asset to me when I began studying our wildflowers. Neither Michaux nor Baker have received the accolades they deserve.
What goals do you want to see the Foundation continue to pursue?
Continue to promote the importance and value of our wildflowers, their protection and preservation. Expand roadside beautification and wildflowers as major sources of all our pollinators.