Member profile: Taryn Evans
Meet Taryn Evans of Weirsdale, Florida. Taryn is an enthusiastic member of the Florida Wildflower Foundation. She has shared her expertise on pollinators at previous Florida Wildflower Foundation symposia and with the Florida Native Plant Society's Marion Big Scrub Chapter, where she serves as president. She and her husband, Terry, own Creative Garden Structures, which sells their handmade garden furniture, bird and pollinator nest boxes, and hand-painted rain barrels, as well as Florida native plants and wildflowers.
Join Janice Broda in supporting the Foundation by becoming a member or making a one-time donation to support our work.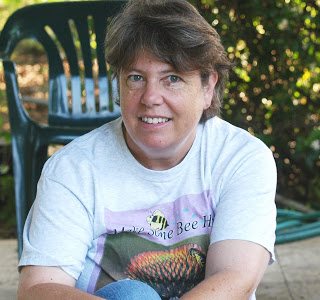 Where are you from and how long have you been in Florida?
I'm originally from Cortland, N.Y., just south of Syracuse. The local chamber of commerce likes to say that it is the eastern gateway to the Finger Lakes. It's definitely more rural than not; lots of dairy farms and glacially formed hills and lakes. I've been in Florida since 1976 — 40 years! I came as a teenager, dragged here by my mother who was escaping the snow and longish winters.
Is there a moment you recall that first sparked your interest in native flora?
Probably a couple of things came together to get me interested in native plants. First, my husband, Terry, and I have always enjoyed a lot of outdoor activities — hiking, camping, biking, etc. We did these things as a family when our kids were young, as well. That led us to get involved in volunteer organizations like the Friends of Silver River State Park (now the Friends of Silver Springs State Park). I was very active in that group as president for several years.
Second, Terry and I bought a house and land soon after we married. The land was bare, as it was formerly an orange grove, but the trees died during one of the bad freezes in the early 1980s. When we bought it, it was an honest-to-goodness "blank slate." Unfortunately, we didn't know anything at all about what would be "appropriate" plants for such a canvas. We had a little over two acres of land to landscape, and we sure made our share of mistakes: planting a goodly number of invasives, plants that needed shade when there was none, plants that needed water when there was no irrigation, etc. Years of experience later, and knowing now what I didn't know then, I realize how much our landscape would have benefited if only I had learned earlier about native plant communities. We eventually removed the worst of the exotic invasives, but unfortunately it's hard to undo some errors. So learn all you can before you plant is my advice!
In looking for solutions to our multiple landscape challenges, I started to read more about native plants. But finding them in my local area so that I could purchase them and put them in my garden was a problem. I started to sell native plants basically so I would have access to the plants for myself!
What do you like most about native wildflowers? Do you have a favorite?
Of course, I like the color and variety of our native wildflowers, but probably the thing I appreciate the most is the life they draw to the garden in the form of bees, butterflies, birds and beneficial insects. With that in mind, it's probably not a surprise that two of my favorite wildflowers are really good at pulling all those wild things into my garden. They are Giant ironweed (Vernonia gigantea) and Frostweed (Verbesina virginica). Both are insect MAGNETS, and make a big statement in the garden because of their size. They also have a long blooming season, and are easy to grow. Some might say too easy, because they both very readily self-propagate. But I like that quality, too!
How did you become acquainted with the Florida Wildflower Foundation?
Being involved with a local Florida Native Plant Society chapter, not to mention selling native plants as a business, it would be hard not to be aware of the Florida Wildflower Foundation. And I love that there is this organization in Florida doing the important work of educating the public about our native wildflowers!
Tell us a little about your ongoing landscape projects.
Well, we have over two acres to take care of, so Terry and I spend most of our time keeping the plants we want growing nicely and keeping out those that we don't want. We try to find the most efficient, least time- and labor-consuming ways possible to keep the unwanted plants out, and that includes not spraying anything. Sometimes that means that plants we thought we didn't want in the landscape become plants we can live with — and even "like." In other words, we "embrace the volunteers" (unless they are exotic invasives).
Also, I like figuring out how to add recycled and repurposed materials to the landscape. For example, one of the earliest things we did was to use a large, old satellite dish as the roof for a gazebo-like structure.
What has been your greatest wildflower/landscape success? What challenges have you experienced?
I guess that would be having our demonstration garden. Previously, that area was our front yard, which was about an acre of sparse Bahia grass and plentiful weeds, studded with a few laurel oaks and sycamores, that we planted soon after buying the property. Now a mulch path winds through something that resembles more of a mixed hardwood forest community, with shrubs and understory trees. Around the sunny edges are beds filled with a mix of wildflowers. And we added a shallow pond for native aquatic plants. Now it truly can be called a habitat for a variety of wildlife, not an inland "desert."
The biggest challenge I have is the fact that as a "demonstration" garden, I always meant for it to, hopefully, inspire others who see it to add native plants to their own landscapes. So I've had to balance my own design inclinations, which would keep it a more natural-looking space, with design elements that lend a tamer, more tidy appearance suitable to smaller landscapes and people with examining neighbors. I'm afraid that I haven't been able to reach that state of balance; the garden decidedly tips toward the former, mostly because I can't keep up with the work in such a big garden.
What advice do you have to those just starting out with natives or those wanting to put native wildflowers/plants in their landscape?
Know why you want to plant natives. If it's because you want to increase the habitat quality of your landscape (and I hope that it is), what wildlife are you hoping to support? Birds, butterflies and other pollinators will often need specific plants to thrive in your garden. Do the research. There are great resources out there. And, of course, the cardinal rule for any garden is "right plant in the right place." Know your landscape so you can make the right choices. Again, take your time and do the research.
What do you think is the greatest challenge facing Florida's native wildflowers?
Too many people needing to use up too many natural resources, and for the most part, completely unaware of the important ecosystem services that wildflowers provide. They may have positive feelings about wildflowers because they make for a pretty thing to view on a country drive, but how many people take the time for a pleasure drive anymore? People are so cut off from nature, even in the most superficial ways.
Why should people care about wildflowers?
Wildflowers support the pollinators and other beneficial insects that make up a good part of the foundation of the food chain, while providing all kinds of ecosystem services to keep that foundation strong. Plus, as Keats said, "a thing of beauty is a joy forever!"
Tell us about your business.
Creative Garden Structures has moved in several different directions over time as we continue to adjust to what we think people want from us. When Terry and I first conceived of it, it was shortly after Terry sold another business he had owned for 13 years. We wanted something we could do together. But the business has stayed small because Terry still has a 40-hour-a-week job (on the side). In the current version of the business, Terry builds custom outdoor structures, like arbors and trellises and furniture with loads of character, like cedar Adirondack chairs, benches, etc. I'm more the plant person. For a while, we kept a retail native plant store at our home, but we've closed that down. You can still visit the garden, either on your own or with a group. Just give me a call or send an email. I still sell native plants by special order. I also help people looking for advice on how to include native plants in their own landscape and how to make it more of a habitat. And I'm exploring a new idea to allow people to quickly start a "Butterflies & Beneficials" flowerbed using modular boxes Terry can build. Info about all of these things can be found on our website, www.CreativeGardenStructures.com, and on our Facebook page at www.facebook.com/CreativeGardenStructures. You can find our Etsy store listed as CreateHabitat.