Member profile: Jackie Rolly
Jackie Rolly joined the Florida Wildflower Foundation when she purchased a license plate for her car many years ago. She's also a member of the Florida Native Plant Society (FNPS), as well as the Audubon Society and the Sierra Club. On Mondays, you're likely to find her at the Oakland Nature Preserve (ONP) where she's been working since 2007. And when the travel bug bites, Rolly volunteers for expeditions with Earthwatch Institute, on which she's done such things as helped track wild elephants in Sri Lanka and studied biodiversity in the vineyards of France. Rolly shares some ideas on matters closer to home below.
Join Jackie Rolly in supporting the Foundation by becoming a member or making a one-time donation to support our work.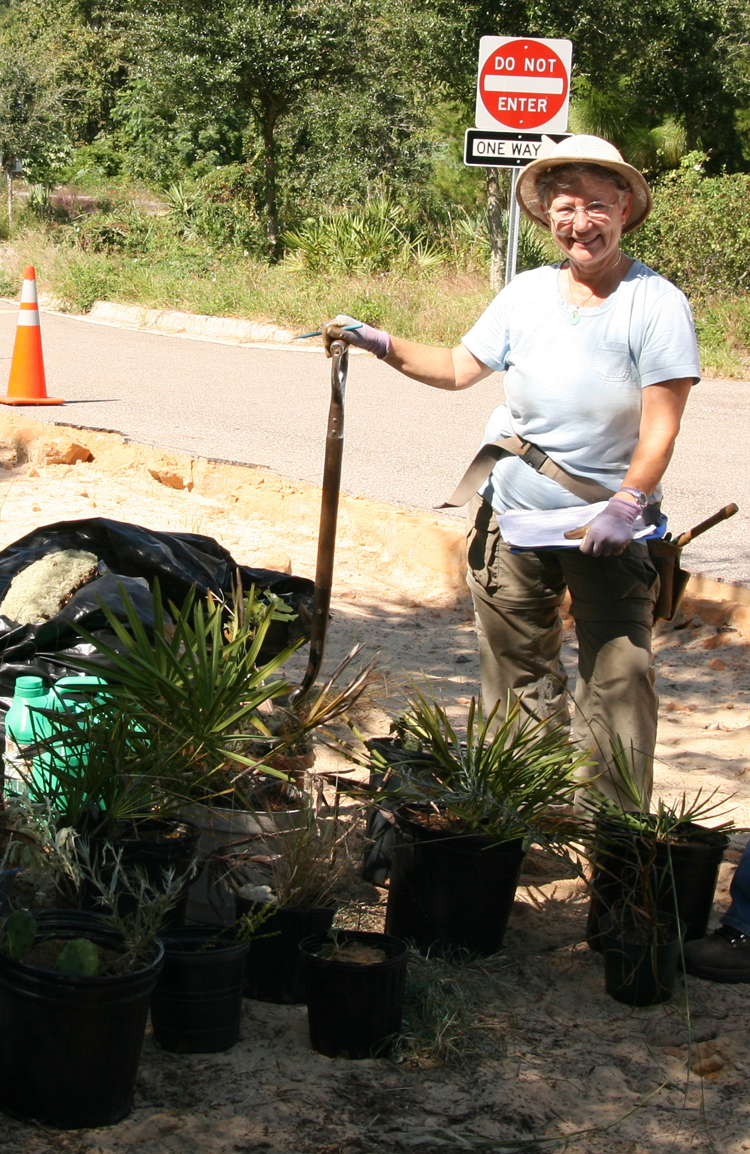 Tell us about your work at the Oakland Nature Preserve.
You could call our work "combat gardening." I started out just taking care of a small area where plants salvaged from a construction area were planted as part of restoration efforts. I noticed there was no aftercare for these plants, so I started coming out on a regular basis to water and weed. That grew as I started removing noxious and exotic plants from other areas around the parking area so the natives planted earlier could thrive.
Eventually, I was voted to the [ONP] board and asked to continue restoring other areas of the Preserve. Continuing salvage efforts through Florida Native Plant Society led to more and more ecosystem-appropriate plants being brought in, which meant opening up more areas to plant them. As these efforts progressed, other volunteers interested in propagating and maintaining our beautiful native plants participated. Many of our volunteers are community service individuals who come and go, but always leave with an appreciation of our unique Florida environment.
Is there a moment you recall that first sparked your interest in the outdoors, specifically native flora?
I lived for a while in the 80s and early 90s in Titusville and was always dismayed that plants and flowers bought at box stores did not thrive. I am a fourth-generation Floridian, and my family always had beautiful gardens, so I guess it's in my blood. Upon returning to Florida in the mid-90s (when my husband retired from the Air Force), I promised myself I would figure out how to get plants to live here, which led me to FNPS and the monthly chapter meetings and their great education programs on our native plants. One of the first plants I brought home from a meeting was tall Elephantsfoot (Elephantopus elates). When it bloomed, I just stood watching in fascination at the number and variety of insects that visited that one tiny bloom. That was my "aha" moment.
How did you first get involved with the Florida Wildflower Foundation? Why do you stay involved?
I bought some seeds, and the Tarflower Chapter of FNPS had invited Terry Zinn to speak at a meeting. I thought the Florida Wildflower Foundation was a great way to spread the word on our native plants. Also, Oakland Nature Preserve was the recipient last year of a Foundation grant, which provided the needed funds to weed, seed and plant over one acre of ground behind the Environmental Education Center. This area is now a beautiful site of various grasses and flowers, which will bloom this fall. The fact that this area is so close to the Education Center provides a great opportunity to introduce new and old generations to a fast disappearing habitat — which couldn't have happened without the grant.
What natives are growing in your yard? Do you have some words of wisdom to share with new gardeners?
I have coonties (Zamia pumila), wild coffee (Psychotria nervosa) as foundation plantings, muhly grass (Muhlenbergia capillaris), love grasses (Eragrostis spp.), Fakahatchee grasses (Tripsacum dactyloides), dune sunflower (Helianthus debilis), rain lilies (Zephyranthes atamasca), American snowbell (Styrax americanus) wax myrtle (Myrica cerifera), various oaks (Quercus spp.), and cherries (Prunus spp.) Our property backs up to the Little Econ River, so the back area is heavily wooded with too many species to name.
Gardening with natives takes patience and perseverance. You need to learn what will thrive in your environment and what level of maintenance you are willing to undertake. It helps to know what ecosystem was in place prior to house construction and to plant appropriately for that environment. It's hard to get plants that thrive in a wetland to grow in a hot, dry, sandy area. If the plant doesn't want to grow in your landscape environment, learn what will.
What do you like most about native wildflowers, or native plants in general? Do you have a favorite wildflower?
My favorite wildflower is the morning buttercup (Piriqueta cistoides subsp. caroliniana), among many others, such as Liatris, greeneyes (Berlandiera subacaulis), sky blue lupine (Lupinus diffusus). I love the fantastic variety of flowers, ferns, shrubs and trees that call Florida home and don't grow anywhere else in the world. What greater sense of place could you have?
What do you think is the greatest challenge facing Florida's environment? How important is sense of place?
The greatest challenge to Florida is the loss of our natural areas due to wanton construction and urban sprawl; also the introduction of exotics. I understand the majority of people in Florida came from somewhere else and want the same plants they grew up with, or the generations born here who never had the opportunity to know what Florida used to look like and should look like. People in Florida don't have a "sense of place."
Why should people care about wildflowers?
Our wildflowers feed us. The loss of flowers equals loss of pollinators, loss of a majority of our food and the food for our wildlife — not to mention the appreciation of beauty in the colors, smells, patterns of nature. There is no better way to relax, relieve the stresses of an electronic lifestyle than to sit under a tree or by wildflowers and just take in the peace and tranquility and watch insects and birds.