Volunteer finds inspiration in native flowers
When Lisa Boing, Master Gardener, Florida Botanical Gardens board member and Florida Wildflower Foundation member, responded to questions about the completion of a demonstration garden planting at the Pinellas County Extension in Largo, the portrait that emerged was one of a dedicated volunteer. We are happy to share her story below.
Join Lisa Boing in supporting the Foundation by becoming a member or making a one-time donation to support our work.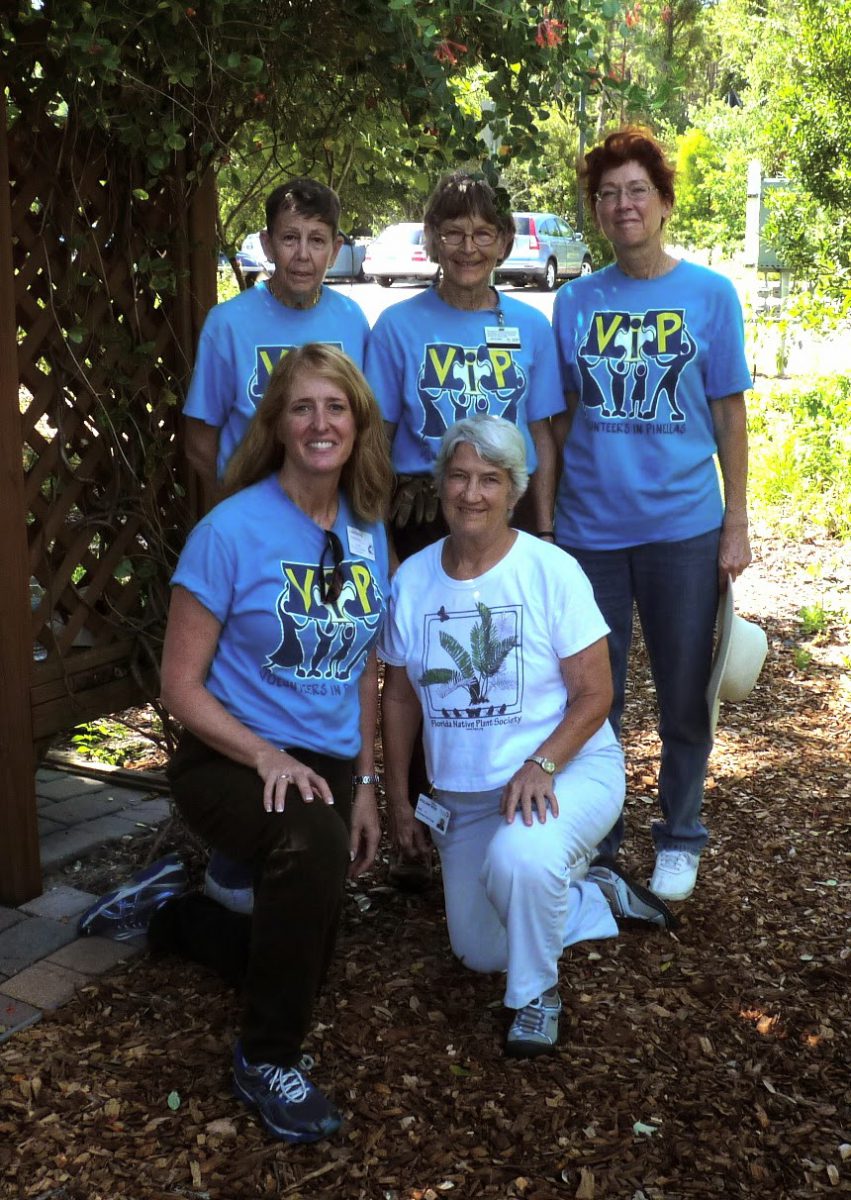 My involvement in the native area at the Pinellas County Extension/Florida Botanical Garden started in 2013 when I received my certification as a Master Gardener. I discovered my passion for native plants when I started gardening with a great group of like-minded volunteers on Wednesdays in the native area.
On a weekly basis, three to seven of us greet visitors, giving them a short history of natives and the Florida Wildflower Foundation grant, pull invasive plants, weed overzealous natives, and try to find a balance between a natural, native look and a manicured garden. We all feel maintenance of this highly educational collection started by Dr. Craig Huegel is very important to the continuing efforts of your organization, as well as the Florida Native Plant Society.
After the wildflowers from your Foundation's grant were planted, my first project was to be sure there was uniform signage throughout the native area. This could not have been done without the help of the Florida Botanical Garden Foundation board, their sign-making machine and a whole lot of research on my part — a great education in itself! The Pinellas Chapter of the Florida Native Plant Society also helped out, along with Dr. Huegel's continuing support and mentoring.
A week doesn't go by that I don't go into the Pinellas County Extension to see horticulturalists Andy Wilson and Bob Albanese. They are invaluable in identifying unknown plants, strange insects or some new weed. Needless to say, the Native volunteers are just as enthusiastic about what I have learned from them. We have added several signs of volunteer wildflowers that have blown in.
In addition to the signage, we continue to add different educational tools. We recently added a "bunny-proof" aster garden and wetland bog to the area to showcase many of Florida's wildflowers.
We thank you for your generosity in helping us with our mission and passion of all things native so others can discover the beauty and "sense of place" called Florida — "Land of Flowers."