Member profile: Chris Waltz
There's a good chance that if you've been to any Florida Wildflower Foundation events, you may have run into this member. Most recently, he could be found with 25 other wildflower enthusiasts at the Tosohatchee Wildlife Management Area, soaking up some plant identification and lore on a walk led by author and FWF board member Dr. Walter K. Taylor.
FWF member Chris Waltz is known to many in native plant circles because of the supporting role he plays in conferences and other events. Here is what Chris has to say about his involvement with the Florida Wildflower Foundation.
Join Chris Waltz in supporting the Foundation by becoming a member or making a one-time donation to support our work.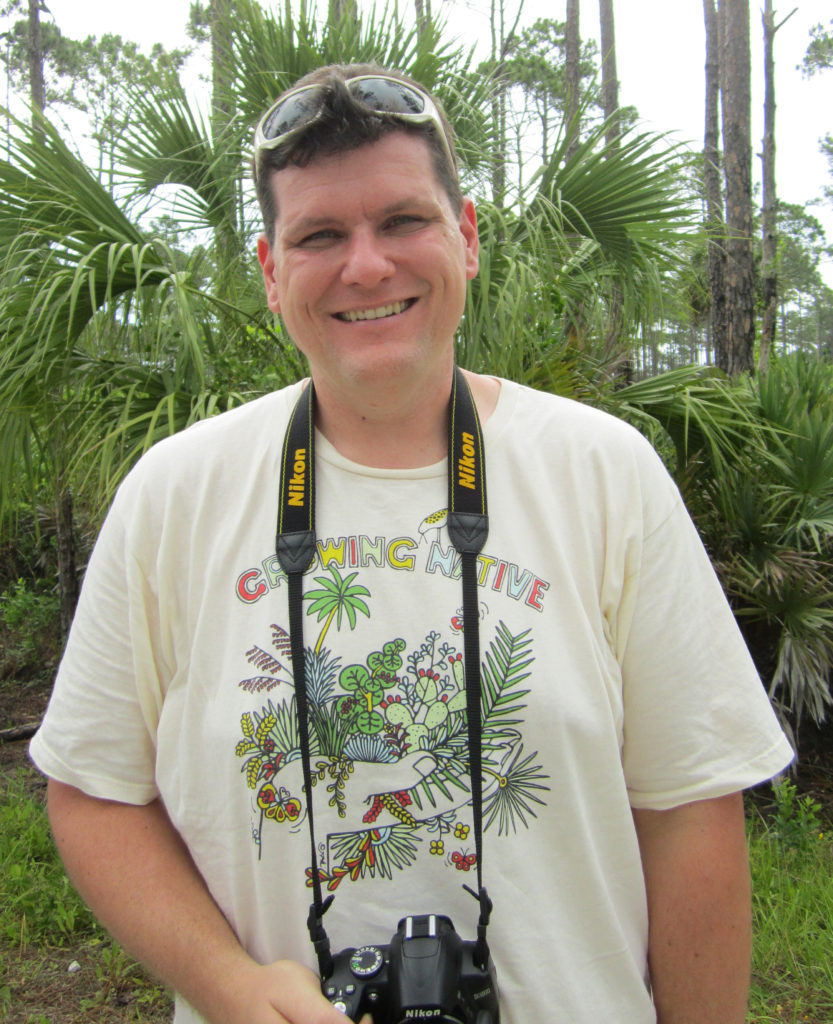 How did you first get involved with the Florida Wildflower Foundation and why do you stay involved?
It was about four or five years ago when I joined the Florida Native Plant Society, and went to my first FNPS Conference. I met Lisa Roberts and Jeff Norcini at the FWF booth, and we talked about native wildflowers. They gave me some handouts about native wildflowers as well as a membership form, and the rest is history. I stay involved with FWF because I believe in the mission. Wildflowers (and native plants in general) give us here in Florida a sense of place and our great state name.
Tell us a little about your ongoing yard projects.
I have a wide range of wildflowers in my yard, and I am always adding more. I have Gaillardia pulchella, Helianthus debilis, Salvia coccinea, Tradescantia ohiensis, Phyla nodiflora, three Solidago species, Heliotropium angiospermum, Trichostema dichotomum, Ruellia caroliniensis, Rudbeckia hirta, Flaveria linearis, Mimosa strigillosa, Monarda punctata, Erigeron, Opuntia, just to name a few. I am currently working on finishing my front yard planting of a pine flatwoods. Then I want to work on a wildflower meadow in my back yard. I am all about less grass and more native plants and wildflowers.
What do you like most about native wild-flowers? Do you have a favorite wildflower?
The thing I love most about wildflowers is that they survive the harsh conditions of Florida, and reseed in the garden. I like the fact that a native wildflower garden never looks the same; it is always evolving and changing with every year. I don't have a particular favorite, I just try to use as many as I can in my plantings.
What do you think is the greatest challenge facing Florida's native wildflowers?
Of course, I see development as being the worst challenge facing wildflowers these days, but I think it all starts with education — and exposure. Which is why I think it is great that FWF has grants for school plantings. These wonderful teaching gardens expose kids to the wonders of Florida's native wildflowers. With this early exposure, it is more likely that these kids will grow up with a different mind-set, and will use native plants and wildflowers in their future plantings. It would be wonderful to one day see people using less marigolds, petunias and pansies from box stores and more of Florida' s wildflowers.
Why should people care about wildflowers?
Wildflowers play an important part in every type of ecosystem across the state. They provide a source of fuel for pollinators, which we depend on for food, and are a natural way to beautify our state, for which it is named (La Florida). I wish I could see what the state looked like in the 1500s.