Pictured above: Comfortroot (Hibiscus aculeatus) by Eleanor Dietrich. Click on terms for botanical definitions. View post as a PDF.
Comfortroot (Hibiscus aculeatus), also known as Pineland hibiscus, is a large perennial wildflower that occurs naturally in wet to mesic pinelands, and along the edges of savannas, bogs and roadside ditches. It typically blooms late spring through fall and attracts many pollinators, especially bees.
Comfortroot's showy blooms are 3–4 inches wide, with five cream-colored petals that have scalloped edges and appear pleated. The bloom's center is a deep purplish-red. The plant has a semi-woody base from which multiple stems emerge. Leaves are palmate and scabrous with toothed margins. They are alternately arranged. Seeds are borne in large scabrous capsules. Stems are also scabrous.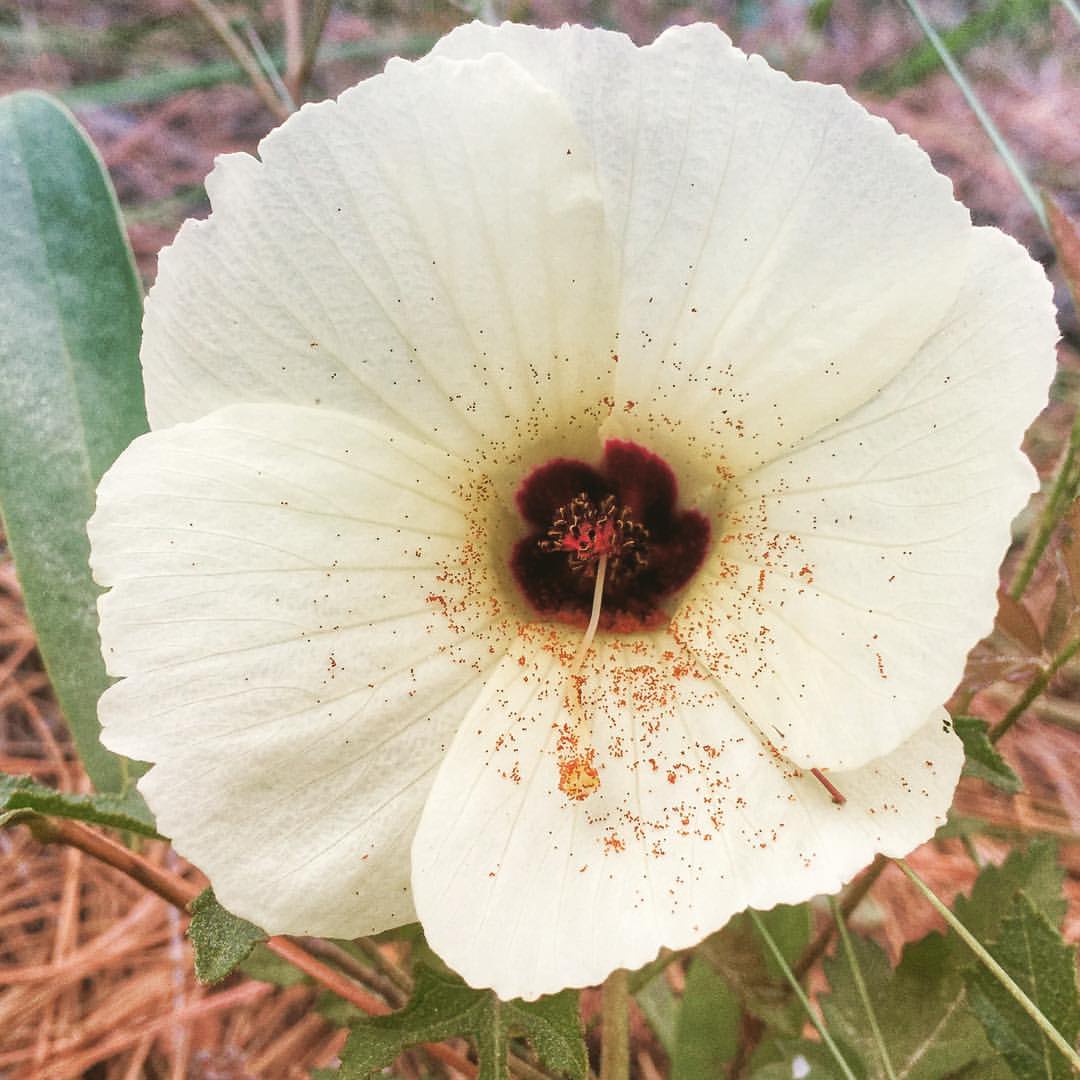 The common name Comfortroot may allude to the belief that the plant's mucilaginous roots have soothing properties.
Family: Malvaceae (Mallow family)
Native range: Panhandle to Alachua and Columbia counties; Lake, Clay, Duval and Nassau counties
To see where natural populations of Comfortroot have been vouchered, visit www.florida.plantatlas.usf.edu.
Hardiness: Zones 8A–9B
Lifespan: Perennial
Soil: Moist to moderately dry acidic soils
Exposure: Full sun to minimal shade
Growth habit: 2–3'+ tall and wide
Propagation: Seed, cuttings
Garden tips: Comfortroot is an attractive addition to a moist landscape. It appears shrubby but will die back in the winter and all but disappear. Annual pruning to the ground may be necessary. It can tolerate seasonal flooding and is also drought tolerant; however, it will not survive if soils are not moist or wet for part of the year. It will self-seed, but not prolifically.
Comfortroot is available from nurseries that specialize in Florida native plants. Visit www.PlantRealFlorida.org to find a nursery in your area.
For more information on other Hibiscus species, see these resources: