Board member profile: Anne MacKay
Instrumental in getting the Florida Wildflower Foundation off the ground, Anne MacKay continues to serve on the Foundation's board, first serving on the Florida Wildflower Council board, then as board chair for the Florida Wildflower Foundation. Read why she stays involved below.
Join Anne MacKay in supporting the Foundation by becoming a member or making a one-time donation to support our work.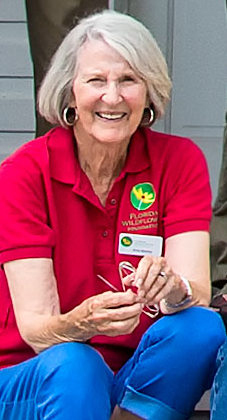 "I have always been interested in and connected with growing things. My aunt, Ophelia Taylor, was a day lily hybridizer, and my mother and father were seriously interested in camellias. My interest in wildflowers began with trips to North Carolina, where I would see the breathtaking swatches of beauty along state highways and wonder how Florida could do the same. I later heard of Dr. Jeff Norcini's project in Monticello. Jeff was growing small plots of native seed and comparing their progress with that of non-natives. The results were notable. We talked from time to time about his research.
"I also had occasion to meet Gary Henry, who was with the Florida Department of Transportation then and working with the garden clubs of Florida to secure the signatures required for the creation of the State Wildflower tag. During that same time, the early '90s, Lady Bird Johnson invited the first ladies in the Southeastern states to meet at Calloway Gardens in Georgia to discuss the planting and distribution of wildflowers along our federal highways.
"First Lady Rhea Chiles invited me along and suggested I be the Florida representative. That was followed up with a visit to the Lady Bird Johnson Wildflower Center in Texas with Gary and Jeff. Finally, the license plate was approved with the help of then Lt. Gov. Toni Jennings from Orlando.
"I continue to serve on the board because I care deeply about Florida's environment, and believe the native wildflower populations are an important way to preserve the Florida we love, and give opportunities to educate and show by example the beauty that is native and natural."
Anne Mackay's favorite wildflower? It's hard to choose favorites, she says. "We just brought a few butterflyweeds to help the monarchs on their way. Yellow coreopsis are high on my list — there are so many types to choose from, like Florida's diverse population!"