Meet board member Mark Russell
Mark Russell is the Leader of Sustainability Initiatives at Cherrylake in Groveland, FL. He studied psychology at Kent State University and horticulture at Ohio State University. Mark has over 35 years of landscape design, installation and leadership experience in U.S. and Canadian theme parks, including three years at an educational farm in northeastern Ohio. He led horticulture teams in SeaWorld and Busch Gardens parks in Cleveland, Orlando and Tampa, and did landscape design for Six Flags parks in Montreal and New Orleans. Mark is an avid beekeeper of 23 years and prefers landscapes that support pollinators and our native ecosystems.
Join Mark Russell in supporting the Foundation by becoming a member or making a one-time donation to support our work.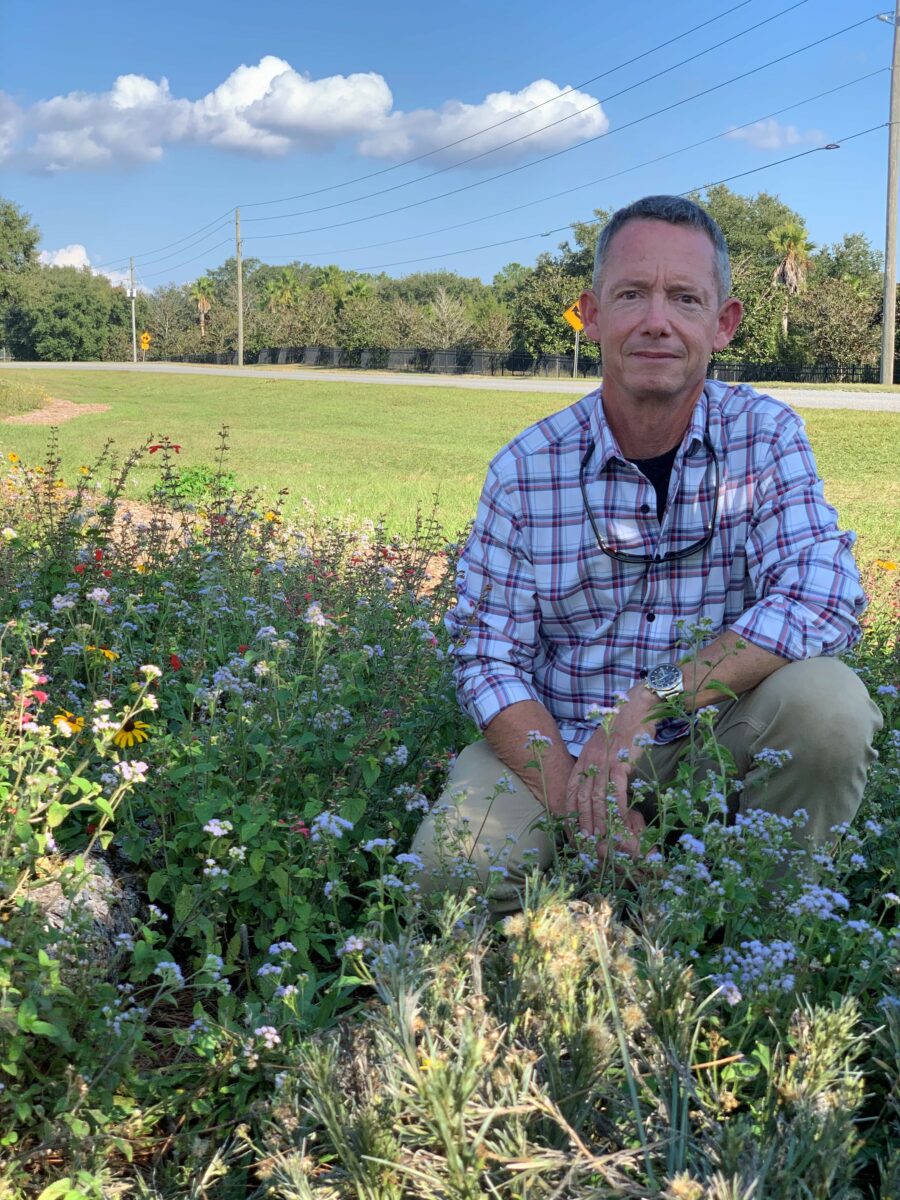 Please tell us a little bit about yourself and how you got involved with Florida Wildflower Foundation.
Growing up in Ohio, I preferred to spend my time outdoors regardless of the season — in the woods, meadows, rivers and lakes. I guess I passively grew acquainted with, and fell in love with trees, shrubs, grasses and wildflowers as I would encounter them. That early connection with nature and plants has resulted in a wonderful career of 36 years of learning in the horticulture field, primarily in theme parks. For most of those years, I have led teams, small and large in designing, implementing, and maintaining landscapes to support the various themes in the parks I've worked in. When I came on board with Cherrylake, there was a board of directors position open in the Florida Wildflower Foundation. I volunteered for it and was invited to join the board!
Tell us about your work. How do you incorporate environmentally-minded practices into your organization?
Cherrylake has a strong commitment to sustainability in everything we do. Since starting here about a year ago, our team has been designing and implementing gardens using exclusively Florida native plants. The goal is to learn all we can about each species and identify Florida native trees, palms, shrubs, grasses, groundcovers and wildflowers that are aesthetically pleasing enough to satisfy the expectations of homeowners and landscape professionals alike. Incorporating more Florida native plants into our landscapes can help restore our ecosystems. We also look at our current campus landscape from a sustainability perspective with regards to the amount of maintenance required, focusing on operations that are repetitive and high frequency, like mowing and hedge trimming. With more strategic plant selection, both of these practices can be dramatically reduced, resulting in less carbon emissions, water usage, etc. We've also recently started a composting program which will repurpose yard waste into material that will feed and revitalize the soil in our citrus groves and other areas of our growing efforts.
Why do you care about protecting, preserving and expanding native wildflowers?
We love to inspire people to understand, care, and take action in using native Florida wildflowers, and plants in general. Native Florida wildflowers sustain the birds, bees and butterflies that comprise the very foundation of our ecosystems with regard to the natural, perpetual revegetation of our planet that allows humankind and all life to thrive.
You have 35 years of experience in theme park landscape design. What has been your greatest landscape success?
The impromptu in-house redesign and landscape installation of Aquatica, SeaWorld's Waterpark, is probably it. We had a hard freeze with significant plant loss in January, 2008 and had only seven weeks before the grand opening. Our amazing team removed the damaged plants and installed fresh ones. The park looked great on opening day and the redesign effectively supported the geographic theme of the park.
What challenges have you experienced in your horticulture and landscape projects?
The Edge Planting here at Cherrylake using Florida native plants has been a wonderful new challenge and one of the most enjoyable projects that I've worked on. We were fairly new to a lot of the seemingly endless species of Florida natives, so several books were very helpful, and we collaborated with experts from academia, the public sector, and native nurseries to review our plant list and design and provide us with feedback. That feedback has been ongoing, and very beneficial. From a learning perspective, the project has been very successful, and with what we've learned so far, we believe that we can achieve more beautiful landscapes on our future projects.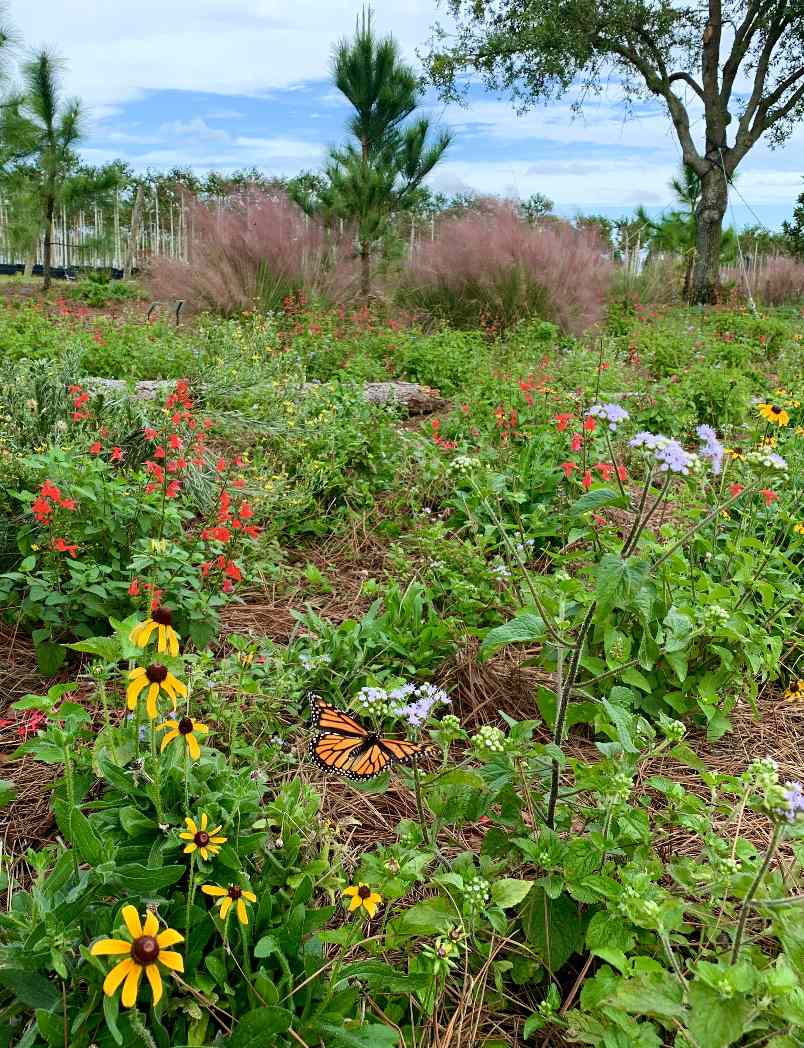 Is there a favorite natural area in Florida to view wildflowers?
I really enjoy PEAR Park, just south of Leesburg, for the native grasses and wildflowers. Ocala National Forest is definitely a great place to admire amazing native flowering plants like Garberia (Garberia heterophylla), Blazing star (Liatris spp.), Narrowleaf silkgrass (Pityopsis graminifolia), Asters, and so many more. Tibet Butler Preserve in Windermere is also a wonderful place to enjoy beautiful native Florida plants in a setting with considerable shade, and it's amazing to see how dynamic the changes are from season to season!