2023 Seedlings for Schools Grant Winners
The Florida Wildflower Foundation is excited to announce that 43 Florida schools will receive native wildflowers this fall through our Seedlings for Schools grant program. The plants will be used to establish campus wildflower gardens that will be incorporated into Pre-K through 12th grade curriculum.
The gardens will be used in a variety of subjects, including art, science, language arts, and others. Students will learn about plant life cycles, biodiversity, the impacts of invasive species, and the wildlife that depend on these plants. They will gain opportunities to create nature-inspired art and decorative signs for their gardens, and to develop their observation and writing skills by keeping garden journals. The gardens will play a role in expanding their understanding of and connection to the natural world around them.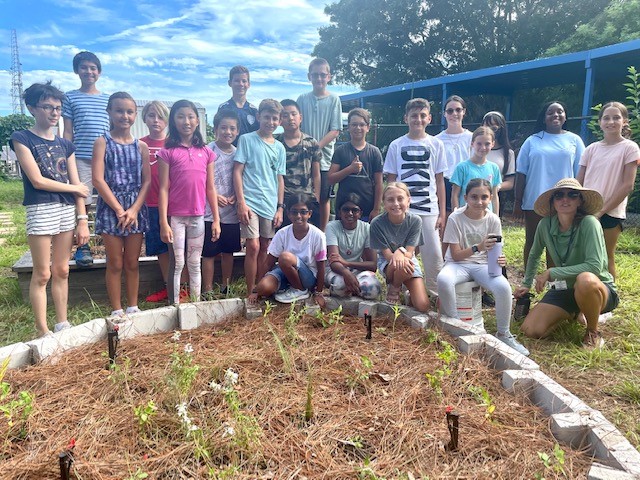 Bonnie Kohner of Summit Questa Montessori School said of her students, "They are excited about the opportunity to improve our landscape, and natural environment, and to leave their space in better condition than they found it."
Teachers and volunteers who are considering adding a garden to their schoolyard will find inspiring photos and helpful resources on our Seedlings for Schools web page.
The Florida Wildflower Foundation provides these grants with help from sales of the Florida State Wildflower license plate.
2023 Seedlings for Schools Grant Awards
Beachland Elementary, Vero Beach
Bonneville Elementary, Orlando
Bridges Montessori, Stuart
Children's House Montessori School, DeLand
Compass Outreach and Education Center, Fort Lauderdale
Cranberry Elementary, North Port
Crossroads Academy, Belle Glade
Dorothy C. York Innovation Academy, Apollo Beach
Eagle Creek Elementary, Orlando
East Lake Elementary, Kissimmee
Golden Gate Elementary School, Naples
Goldsboro Elementary Magnet School, Sanford
Hancock Creek Elementary, North Fort Myers
Horizon Elementary, Port Orange
Innovation Montessori High School, Ocoee
Jim Allen Elementary School, Cantonment
Lake Mary Elementary
Little Flower Montessori School, Wilton Manors
Magnolia School, Orlando
Nova Blanche Forman Elementary School, Davie
Orlando Gifted Academy, Orlando
Plumosa School of the Arts K-8, Delray Beach
Reedy Creek Elementary, Kissimmee
River City Science Academy Middle High School, Jacksonville
Round Lake Charter, Mount Dora
Sabal Point Elementary, Longwood
Saint Mary Magdalen Catholic School, Altamonte Springs
Sand Lake Elementary, Orlando
Satellite High School, Satellite Beach
Seminole High School
South Plantation High School
Springs Coast Environmental Education Center, Spring Hill
St. Paul's Catholic School, Jacksonville
Summit Questa Montessori School, Davie
Sunrise Elementary, Orlando
The Playgarden, Jacksonville Beach
Timber Springs Middle School, Orlando
Tutor Time Learning Center #6042, Jacksonville
University High School, Orlando
Vineland Elementary School, Rotonda West
West Melbourne Elementary School for Science                 
W.T. Dwyer High School, Palm Beach Gardens
Wellington High School