Cape Coral garden showcases waves of native color
A visit to Cape Coral's Rotary Park Environmental Center includes a new opportunity to become acquainted with some of Florida's beautiful native wildflowers. With funds from the Florida Wildflower Foundation's Viva Florida Landscape Demonstration Garden grant program, a native wildflower garden has been planted near the park's education center.
Honey Phillips, the park's senior recreation specialist and Viva Florida garden project manager, said many regular park-goers have commented and thanked staff for the beautiful addition since its installation in December. A Master Gardener remarked, "The recently installed garden is like 'eye candy' to Rotary Park visitors… This park 'leads by example' by teaching that landscape choices can beautify yards as well as benefit butterflies and wildlife!"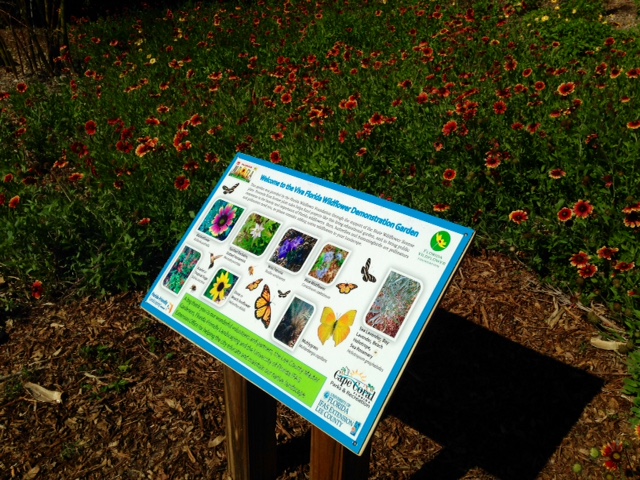 Phillips' vision for the garden was to show big "waves of color" that would attract visitors and encourage them to consider native wildflowers for their home landscapes. The effect was achieved by heavily planting individual species in large groups. A mass of yellow Dune sunflowers (Helianthus debilis) shines like the sun, while Carolina petunia (Ruellia caroliniensis) and Blanketflower (Gaillardia pulchella) create swaths of purple and red. Smaller clumps of Spotted beebalm (Monarda punctata), Muhlygrass (Muhlenbergia capillaris), Sea lavender (Heliotropium gnaphalodes) and Mistflower (Conoclinium coelestinum) provide added interest.
"By planting native wildflowers heavily in groupings by species, we can create an instant oasis of color and interest and demonstrate another way people can use natives in the landscape," Phillips said. "The garden is intended to bring awareness to no-mow zones, provide examples of wildflowers that can tolerate harsh soil conditions, and to promote native vegetation in a way that will appeal to the general public. It will help demonstrate the right plant in the right place."
The garden has been included in the bi-weekly Florida Yards and Neighborhoods garden tours, as well as many other classes and programs held at Rotary Park. During the summer, more than 300 children will experience the garden and learn about the benefits of of native wildflowers through the park's Eco Adventure Nature Camp.
Rotary Park sees between 700 and 1,000 visitors each week, most of whom pass by the wildflower garden. The park's environmental center is the only location in the city of Cape Coral that provides public education on native plants, sustainability, gardening classes and nature programs.
In 2007, the Florida Wildflower Foundation provided a grant of $2,000 to Rotary Park to print its "Native Plant & Wildflower Guide," which identifies 95 species native to the area. The guide was reprinted in 2014 with another FWF grant.