Celebrating the Foundation's Immediate Past Chair, Jeff Caster
As we celebrate the recent election of Sara Burke to chair of the Florida Wildflower Foundation's board, we want to also thank our immediate past chair, Jeff Caster, for his leadership. Caster first served on the board from 2010 to 2016 and returned to serve as board chair in 2021.
Jeff's service to Florida's environment and wildflowers goes well beyond his commitment and support to the Foundation. During his time with the Florida Department of Transportation, he worked across the agency, bringing the administration, engineers and landscape architects together to better manage roadside vegetation and foster an appreciation for roadside native plant populations. As an adjunct professor at Florida A&M University, he fostered this same ethic of teamwork and environmental stewardship in new generations of landscape architects. Jeff is held in the highest esteem among his peers, and this year was awarded the Jeffrey Siegel Leadership Award by the Florida Chapter of the American Society of Landscape Architects (ASLA).
The staff and board of the Foundation are tremendously grateful for Jeff's leadership as chair and provided the following thankful words and stories:
"I am deeply grateful for the invaluable guidance and encouragement I have received from Jeff over the past two years. My growth as a leader within this organization has been greatly influenced by his consistent support, and the accomplishments of both myself and the Foundation are indebted to Jeff's unwavering dedication, passion and wisdom. Thank you, Jeff, for being a mentor and a friend, and for lighting the way to a promising future." — Stacey Matrazzo, Executive Director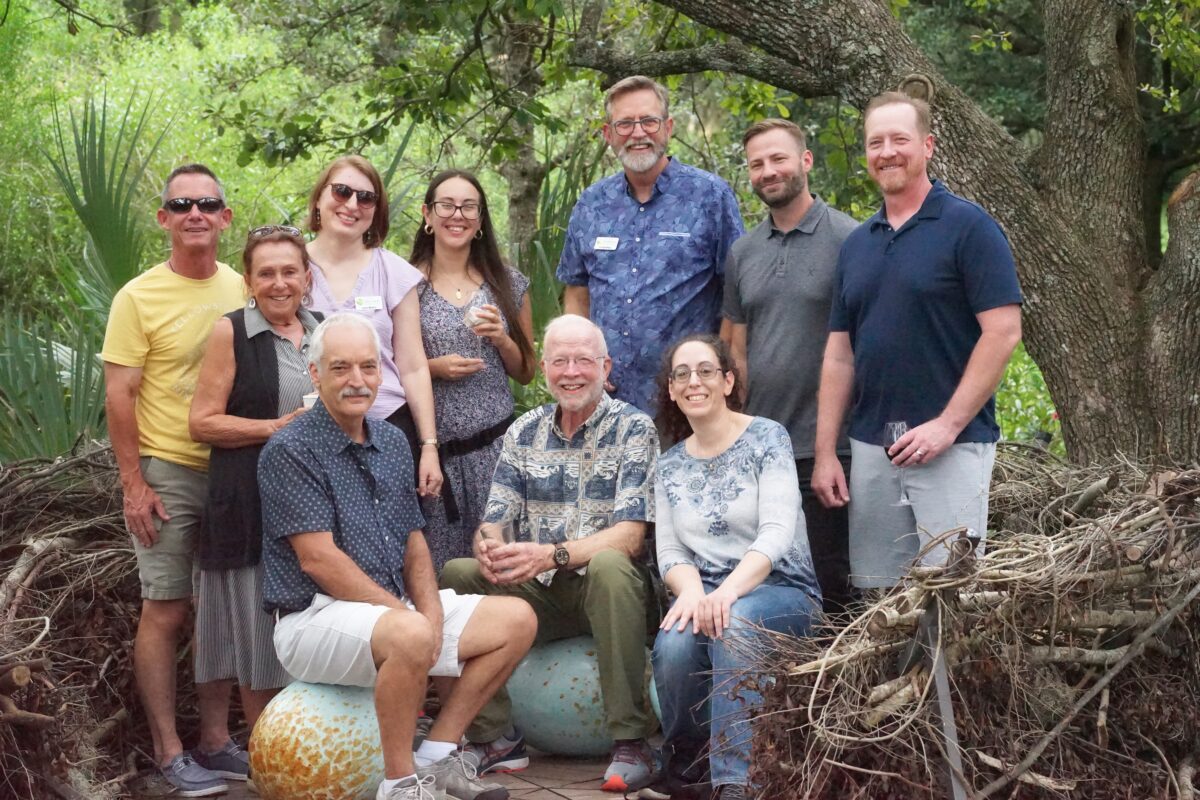 "Jeff is the best encourager and supporter out there. I am so grateful for his knowledge and dependability. We are indebted to him for stepping in when we needed the kind of strong leadership he offered. Thank you, Jeff, for your love of the Foundation and for the vision to see it grow and prosper." — Anne MacKay, board member
"I am so grateful that Jeff stepped out of retirement to support the Foundation and help keep it moving forward. He did it with his usual grace and wisdom. Thank you, Jeff."— Nancy Bisset, board member
Board member Terry Zinn said, "I have always been in awe of Jeff Caster's ability to lead a board. His compassion and genuine interest in the wellbeing of staff and the board are evident every day. He leads by example, and because of that example, the Foundation has grown beyond my wildest hopes." This sentiment was echoed by other board members: Jeff Henry said, "Thanks, Jeff, for being a leader who honors FWF history while looking to the future, empowers people and pushes leadership through the organization, and always brings the FWF team to focus on our mission and what matters most!" And CJ McCartney said, "Jeff is a maestro in running board meetings to encourage everyone to participate, while keeping us focused on our mission. He is amazing."
"I've known of Jeff Caster through the American Society for Landscape Architects for many years, but it's the Florida Wildflower Foundation that ultimately brought us into connection. I am thankful for getting to know him better and for his leadership during the first couple of years of my time on the board. He's one of the most passionate and thoughtful people I've ever met. He approaches everything he does with tremendous care and attention." — Kody Smith, board member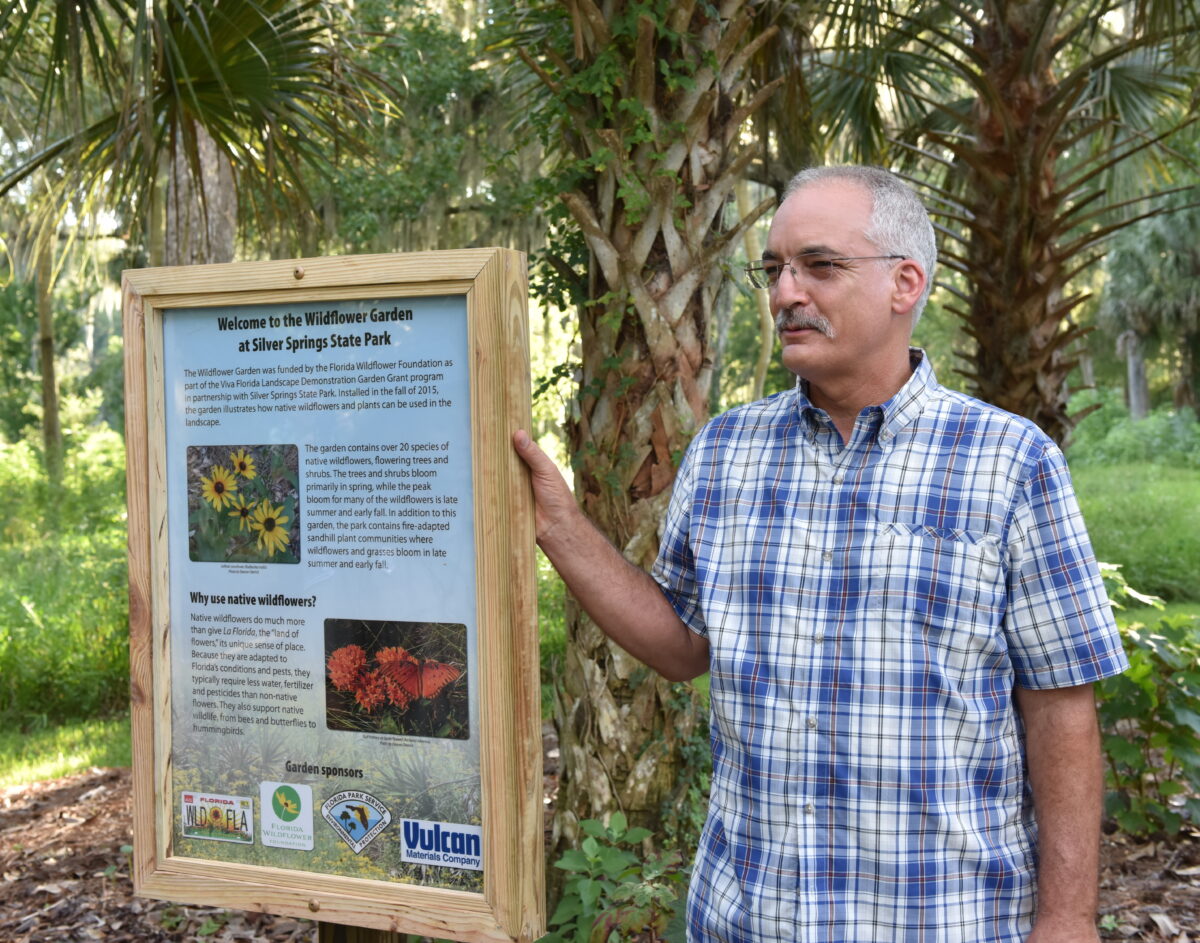 One of the Foundation's newest board members, Fatima Elkott, shared a story that reflects Jeff's dedication to fostering new leadership: "I reached out to Jeff on LinkedIn in 2021 during my time in my graduate program because his name came up in a search. We connected and had a lovely conversation where I learned so much about landscape architecture and got to hear about some really interesting life experiences Jeff had gone through. A couple of months later, Jeff messaged me that he had become the chair of FWF and there were openings on the board. I am so humbled and appreciative that Jeff thought to reach out to me and contribute to my development. Due to him and my experience on the Florida Wildflower Foundation board, I can say that I have the self-assurance I need to continue to grow professionally — and that I love being a board member! Jeff is a leader who creates other leaders, a quality that you don't get to see every day. He is truly someone committed to the mission of having an equitable and sustainable world and has been instrumental in our wildflower movement. It has been an honor serving under his leadership and I look forward to learning more from him in the future!"
Newly elected Chair Sara Burke shared that "Jeff is an exceptional leader, manager and mentor. It has been a privilege to serve with him in FWF leadership because he has truly mastered the art of creating calm in any storm." She also told the story of him asking her to take on a leadership role: "When Jeff first asked me to become his vice chair and succeed him as chair of FWF, it took me by surprise. I'm committed to FWF's mission and knew right away that I wanted to do it, but it took a month to be sure that I could do it and do it well. I have Ehlers-Danlos Syndrome, so sometimes basic things that many take for granted are more challenging for me. Jeff has been an invaluable coach and mentor who has helped me to problem solve my way past those challenges. Many leaders talk about building more diverse, inclusive organizations. Jeff does the hard work to include diverse people at every level of our organization."
From everyone at the Florida Wildflower Foundation, thank you, Jeff. It is an honor to serve with you.