FWF member takes action with plant give-away
The Florida Wildflower Foundation has declared 2018 the year to "Take Action!" We are pleased to feature FWF members who are doing just that for Florida's natural future. Are you taking action for native, natural Florida? Drop us an email and let us know what you're doing!
What's a wildflower gardener to do with those extra seedlings that pop up? Instead of pulling them like unwanted weeds, FWF member Jim McGinity decided to pay it forward. Using an idea reminiscent of a curbside lemonade stand, he repots the wee seedlings and offers them for free to neighbors and passers-by. Not only that, he uses them as welcome-to-the-neighborhood gifts for new residents. It's an idea we love: What's more neighborly than sharing the joy of wildflowers?
"I came up with the idea when my old fence was blown over during Hurricane Irma and I was trying to think of something fun to build out of the old boards," he says. He fashioned the stand after finding an example online.
Most of the "shopping" at the stand happens during the day when he is teaching at Learning Gate Community School, an environmental charter school near Tampa. To help takers get to know their plants, he writes their common names on their pots with a marker.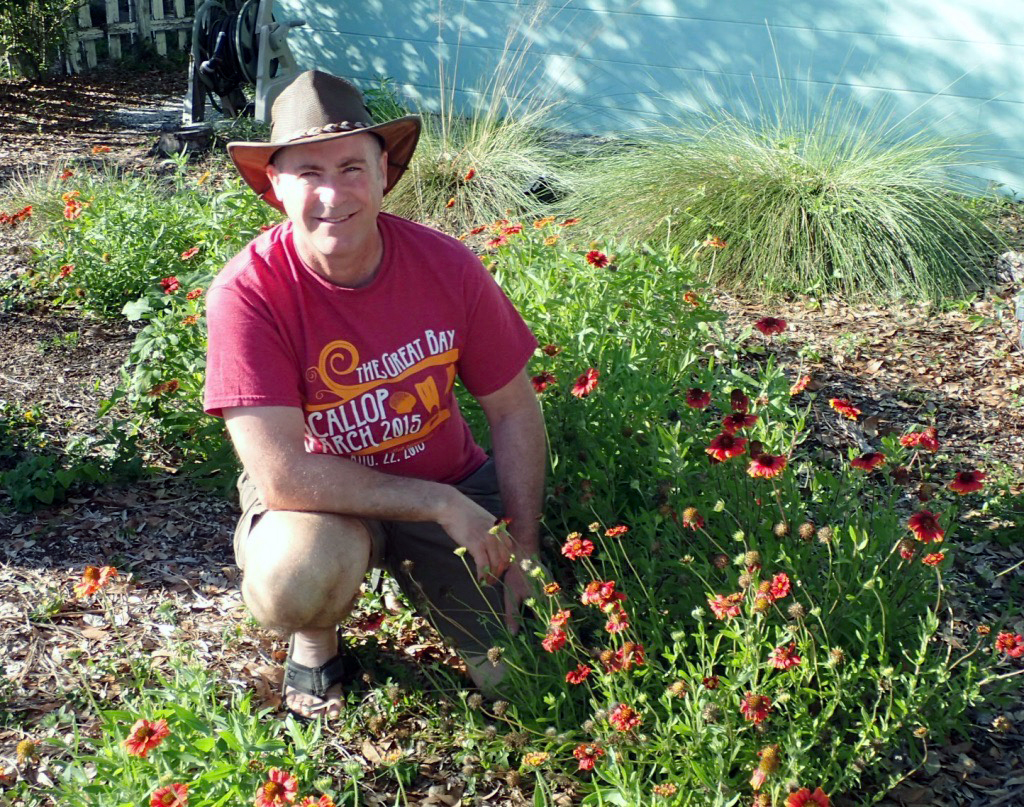 What's his No. 1 objective? "I want them to know how important wildflowers and native plants are for providing food for our native pollinators, and how if they use Florida native wildflowers in their yards/landscapes, they will be the beneficiary of a beautiful, living landscape full of butterflies and other creatures."
Influencing the outcome
Jim hopes the free plants will "influence the new neighbors when they landscape their yard to go native." To attract more attention, he wants to grow "slightly bigger, more appealing plants that will draw more interest." He also wants to sow success by expanding the display to include educational material. "I am planning on adding a brochure rack to offer the Florida Association of Native Nurseries' Real Florida Gardeners publication so that they can learn more."
A longtime Florida resident, Jim fell for wildflowers during his first spring here. "I was blown away by the diversity of ecosystems and the associated native plants," he remembers. His yard is almost entirely native, and he began adding pots of wildflowers after attending a session on container gardening at the 2015 Florida Wildflower Symposium at Leu Gardens, Orlando. He has his favorite, of course. "I like Blanketflower because it thrives on neglect, especially in my sunny, dry front yard. Also, the native Blue porterweed and Pineland heliotrope are great groundcovers between the curb and sidewalk."
There's no doubt neighbors are noticing his "different" yard and the added wildlife attraction it has. "I recently got the best compliment from our newest neighbors from Chicago," he says. The woman said, 'I love your yard because it has so many butterflies in it.'"
"My yard is full of butterflies and other pollinators in addition to birds throughout the year," he says. "Over time, I hope to continue adding new host plants to attract even more species of butterflies."