Student spotlight: Nicholas Genna
Meet Nicholas Genna, first recipient of Gary Henry Endowment assistance at UF
In fall 2013, University of Florida graduate student Nicholas Genna became the first student to receive a graduate assistantship from the Gary Henry Endowment for the Study of Florida Native Wildflowers.
The Florida Wildflower Foundation established the endowment in 2007 to provide funds for graduate students conducting full-time wildflower research. The endowment honors Henry, a founding Florida Wildflower Foundation board member who served as the Florida Department of Transportation's landscape architect for many years and was instrumental in establishing the department's roadside wildflower program. Henry also helped lead the effort to establish the State Wildflower license plate, which funds research, education and planting programs statewide.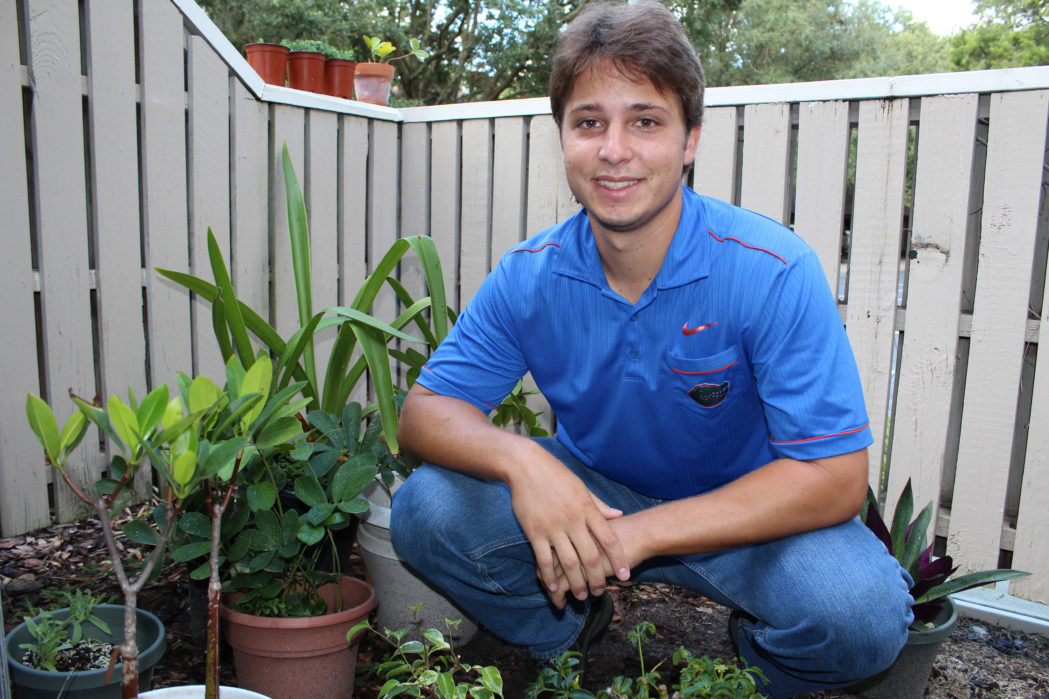 Genna is studying under Dr. Hector Perez within the Department of Environmental Horticulture's Plant Restoration and Conservation Horticulture Consortium on the university's Gainesville campus. Genna talks about his background and interests:
Why did you choose to do your study in plant restoration and conservation?
I first met Dr. Perez while enrolled in his Plant Propagation course a year ago. He quickly became someone who I knew I had to get in touch with to explore possibilities after my undergraduate career. Our first meeting evolved into a tentative agreement to complete an undergraduate research project for the College of Agriculture and Life Sciences honors program I was involved with. Dr. Perez and I are in the process of publishing the work I completed dealing with infected sea oats seeds. My undergraduate experience with sea oats, in combination with personal experience in South Florida, convinced me to pursue a career conserving and restoring native plant habitat.
What is the outline for your work and timeline to complete it?
Dr. Perez and I are in the process of discussing a project for my master's degree dealing with seed mass and climate change. We would like to investigate whether seeds of larger mass within any given seed lot have a competitive advantage over seeds of smaller mass when germinating at higher temperatures. Higher average temperatures will likely become a reality as the world continues to warm due to global climate change.
Have you lived in Florida very long? Where did you grow up?
I was born and raised in a southern suburb of Miami, now called Cutler Bay.
What do you admire the most about Florida?
I admire the diversity of ecosystems Florida offers. I can kayak South Florida coastal mangroves in search of tailing permit, troll the east coast for large gamefish, hike an upland pine habitat in North Florida, and encounter glass lizards sunning on the trail, or even visit the Everglades and see one of the many alligators.
Is there anything you wish you could personally change in the state?
I wish more of Old Florida existed, especially in areas where populations are larger in South Florida. I have always told others that if I settle down in South Florida, I would remove any nonnative vegetation and immediately plant a pine tree. I always get a kick out of the sign that says "welcome to the real Florida" when entering state parks.
What is your experience with Florida native plants?
Formerly, my sea oats project investigated the use of a biocide to control fungal disease (Alternaria blight) in sea oats seeds, which naturally occurs. Informally, I make an effort to identify and photograph native wildflowers while visiting one of the many parks in Gainesville. Currently, my favorite wildflower is groundsel tree (Baccharis halimifolia). This plant can be seen blooming in abundance at Paynes Prairie Preserve State Park in Gainesville in the fall.
How did you come to appreciate Florida plants and ecosystems?
I came to appreciate Florida native plants and ecosystems after reading Priceless Florida by Ellie Whitney. Also, South Florida, not including the Everglades, has relatively little expansive natural habitat. My craving for native plants in South Florida landscapes and the inability to visit natural habitat in my neighborhood created a strong interest in me to discover what once grew in my back yard.
Are there any particular habitats/ecosystems where wildflowers grow that draw your interest?
No, I appreciate any and all wildflowers I may come across. I have to admit that it becomes challenging for me to drive in spring when there are many different wildflowers blooming on the roadsides.
Why do you think studying seeds is important?
Seed research is extremely important for the conservation and restoration of native plants due to the resulting genetic diversity that is achieved with sexual recombination. Genetic diversity can become a very important factor if targeted restoration areas have a dwindling gene pool or a barrier that prevents neighboring populations to communicate.
How do you research the biology of wildflower seeds?
It can be researched in many ways. A few include studying germination competition between native wildflowers and invasive species, germination timing and what triggers certain seeds to germinate, or what drives certain seeds to express a degree of dormancy that must be overcome in order to germinate.
What does an investigation of seed viability entail?
A viable seed contains an embryo that is metabolically alive. Seed viability can be tested by simply germinating a random sample of seeds. However, a resulting low germination percentage may be due to dormancy rather than nonviable seeds. Another method, which I used with sea oats, is the tetrazolium test. Seeds are soaked in a solution of tetrazolium chloride, which turns embryo tissue red if metabolically active. This test is extremely informative for an investigator because one can visually see which areas of a seed embryo are viable and which are not viable.
Have you authored any publications or articles on wildflowers?
No, but Dr. Perez and I are in the last steps of finalizing a paper I wrote regarding my undergraduate research with sea oats. I am very excited about the prospect of submitting my work to a journal soon for publication.
With so many different wildflowers, how do you decide which wildflower species to concentrate on?
I asked Dr. Perez the same question. Time is a huge challenge when completing a graduate degree. Therefore, we will most likely focus on a species whose seed is available in absolute abundance. This prevents me from encountering a shortage of material, possibly extending the amount of time it would take to complete my degree.
Should endemic species of Florida wildflowers receive priority in research?
That's a great question. People tend to choose favorites with species that are easily recognizable or in great abundance. However, each and every wildflower that exists within an ecosystem plays a unique role. Therefore, I would hope that we wouldn't assign priority to any species solely because they are endemic unless that single endemic species plays an absolute critical role to the success of a particular habitat.
Do you think your work in the laboratory can improve grower success in wildflower production?
Yes. For example, my undergraduate work involved exploring an avenue to treat sea oats seeds infected with fungus in hopes of increasing germination when seeds are planted in a natural environment. This information can assist a grower that is experiencing low germination due to fungal decay with sea oats or possibly even other species.
Do you think other students are aware of Florida's natural areas and their need to be preserved? Do you think they have appreciation for Florida wildflowers?
In my opinion, other students may never fully develop appreciation for Florida wildflowers unless it is easy to do so. Appreciation can be made easy if people in both private and commercial settings planted Florida native wildflowers in their landscapes so that others can enjoy them at passing. Florida native wildflowers can become a part of everyone's day even when they are unaware of it.
How do you think FWF could share wildflower knowledge and appreciation with students who study other subjects beside natural resources, botany and wildlife ecology?
Funding native planting projects helps to target a large audience of people outside of the traditional subjects you mention. This effort could even motivate others to plant similar native plants in their yards because they have become so familiar. Highlighting the beauty of Florida native wildflowers in funded projects shows people outside of plant or wildlife disciplines that incorporating native plants in landscapes can be visually rewarding.
What is your dream job when you finish your education?
Currently, I envision myself remaining in academia to pursue research as a professor. In high school, I wanted to be a mechanic because I enjoyed diagnosing problems and forming a solution. A scientist is very similar to a mechanic in that it is my duty to delve into a problem or area of little knowledge and explain why certain events take place. They differ in that a scientist has a lot more flexibility in pursuit of his interests. I truly enjoy that flexibility.