Prisoners help Monarchs while learning research, horticulture techniques
By Loraine O'Connell
With a $21,000 grant to the University of Florida's Museum of Natural History, the Florida Wildflower Foundation is supporting a unique research project that will train prison inmates to test and document propagation techniques for milkweed, the only host plant for Monarch butterflies. The grant is made possible by sales of the State Wildflower license plate.
Although Florida is home to 21 native species of milkweed, they're vanishing as more habitat is developed. Meanwhile, Tropical milkweed (Asclepias curassavica) – which is not native to Florida – is sold by nurseries and big box stores to attract Monarchs, but the pesticides applied to it may be killing the caterpillars that consume it.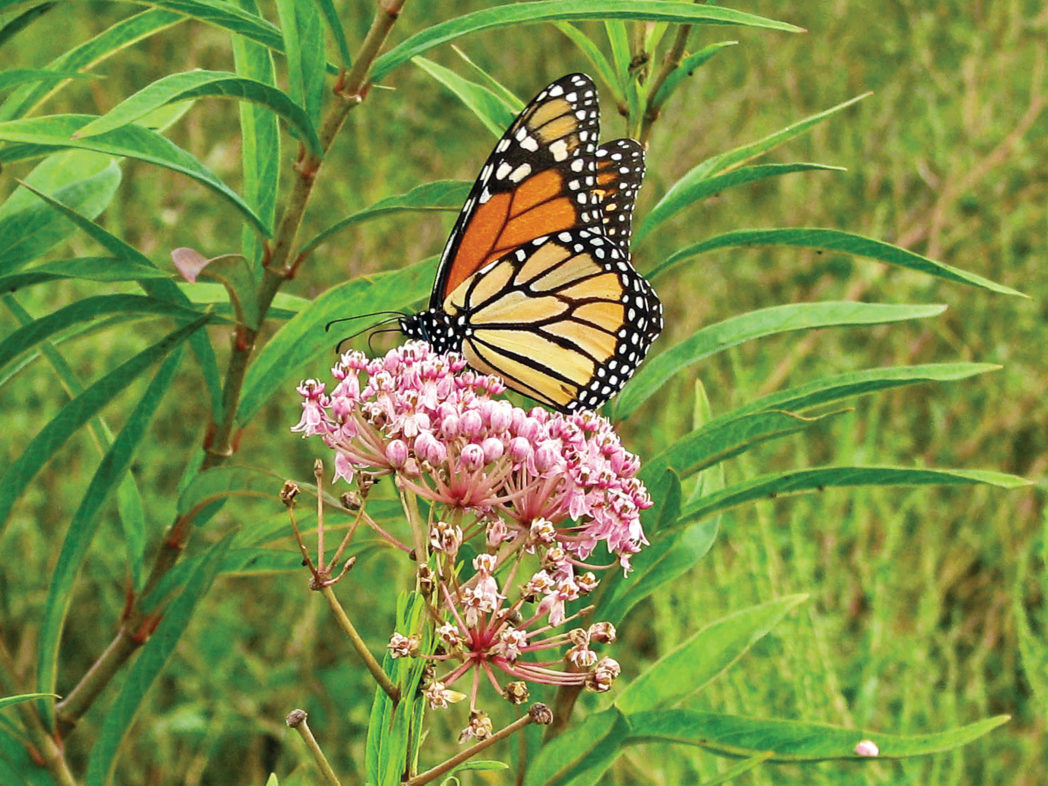 "We're trying to address the lack of information on how best to commercially propagate" native milkweeds, says Dr. Jaret Daniels, associate curator and director of the McGuire Center for Lepidoptera and Biodiversity at the museum.
The project is a unique collaboration among the UF/IFAS Sumter County Extension, the museum, and the Federal Correctional Complex (FCC) Coleman, a prison about an hour south of Gainesville.
Since 2011, Coleman and the extension have collaborated on an inmate horticultural training program, directed by extension Horticulture Agent Lloyd Singleton, says Susan League. As the university's education/training specialist at the prison, League teaches horticulture to inmates in Coleman's low-security area. Those who complete the program receive the Green Industry's Best Management Practices certificate and the Florida Nursery, Growers and Landscape Association's (FNGLA) Certified Horticulture Professional certificate. The certificates can lead to jobs with landscape companies and nurseries.
In a first for FCC Coleman and the museum, inmates selected by League will receive advanced hands-on training in plant propagation and scientific research by evaluating different commercial soil mixes, fertilizers, temperatures and irrigation methods to produce three native species of milkweeds, Daniels says.
"We'll be propagating Butterflyweed (A. tuberosa), Swamp milkweed (A. incarnata) and Aquatic milkweed (A. perennis)," says League. "We're finding the best propagation method so we can write instructions on how to do this profitably." Those instructions will be published and shared with all of Florida's nurseries, she says.
Beyond giving the inmates research experience so they can learn how the scientific method works, Daniels says, "we want some of this to be generated by the inmates themselves. If they come up with ideas of things to do, we want to incorporate that into the research as well."
Right now, Coleman is preparing to install a greenhouse for the research project, Daniels says, and the hope is that the course work and propagation trials will be under way by fall.
If the research is successful, Monarchs eventually will find new chomping grounds.
"We've identified some retention areas maintained by the state Department of Transportation that exist along newer roadways in Florida," Daniels says. The goal is to plant native milkweed in those retention areas "to create habitat for the Monarch."
"This is all one big trial and such a really good project in so many ways," says Daniels. "It's a social project and a good research project."