The State Wildflower license plate gets a makeover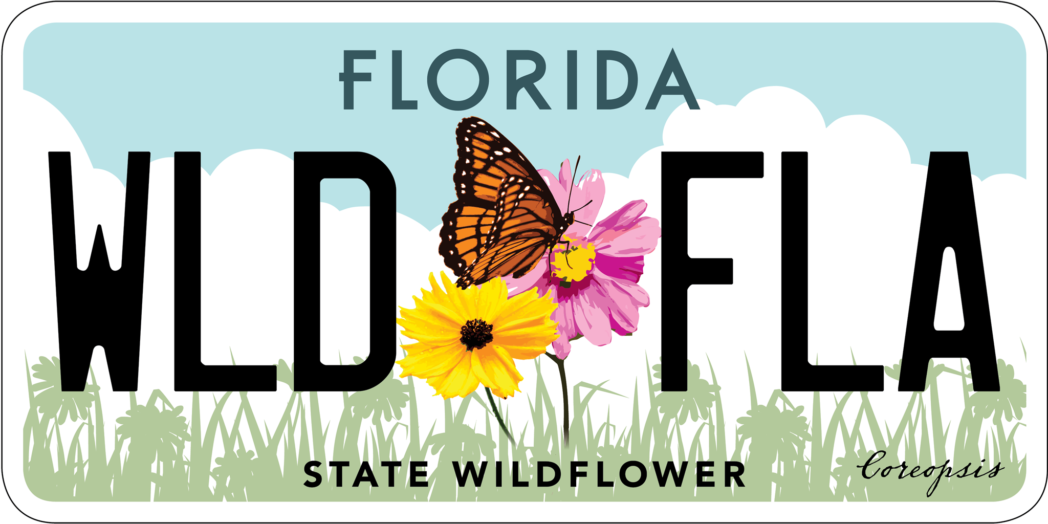 Butterflies and bees are in trouble. How can a license plate help? By design.
The redesigned State Wildflower license plate, now available statewide at county tax collector's offices, sports a butterfly with two species of Coreopsis, Florida's official wildflower. Having the fluttering insect as a key part of the new design helps raise awareness of beleaguered pollinators while illustrating the critical link between them and their vanishing wild habitats.
The license plate raises funds with which to grow and preserve native wildflowers on roadsides. It also funds planting and conservation, education efforts and research projects that help all pollinators, including honey bees and native bees.
Why a butterfly?
Using a butterfly was the perfect choice for the new design, says Foundation Executive Director Lisa Roberts. "Everyone wants to help butterflies, and what is good for them is good for bees and other pollinator species. When someone purchases the plate, they not only are helping butterflies, but also honey bees, native bees, birds and other wildlife species."
Pollinators are the proverbial canaries in the coal mine, a fluttering wake-up call that we must be better stewards of our natural environment. "The steep decline of butterflies, bees and other pollinators over the last several decades is a lesson we need to heed," she says. "We need to provide wildflower habitat for them. Our health is tied directly to theirs — 30 percent of the fruits and vegetables we eat and more than 80 percent of all flowering plants on Earth depend on insect or animal pollination."
Each time the plate is purchased or renewed, a $15 specialty tag fee is received by the Florida Wildflower Foundation. For more information on the cost of switching to the State Wildflower license plate, click here and select "What does the State Wildflower plate cost?" from the Q&A menu.
For questions or comments about the plate, contact the Florida Wildflower Foundation at 407-622-1606 or info@FlaWildflowers.org.