Native Plants for Florida Gardens
by Stacey Matrazzo and Nancy Bissett of the Florida Wildflower Foundation
(232 pages, Pineapple Press)
Florida is home to hundreds of native plants that make great additions to gardens. The Florida Wildflower Foundation's new book, Native Plants for Florida Gardens, takes the mystery out of using them in urban landscapes!
Striking color photography showcases 100 species of wildflowers, vines, shrubs and trees. At-a-glance keys make it easy to determine bloom color, blooming seasons, and light and moisture requirements. Easy-to-read text provides details for success, including native range, care and site conditions.
$21.95 + tax, shipping and handling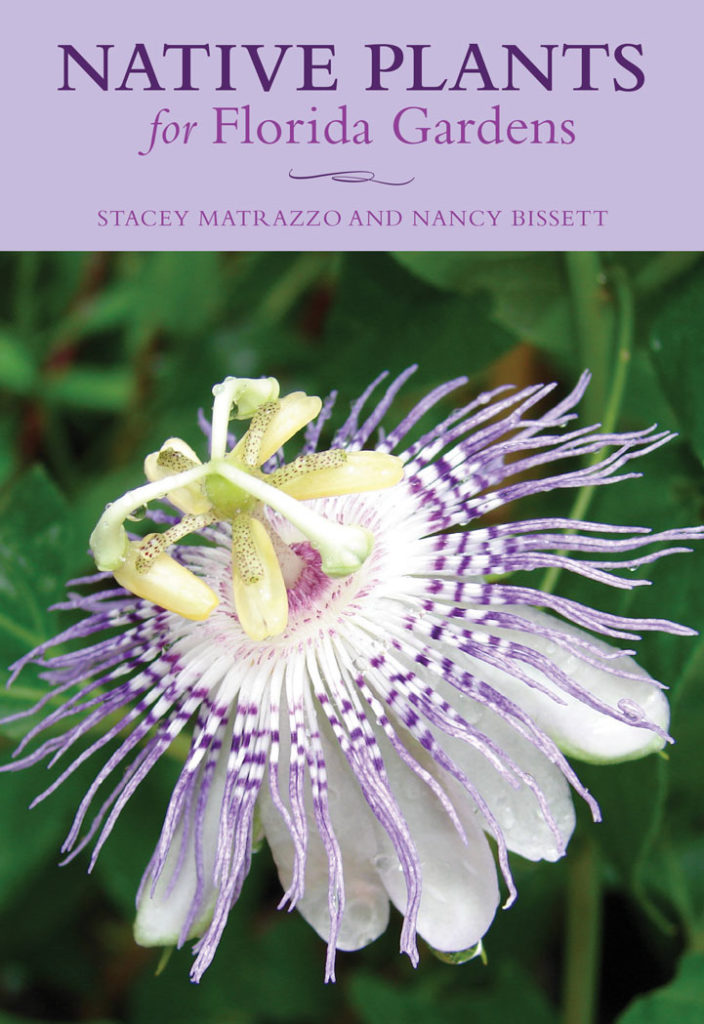 Click the images to see a preview of the book.
What people are saying
Native Plants for Florida Gardens is chockfull of tips and is a tremendous resource for both beginners and more advanced native plant gardeners. If you are just getting started, you will learn about the why and how of native plants, with special tips like planting for color throughout the seasons. Even better, authors Stacey Matrazzo and Nancy Bissett have thoughtfully selected just 100 native plants to highlight, which will be enough to satisfy your palette without you becoming totally overwhelmed by an exhaustive list or frustrated by lack of ability to find them to buy. For more experienced gardeners, there is information about propagation, which is wishful thinking for some of us. While the book is an easy read at just over 200 pages, the amount of knowledge within is vast, accessible and inspiring, and will surely make you want to run outside and garden!

— Jacqui Sulek, Plants for Birds program, Audubon Florida
The book is beautiful; the gorgeous photos should themselves inspire the use of these and other natives in gardens and plantings throughout the state. It is great that it gives useful, uncomplicated information on where, when, and how to grow the plants and even warns about some things to avoid (e.g., related plants to avoid because of their potential invasiveness).

— Thomas F. Daniel, Curator Emeritus, Botany, California Academy of Sciences
Native Plants for Florida Gardens offers inspirational ideas and practical advice that will help unleash the reader's enthusiasm and passion for Florida native plants. This book features more than 100 Florida native plants that will not only add diversity and color to your home landscape from the Florida Panhandle to the Florida Keys, but will also help create vital stopover places for migratory birds on their way to and from the American tropics, as well as offer food and shelter for resident birds, butterflies, and other wildlife. Plant it and they will come.

— Roger Hammer, author and botanist
Native Plants for Florida Gardens is an engaging and comprehensive resource that features 100 of Florida's top natives for landscaping use. Lavishly illustrated and featuring quick-reference icons, each species profile delivers a wealth of useful content to help guide plant selection and ensure successful propagation, cultivation and maintenance. A variety of helpful gardening tips are included along with information on the wildlife each plant attracts. This is a must-have companion reference that will be well used in the garden and at the nursery.

— Dr. Jaret Daniels, Associate Curator & Program Director, Florida Museum of Natural History