Member profile: Wendy Poag
Wendy Poag is a Lake County recreation coordinator, responsible for environmental education and the restoration and management of 2,000 acres of public lands. She has been involved with the Florida Wildflower Foundation since 2008, and became an active FWF Research Committee member. Over the years, she has helped forge a close working relationship between FWF and Lake County, which recently dedicated several acres at PEAR Park, Leesburg, for an FWF weed seed control research project. Wendy leads other Lake County employees and project volunteers in doing quarterly evaluations of the wildflower research plots. Research results are expected in 2022. In 2012, Wendy received an FWF Merit Award for her work on behalf of Florida's native wildflowers.
Join Wendy Poag in supporting the Florida Wildflower Foundation by becoming a member or making a one-time donation to support our work.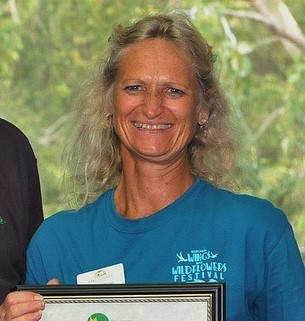 Tell us a little about yourself: Where are you from?
I was born in Sanford and grew up in the DeBary/Orange City/Deland area (pre-Disney!). My family was from the potato-farming region of Long Island, but I have never visited.
What do you wish everyone knew about Florida's wildflowers? Why should people care about them?
Folks have a hard time figuring out what Florida actually was like prior to the human invasion. Most folks have no idea there is a difference between an intact ecosystem/natural community and an old orange grove or urban garden. Florida's native plant diversity within an intact functioning system is astounding. The way species come and go through time and the ways various ones share a single square meter is wondrous. I think that time-lapse photography depicting our various natural communities through a year would be a very telling project! Compare that with a year in the life of the standard urban lawnscape. Ecosystems provide many services to us for free — services such as soil production, disease mitigation, nutrient cycling and pollination. We haven't figured out how to provide such services efficiently or effectively.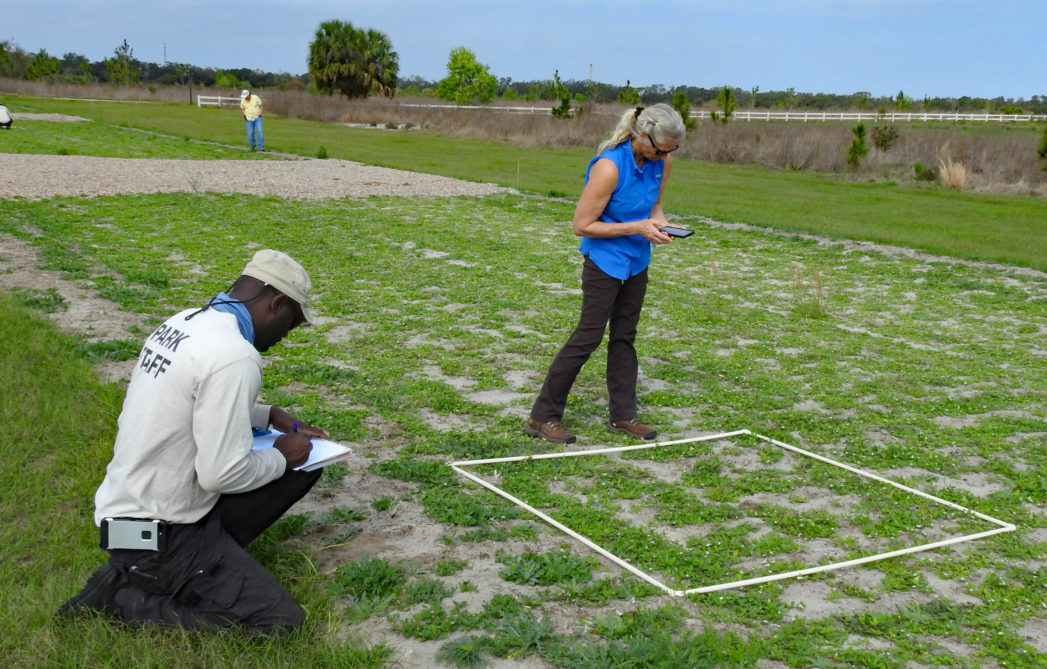 You are a longtime member of the FWF Research Committee. Why are you committed to research?
I just love research! I worked in a UF/IFAS plant disease research lab in the 1980s. I currently work in public land restoration/ecosystem re-creation. It all fits together: yards, native prairies, roadsides, utility easements, best management practices (BMPs) for agricultural land, public land stewardship, etc. We desperately need efficacious methods of establishing native groundcover species and producing seed crops for next generation projects. There are more questions than answers and I am excited to be part of uncovering solutions.
Most people — it doesn't matter who you are, where you came from, what you believe or how old you are — love wildflowers!
Is there a moment you recall that first sparked your interest in the outdoors, specifically native flora?
My father was a gardener and outdoorsman, so we camped, fished, hiked and boated a lot when I was growing up. He taught us to be respectful of nature and plants. He would not let us pick the wildflowers or plants that we encountered as he told us we had to "leave them for the wildlife and allow them to go to seed to produce the next generation."
Tell us a little about your ongoing landscape projects.
I oversee 2,000 acres of Lake County public lands in need of restoration, so everything is one big demonstration experiment!
What challenges have you experienced in your landscape?
I have 20 acres bordering the Ocala National Forest and am in the process of planting Longleaf pine and all of the other native sandhill and flatwoods species associated with them. I hope to be re-introducing fire to my property this year!
What advice do you have to those just starting out with natives or those wanting to put native wildflowers/plants in their landscape?
Get some help and learn to identify what you already have in your yard. Get rid of the exotic invasive species first. Then come up with a design so that you can phase in plantings based on your budget.
What do you like most about native wildflowers?
The variety, the surprises, the activity surrounding them and the scents!
What do you think is the greatest challenge facing Florida's native wildflowers?
Land use change.