Member profile: P.M. and Vijaya Reddy
Podduturu M. (P.M.) and Vijaya Reddy have been active members of the Florida Wildflower Foundation (FWF), attending multiple field trips and other events since 2017. P.M. volunteered at our 2019 Florida Wildflower Symposium in Gainesville, photographing workshops and activities during the weekend. Vijaya and P.M. frequently use FWF resources to talk to their local community of Palm Coast about the importance of native wildflowers.
Join P.M. and Vijaya Reddy in supporting the Florida Wildflower Foundation by becoming a member or making a one-time donation to support our work.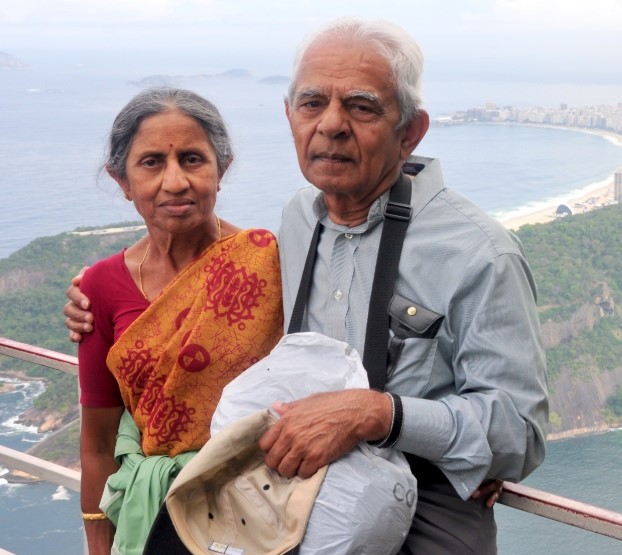 Tell us a little about yourselves. What brought you to Florida?
We were both born in rural south India, where agriculture is very important. I got my bachelor's degree in mechanical engineering in India. I received a scholarship to pursue a mechanical engineering master's degree in the United States, so we both came over. After graduating, I worked in the food industry, aircraft Industry (Boeing and Air India) and social services industry to develop rural agriculture in India. Vijaya Reddy stayed at home to raise our daughter and son, who now both practice medicine in Michigan. We have enjoyed providing our children with the foundation they needed to become successful, and now love taking care of our grandchildren. We are nature lovers, world travelers, and enjoy caring for flowering plants and wildlife. Our last move was in 2014 from Michigan to Florida to spend retired life in warm weather.
How did you get involved with the Florida Wildflower Foundation, and why do you stay involved?
We became Flagler County Master Gardeners in 2015 and received the organization's Master Gardeners of the Year Award in 2017. Because of our love of learning about nature, plants, flowers, and wildlife, we attended many conferences and symposiums featuring speakers like Dr. Jaret Daniels. We went to Mexico in February 2017 to witness the Monarch butterflies' winter migration to Piedra Herrada, Mexico. This visit prompted us to learn more about milkweed and native flowering plants that attract butterflies and pollinators, which ultimately led us to the Florida Wildflower Foundation. We like FWF's approach to critical issues in a methodical manner. It is our desire to learn and share with others.
What do you wish everyone knew about Florida's Wildflowers?
We wish homeowners and politicians were aware of the wildflowers' importance in protecting native bees and pollinators that play an important role in the food chain. There are some crops that cannot reproduce without pollinators, and their survival is dependent on wildflowers supporting these pollinators.
Is there a moment you recall that first sparked your interest in the outdoors, specifically native flora?
We were in the Seattle area when I was a Boeing employee. We used to go camping in summer to enjoy nature and wildflowers. We wanted to continue to appreciate the natural world when we moved to Florida, and became especially fond of Florida's native flowers.
Do you have wildflowers/natives growing in your yard?
We are still in the process of converting to native wildflowers plants. The main issue is the availability of native plants.
We have a very small yard. We are trying to convert to wildflower plants that are friendly to Monarch butterflies and other pollinators. We have introduced milkweed (Asclepias spp.), Coreopsis, goldenrod (Solidago spp.), blazing star (Liatris spp.) and other natives into our yard. They are easy to grow, adaptable, need less water than non-native plants, are resistant to most pests and diseases, and are attractive to pollinators. At present our favorite plants are Coreopsis, goldenrod and blazing star.
Do you have any words of wisdom to share with gardeners?
Plant milkweed and nectar-producing flowering plants to attract butterflies, pollinators and wildlife. Use publications published by the Florida Wildflower Foundation as a guide in selection and planting methods!
What do you believe is the greatest challenge facing Florida's environment? In what ways do you help to educate in your community about those challenges?
Educating homeowners and convincing politicians to enact suitable regulations. We have given presentations and distributed Florida Wildflower Foundation brochures to the Palm Coast Beautification and Environmental Advisory Committee (BEAC), Palm Coast Garden Club, and other members of the general public, including a Palm Coast landscape architect, on planting milkweed for Monarch butterflies and planting native flowering plants to attract other pollinators. We have emphasized the good work the Florida Wildflower Foundation is doing. We hope to connect valuable organizations so they can benefit from each other. For instance, Palm Coast Garden Club is now in the process of helping BEAC create a Monarch butterfly garden.