Member profile: Phyllis Stopford
A Florida Wildflower Foundation member since 2009, Phyllis Stopford is devoted to learning anything she can about native plants. Picking up information through a variety of sources, including past Symposiums hosted by the Foundation, Phyllis is eager to share her knowledge with others. In addition to being a Florida Wildflower Foundation member, Phyllis is an active member of the Tarflower Chapter of Florida Native Plant Society and an Orange County Master Gardener volunteer, and gives tours for Orange County Extension demonstration gardens.  
Join Phyllis Stopford in supporting the Foundation by becoming a member or making a one-time donation to support our work.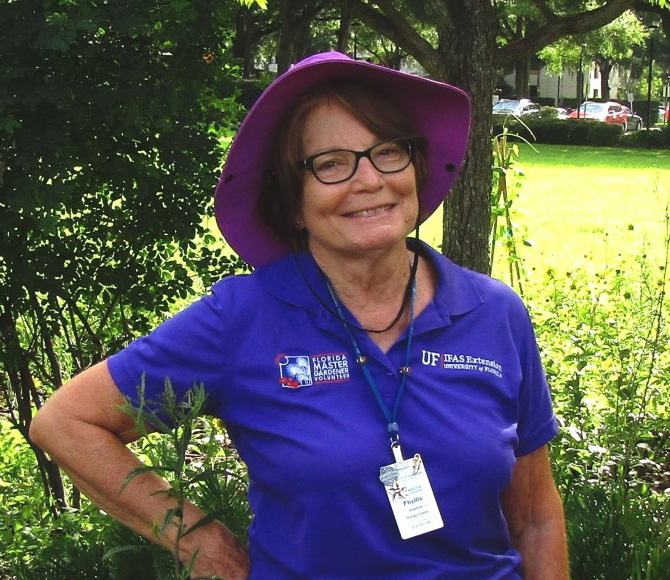 Tell us a little about yourself.
As a fourth generation Floridian, I appreciate and care deeply about the future of our natural resources, our beautiful springs, waterways, wildlife and flora. I grew up on Florida's Nature Coast near the Suwannee River and the Gulf of Mexico in a small North Florida town.
One of the favorite things our family did was take Sunday afternoon rides in the woods of Dixie County, where we were surrounded by the beauty of nature: saw palmetto thickets, tall flatwoods pines, hardwood forest, salt marshlands, swamps, lots of birds, flowers, and if we were lucky, a deer, opossum or raccoon. On warm summer days we would go swimming in Fanning Springs or picnic at Manatee State Park. I remember hearing the cry of the endangered Florida Panther one evening in a wooded area of town. We enjoyed fishing on the banks of the Suwannee, the Gulf Coast flats of Horseshoe Beach or Shired Island, and offshore fishing trips in Steinhatchee. This is the Florida I know and love.
After retiring from a long career in medical office administration, I was called back to my love of nature, especially plants, and enrolled in the Orange County Master Gardeners volunteer program. It took a while, but my enthusiasm for Florida's native plants and wildflowers began to unfold.
How did you learn about the Florida Wildflower Foundation, and what is your favorite thing that the Foundation offers?
The 2009 Florida Arbor Day event was held at the downtown Orlando Florida–Friendly Landscaping™ demonstration garden, where I had volunteered to represent our Master Gardeners program. It was there I met one of my mentors, Nancy Rodlun, with the Orange County Environmental Protection Division. She was also, at that time, Florida Wildflower Foundation board member. Thus began my wildflowers education. I began asking the name of each plant, and learned Nancy needed someone to prepare plant labels for the garden. I quickly volunteered for the challenge and made labels for all the plants in the garden, as well as for all our Orange County Extension demonstration gardens. This project involved a lot of research and has been a great way to learn about our Florida wildflowers and native plants.
I became the lead gardener in 2014 when the Orange County Master Gardeners program assumed responsibility for the garden. It is now known as the IFAS/Orange County Extension Florida-Friendly Landscaping™ Garden and is a certified Monarch Waystation and Wildlife Garden. I write a monthly researched article for our Master Gardeners pH Newsletter and highlight a particular native plant growing in the garden. It is my way of passing along my passion for native plants and providing educational information to my fellow Master Gardeners. Our native plant garden group is known as the "Bit Better Garden Team", taken from Edward Bok's grandmother's quote, "Make Ye the World a bit better and more beautiful because you have lived in it. "
I became a member of the Florida Wildflower Foundation by purchasing a State Wildflower license plate and have kept it current for many years. My favorite thing about the Foundation is the educational opportunity it provides, and I especially enjoy the educational Florida Wildflower Symposiums. I love that the Symposiums are held in different Florida locations. Some of my favorite presenters and programs have been Bok Tower Gardens – Orange County Extension Center – Dr. Jaret Daniels' "Butterfly Conservation Efforts in Florida"; IFAS Extension, Gainesville – Dr. Rachel Mallinger's "Florida Native Bees." And most recently the webinar . The Foundation also has a great Facebook page chockfull with , wildflower pictures and helpful information. I have used the Florida Wildflowers & Butterflies brochure when conducting garden tours of our Orange County Extension's Pollinator and Wildflower Meadow gardens.
How did you become interested in native plants?
One of my first assignments as a Master Gardener was volunteering at our Fairgrounds Demonstration Garden. One morning I arrived with a "beautiful" plant to add to the garden and quickly learned that it was an invasive Ardisia crenata. How fortunate for me that two of the gardeners there were also members of the Florida Native Plant Society's Tarflower Chapter. They became great mentors, and I, too, became a member of the Florida Native Plant Society.
It was through Tarflower Chapter meetings and my volunteer gardening at the downtown native plant demonstration garden that I developed an appreciation for and love of native plants. A plant raffle was one of the highlights of the Tarflower meetings, and I left most meetings with an armload of new native plants to add to my landscape.
A good portion of my yard has now been converted from St. Augustine grass to Florida wildflowers and native plants. My plant palate includes native grasses, native butterfly nectar and larval host plants, native wildflowers, trees, and plants that attract many pollinators, birds, and other wildlife. I have become an advocate for native plants, and my hope is to help educate my friends and neighbors that Florida native plants add value and have a place in our home landscapes.
I also lead a group from my church called The Plant Keepers and have slowly introduced native plants to our courtyard, peace garden and curbside plantings. It is just my quiet way of sharing my passion for natives so others might be inspired to add native plants and wildflowers to their landscapes.
Do you have a favorite native wildflower to grow?
That is a difficult question as I now choose plants, thanks to the educational programs of the Florida Native Plant Society and the Florida Wildflower Foundation, based not so much on their instant beauty but their long-term beneficial contribution to our environment. I now see landscapes through a different lens and have redefined my idea of beauty. Instead of rushing to the big box stores to buy the pretty seasonal flowering non-native plants, I now relish a trip to the native plant nursery to find sustainable plants that help with water conservation and stormwater pollution prevention while providing a wildlife habitat and pollinator paradise.
My favorite native wildflower? If I must choose, Beach Sunflower (Helianthus debilis) is top of my list. It is easy to grow, drought tolerant, re-seeds prolifically, blooms almost year-round, and provides a bright and happy area for people, pollinators and wildlife to enjoy.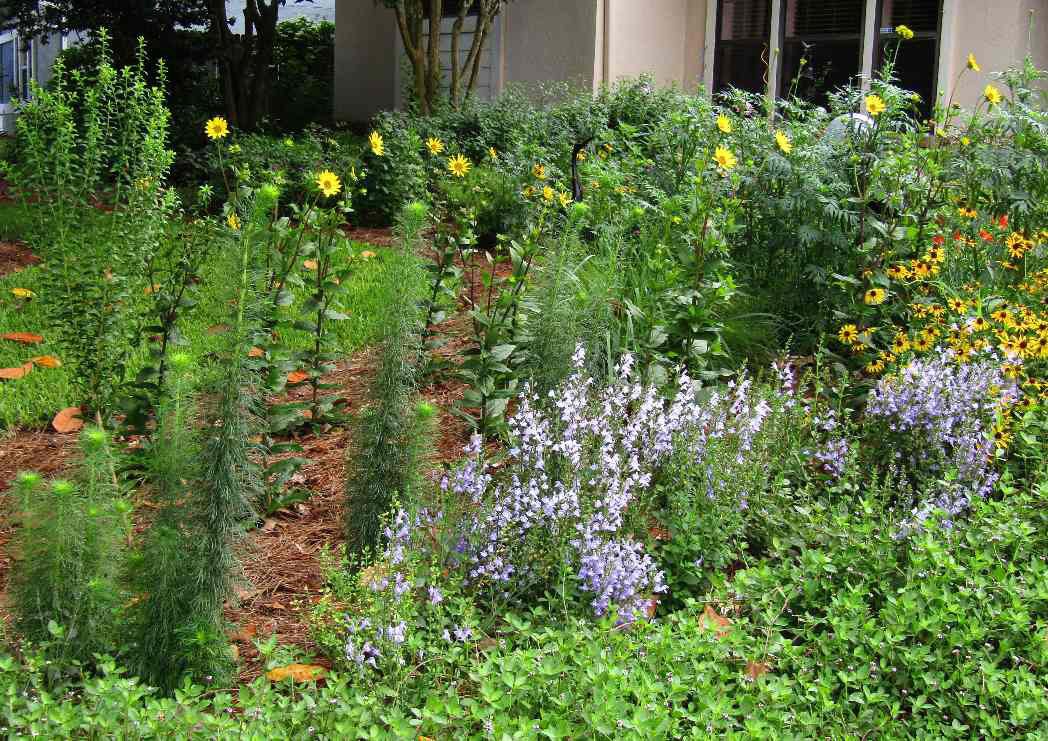 Do you have a favorite outdoor location in Florida to experience the state's natural beauty?
I am drawn to anyplace near the water and especially enjoy visiting Canaveral National Seashore, the banks of the Suwannee River, and the numerous hiking trails around Orlando.
What advice do I have for new gardeners?
Become involved with garden groups, i.e., Florida Wildflower Foundation, Florida Native Plant Society; do your research before planting; think big but start small. Don't become discouraged – it takes time; listen to Mother Earth. She will teach you what you need to know. You'll learn the No. 1 rule in gardening is "right plant, right place." That takes research, trial and error.
What do you wish everyone knew about Florida's native wildflowers?
Beneath their beauty, wildflowers add value to our landscapes, are beneficial to the environment, and become a place of respite for our souls. Do something, plant a wildflower, and experience the joy of watching nature come alive in your own backyard. We can all become good stewards of this earth we call home.