Member profile: Neta Villalobos-Bell
Neta Villalobos-Bell is a Certified Advanced Florida Master Naturalist and Land Steward; Certified Florida Nursery, Growers and Landscape Association (FNGLA) Horticulture Professional; and Certified National Association for Interpretation (NAI) Interpreter. A longtime Florida Wildflower Foundation member, Neta has attended numerous Foundation symposiums and field trips throughout the years.
Join Neta Villalobos-Bell in supporting the Foundation by becoming a member or making a one-time donation to support our work.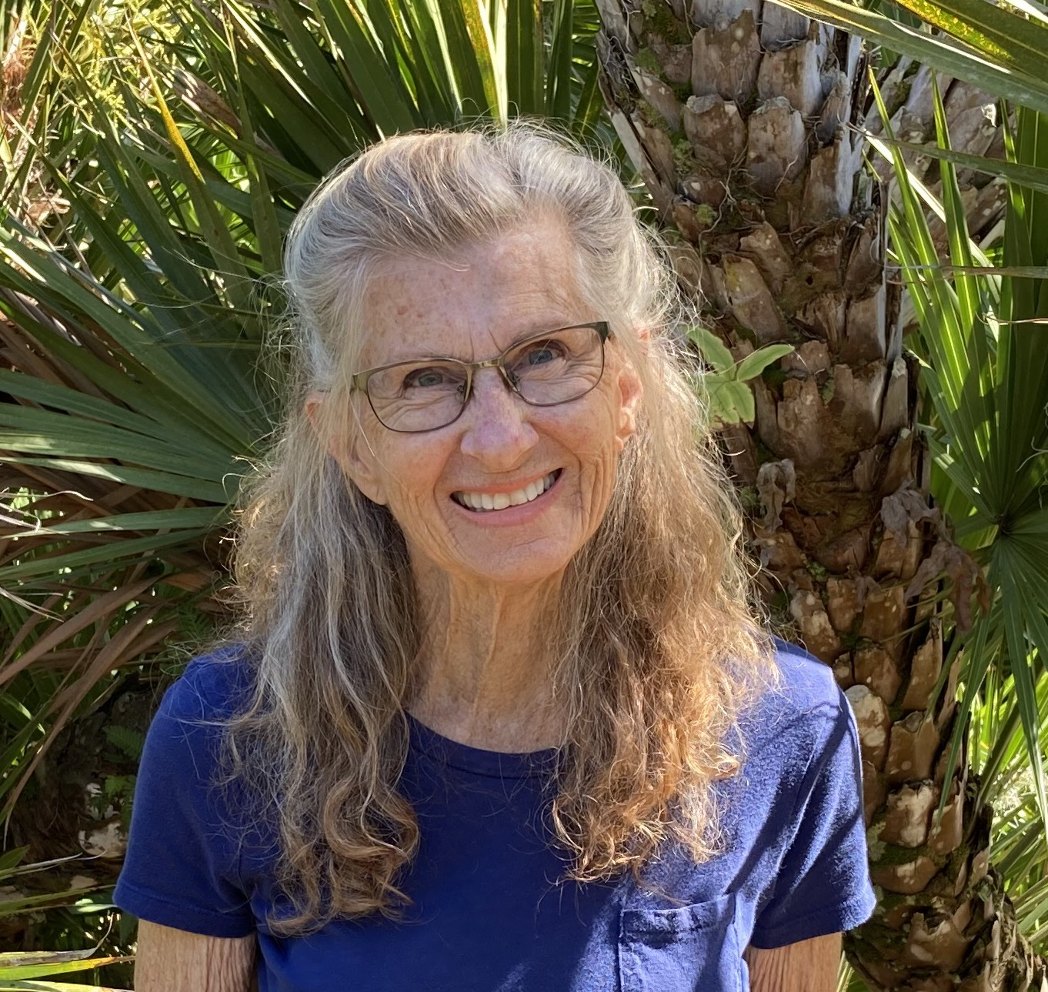 Neta, how did you become so involved with native plants?
It all started when we first moved to Florida in 1988. I worked at Florida Audubon Society in the education department. In addition to being mesmerized by all the large birds frequently seen in Florida, I enjoyed learning about the birds and giving presentations for various schools and organizations. During this time, I learned that "birders" get up in the dark to see the most birds at dawn. Since I don't like getting up in the dark, I switched to plants.
Like most people starting out, I put in a few native plants at first. I was surprised when I saw what they attracted, mostly native bees. I was hooked. I researched and learned about them. Then I saw other insects which piqued my interest, and I did more research. I also saw different bird behavior interactions, such as birds eating insects on the plants. Even though I had read about these connected relationships, having observed this in my own yard became reality to me. Over the years it also became obvious that Florida was and is rapidly losing habitat for our native wildlife. I started giving educational presentations to share the value of Florida native plants and encourage others to add purpose into their landscape by choosing native plants.
How did you first get involved with the Florida Wildflower Foundation and why do you stay involved?
Shortly after my realization about birding, my best friend became interested in and introduced me to Florida's native plants. Again, I was excited about observing all the native beauty found in the different habitats. But most important to me is connecting the importance of native plants to the survival of wildlife and how they can be used in anyone's yard to provide a refuge from loss of habitat due to development. I was hooked. And the bonus? I could look at them any time of day. Although I first joined the Florida Native Plant Society, my friend led me to the Florida Wildflower Foundation (FWF) whose mission is related. I stay involved with FWF because I believe in their mission; they have passionate, dedicated, and involved staff; they constantly evolve their outreach education to reach the most people; they successfully accomplish roadside projects through policy changes; and they partner with like-minded organizations.
You haven't always lived in Florida, right? What are the differences you've found between local biodiversity here and elsewhere?
No, I haven't always lived in Florida, but I wouldn't want to live anywhere else. When we first moved here, I felt instantly like I was "home." I felt comfortable. I'm constantly in awe of Florida's natural beauty and it fills me with appreciation and joy to live here.
For me, the differences between California and Florida are great. The weather is different. California is Mediterranean, dry summer and wet winter. Florida is opposite with wet summer and dry winter. Geography is different. California is more diverse with mountains, cliffs, valleys, deserts. Florida is flatter, has lower elevation and is surrounded by water. The water source is different. California's is primarily from mountain snow melt. Florida's is from an underground aquifer that surfaces into our many lakes. All these differences influence the biodiversity of native plants and their interactions with our native wildlife.
What advice do you have for beginners? Do you have any particular wildflowers you would recommend to start with in their wildflower journey?
My advice is to select a manageable area to start, depending on how much time you realistically have to work in it. Wildflower landscapes are not maintenance-free, unless you live out in the country where no one cares, or you place it in your yard not visible to your neighbors. Maybe around 8 ft depth x 15 ft length? Make sure the soil is clear of all weeds, but don't be surprised if you still need to monitor and pull them. You can use mulch to help suppress weeds, but if you want your plants to reseed, the ground needs to have some bare soil. Always use a Florida-specific book when choosing plants and be mindful of their needs, such as light, water, soil requirements plus habits and behaviors. If you're knowledgeably prepared, you won't be surprised or disappointed. These are some plants that are easy to grow and reseed prolifically: Tropical sage, tickseed, Wild petunia, and Spotted beebalm. I just tried native Porterweed. It spreads laterally and the bumblebees love it.
What has been your greatest wildflower landscape success? What challenges have you experienced in your landscape?
I'm always learning and adjusting. By experimenting with different flowers, I now know what won't grow well and what will grow successfully in my location. That's success. A challenge for me is spacing wildflowers too close together. The plants get all tangled together and they're hard to properly prune. I know the correct spacing, but I still plant too close. A challenge for me to overcome.
What message would you like to share with others about the importance of Florida's native environment?
Florida's natural environment is rapidly disappearing before our eyes. Our yards make a small difference, but together they become a larger refuge. Support organizations that make a positive difference in support of protecting our natural areas. Become involved with these groups and spread the message by planting more natives.