Member profile: Dr. Loran Anderson
Dr. Loran Anderson is a professor emeritus in the department of biological science at Florida State University in Tallahassee. His research has focused on plant taxonomy and systematics in the Florida Panhandle and elsewhere. He is currently compiling a checklist of native plants in Panhandle counties that will include rare and endangered species. Over the course of his career, he has authored numerous publications and has named (i.e., described for science) 12 new Florida native plant species or subspecies. Dr. Anderson is a long-time member of the Florida Wildflower Foundation. In 2016, he received the Foundation's "Coreopsis Award" in recognition of contributions to Florida's wildflowers.
Join Dr. Anderson in supporting the Florida Wildflower Foundation by becoming a member or making a one-time donation to support our work.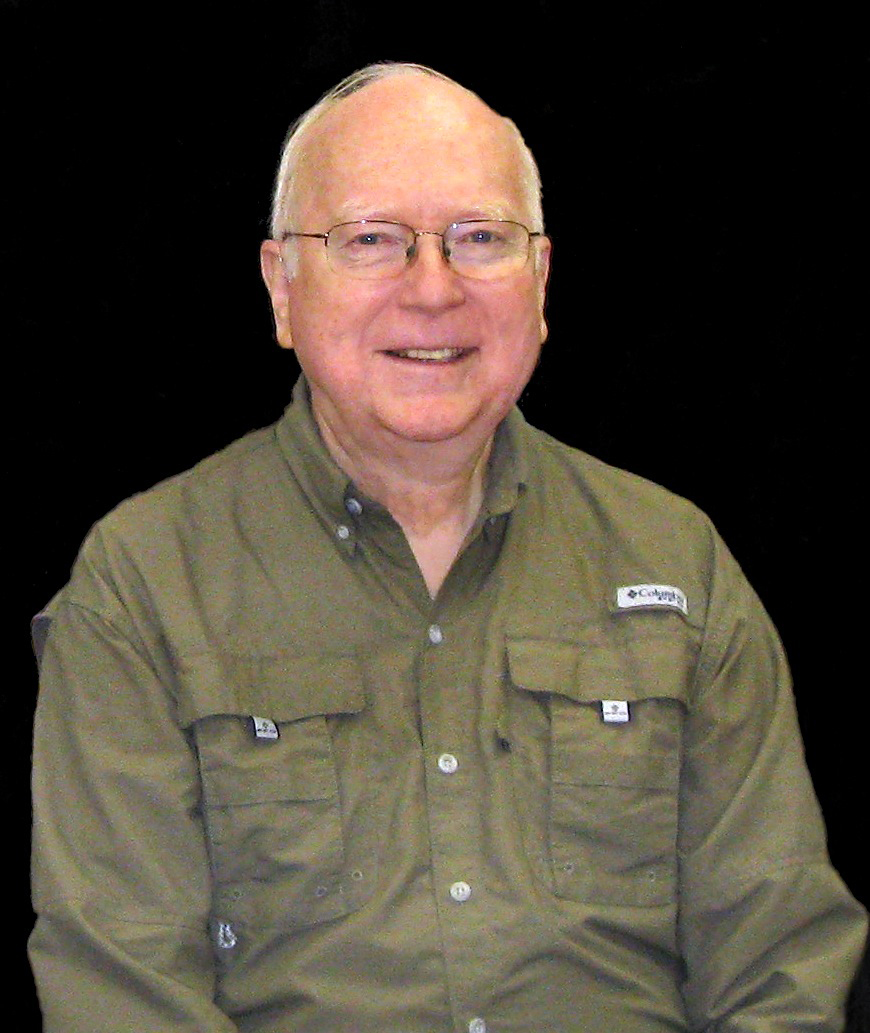 Tell us a little about yourself — Where are you from? How long have you been in Florida and what brought you here?
I was born and raised in Idaho Falls, Idaho. Love of nature came to me rather naturally — my father was a breeder of peas and beans and introduced me to the study of native flora. (I learned my first scientific names at 11 years old.) I spent six consecutive summers in the Tetons with a scout camp as the camp naturalist, teaching plant identification to scouts older than myself. After earning degrees at Utah State University and Claremont Graduate University, I taught botanical subjects at Michigan State University and Kansas State University before coming to Florida State University in 1974. I have lived in Tallahassee longer than all other places (i.e., eight states) combined.
How did you first get involved with the Florida Wildflower Foundation and why do you stay involved?
I don't recall when I first joined the Florida Wildflower Foundation, but it was a natural thing to do because that involvement enables fellowship and interaction with other plant enthusiasts, and the Foundation's collective voice should have more impact in the community.
Do you have a favorite wildflower?
I'll answer that the way I answer my grandchildren who often ask which of them is my favorite — my favorite wildflower (or grandchild) is the one I happen to be with at that time!
Why should people care about wildflowers?
The reasons we should care about wildflowers would fill a book. One would be "pure aesthetics" — we are happier when we have them around us. Another reason is that biotic communities are defined by the plants that are present, and wild animals (which get more attention) are dependent on their given plant communities. Water abundance and quality also are governed by those plant communities. Finally, Florida's agriculture (and the rest of the world's) needs wildflowers to sustain pollinators throughout the year when they are not "working" the crops.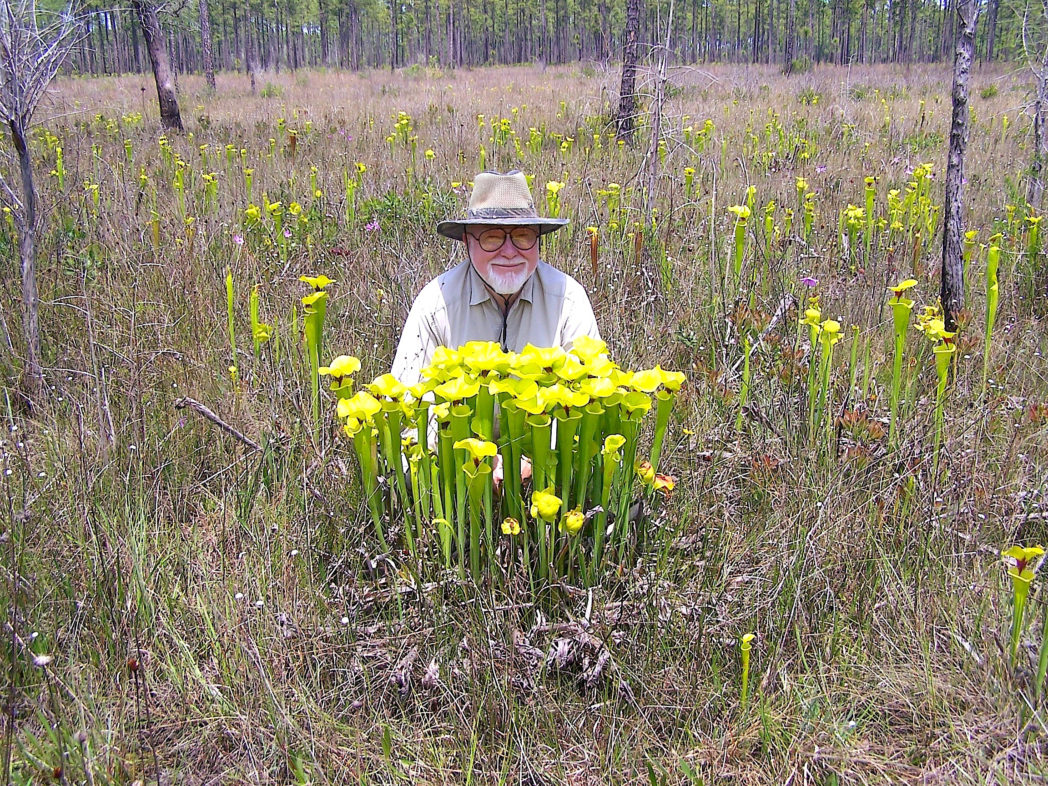 Have you documented many rare plants in the Florida Panhandle?
I've sat on the Florida Endangered Plant Advisory Council for over 30 years and enjoy finding new sites for rare plants. I retired in 2003 and since then have continued exploring the Florida Panhandle and documenting occurrences for the Florida Atlas of Plants. Between 2013 and 2015, I averaged 320 first records per year for given species in Panhandle counties; then in 2016, I recorder over 435 first county records.
Is there a favorite area in Florida you can recommend to our readers who like to botanize and enjoy wildflowers?
Counties bordering the Apalachicola River are very rich in unusual or rare plant species (State Road 65 in the national forest being a particularly good area to visit). However, the further one goes from a major university (or other botanical institution), the less well-known the flora is, so I've recently been inventorying in Washington and Holmes counties.
Why did you pick the Asteraceae family for your taxonomic studies?
In college, my major professor suggested I study the rabbitbrushes (which belong to the Asteraceae family). These shrubs are as abundant out West as sagebrush (also in the Asteraceae or Compositae family), only they are prettier. Historically, rabbitbrushes were once placed in the genus Bigelowia — a genus now structured for two species found in the Southeastern U. S., which got me interested in this region before I moved here.
How many plants do we now have in that family?
Asteraceae (which contains sunflowers, goldenrods, daisies, thistles, dandelions, etc., as well as asters) is possibly the largest family of plants. Many consider the orchids more numerous, but the most recent listing I've seen shows Asteraceae as having 22,750 species with Orchidaceae at 21,950.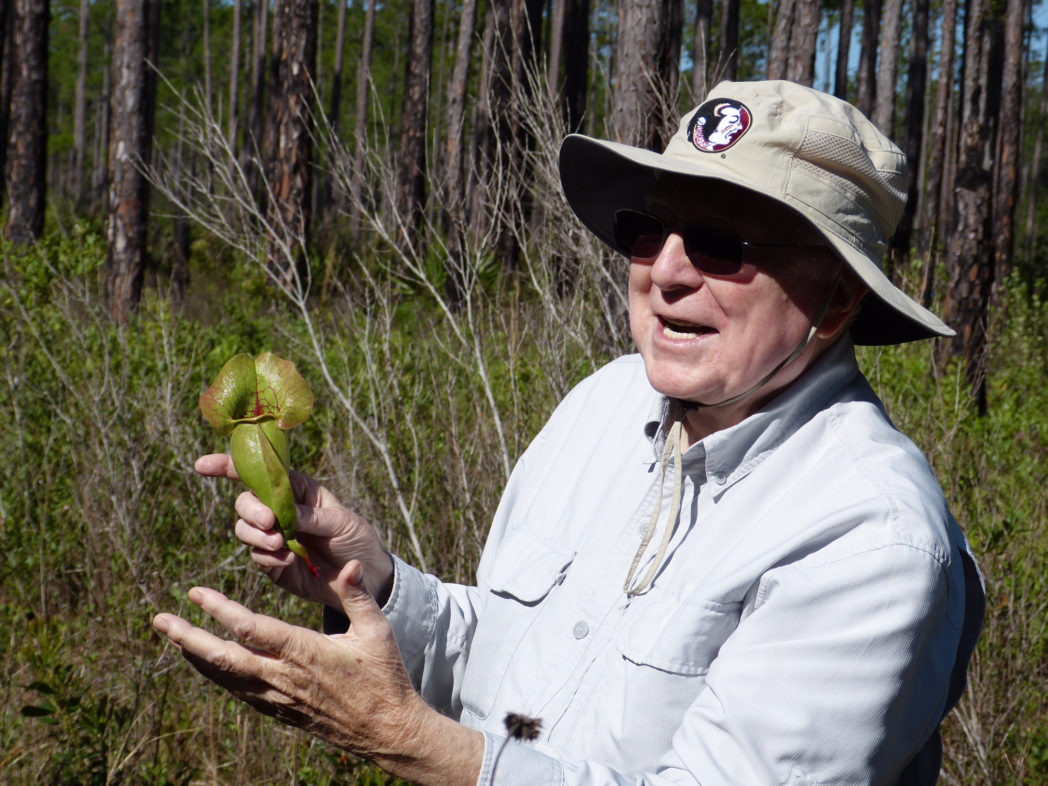 Are any asters rare or endangered in Florida?
The Asteraceae family has several rare species in Florida, but those we generally call "asters" that are listed as endangered in the state include Aster hemisphericus (Southern pine aster) and A. spinulosus (Apalachicola aster), both now placed in the genus Eurybia, and Pityopsis flexuosa, which we call "Florida golden aster" or "zigzag silkgrass."
You have written articles on "noteworthy plants of North Florida." What makes a plant "noteworthy" for you?
I wrote a series of articles with the heading of noteworthy plants, wherein I reported native or naturalized species newly found in the state or in the Panhandle or otherwise "noteworthy" because of their rareness.
Your page on the FSU website states that you are working on other plant species as well. Where are your plant expeditions taking you?
Most of my expeditions are within the Florida Panhandle, but I still am interested in the flora of the West where I grew up. Past projects have taken me over much of the U.S. (with a few excursions into tropical America looking for other Asteraceae). A major part of my botanical research involved anatomical studies, wherein I would examine the internal structure of flowers, leaves, stems, etc., to find features that would help define plant relationships. One such study of goldenrods that we now list in the genera Chrysoma, Euthamia, and Solidago showed that leaf anatomy clearly supported those three groupings. Another anatomical study involved Cannabis, where I found the various species could be identified by wood anatomy in the stems. This was of great forensic interest, and I was invited to participate in an international working group of the botany and chemistry of Cannabis (sponsored by an agency of the United Nations). Some say that was the high point of my career!