Lake County, FWF partner on shoreline pollinator habitat
A stretch of shoreline along Lake May will soon be aflutter with butterflies, bees, hummingbirds and other native pollinators thanks to Lake County Parks and Trails and the Florida Wildflower Foundation (FWF), who partnered to restore a littoral habitat in Lake May Reserve in Eustis.
The new planting is right off the main trail, adjacent to a planned public canoe outpost. A floating dock was installed earlier this year that extends well into the lake and will entice visitors to walk its full length. From this vantage point, the full extent of this beautiful, colorful habitat can be seen. Planned educational signage will tell a story about the plants, the restoration, and the importance of native species and the resources they provide.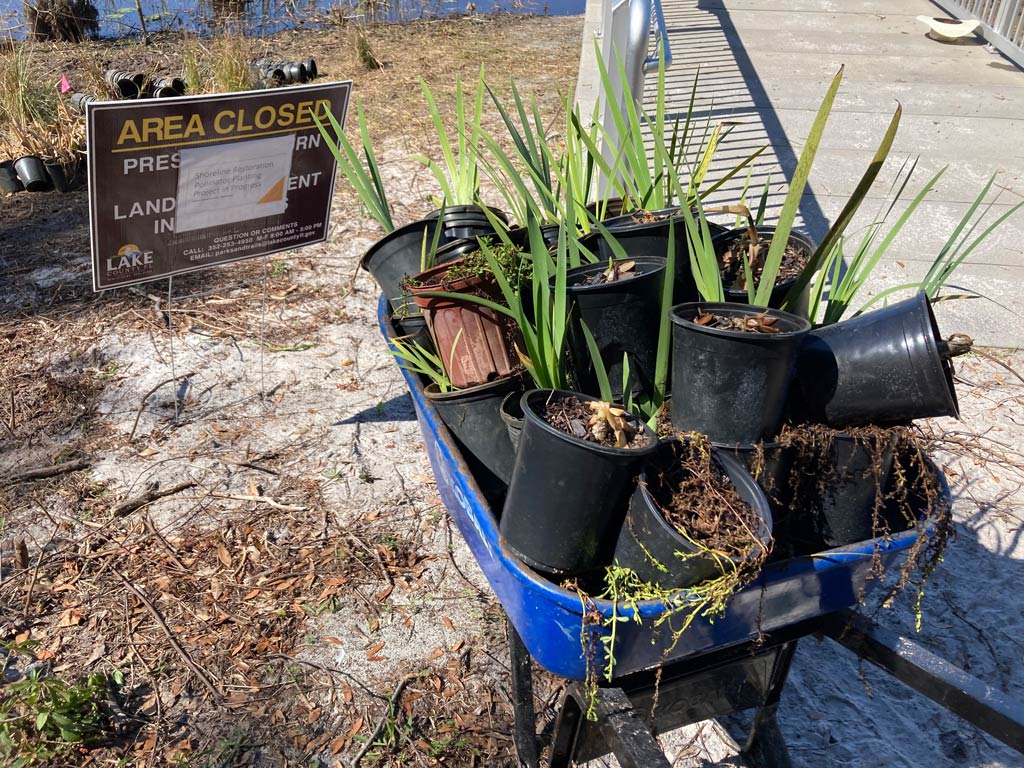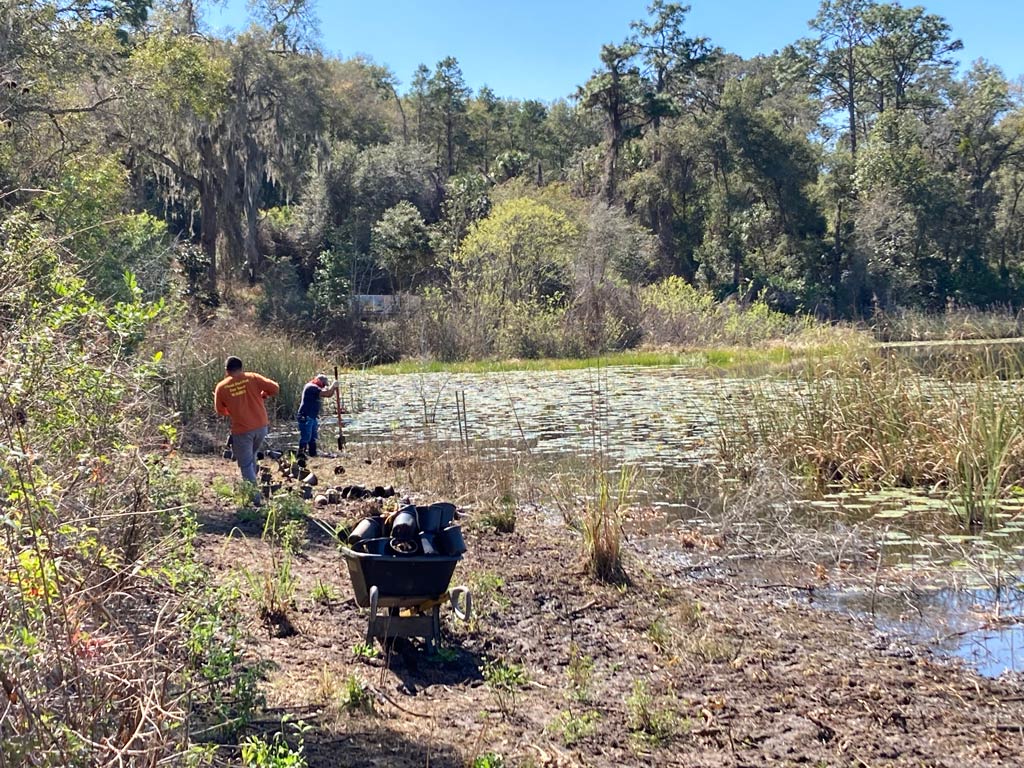 Site prep began in February with the removal of weeds and invasive species that had taken over. Hand removal was necessary to ensure that existing desirable natives were left intact, and to avoid the use of herbicides. Over the course of three days, 1,200 aquatic wildflowers were installed. Planting in winter is not typical, but the process of prepping the site and installing the plants was much easier since the overgrowth of weeds and invasive species were dead or dying back and easily removed by hand, and the seasonally low water level made it possible to plant emergent wildflowers further into the littoral zone.
The palette was designed to include a variety of larval host plants including three species of milkweed, Herb-of-grace, Yellow canna, Alligatorflag, and Water cowbane. Nectar plants such as Vanillaleaf, Rattlesnakemaster, Cardinalflower and Climbing aster will provide food for pollinators, while other plants like Duck potato, String lily, Pickerelweed and Southeastern sunflower will provide seed, fruit and cover for birds and other small wildlife throughout the seasons. A total of 38 species are featured in the restoration.
The wildflowers were grouped by species and size. Moisture needs were also considered. The shoreline is sloped and the water level varies, so plants that are more acclimated to drier conditions were planted higher, while those that need to keep their feet were planted further into the lake.
We are so excited for this project as it will not only greatly improve the site's biodiversity, but once the plants become established and begin to flower, it is sure to attract and impress visitors.
The Foundation's participation in the project was made possible by a generous grant from the W.T. Bland Jr. Charitable Trust.