Lake County, FWF partner to create pollinator habitat
Bees and butterflies, including Monarchs, have 3 acres of new native habitat, thanks to Lake County Parks and Trails and the Florida Wildflower Foundation (FWF), which have partnered to develop pollinator habitat along the multi-use Neighborhood Lakes Scenic Trail north of Orlando.
The site, a former cattle pasture and citrus grove, is being enhanced with thousands of native plants, shrubs, small trees and grasses, including hundreds of milkweeds – the host plant of the Monarch butterfly. The new habitat will provide cover, nectar and nesting opportunities for dozens of insect and animal species.
State Road 429 and Wekiwa Springs State Park. It serves as part of the Wekiwa-Ocala Greenway, a wildlife corridor connecting the state park with Seminole State Forest and the Ocala National Forest. Besides butterflies, bees and an array of beneficial insects, the site is expected to be used by abundant wildlife traveling the corridor, including gopher tortoises, sandhill cranes, deer and black bears.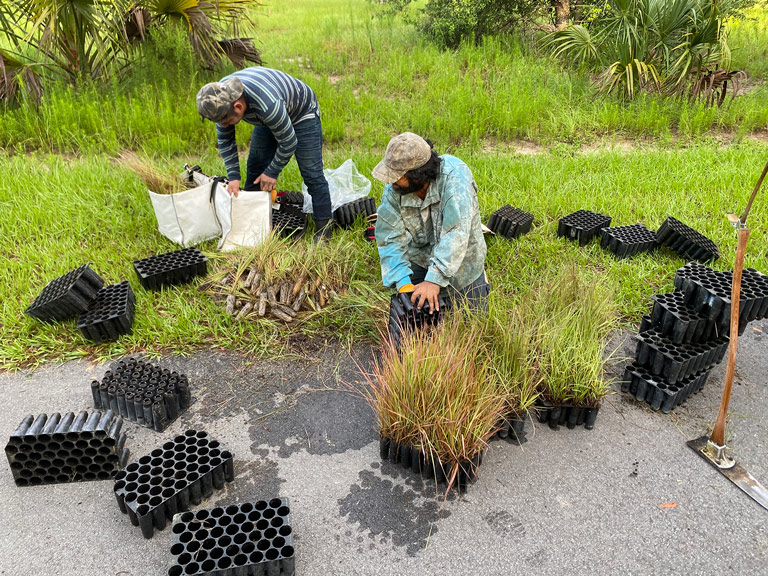 Planting began in late July, with wildflower and grass plugs installed directly into the thinning pasture grass in areas where native groundcover species such as Pricklypear cactus (Opuntia sp.), Gopher apple (Geobalanus oblongifolius) and Elliott's milkpea (Galactia elliottii) are present.
The site isn't just for pollinators and wildlife, though. Through interpretive signage and on-site educational workshops, residents and visitors will be encouraged to use native plants in landscapes to support wildlife. Lake County also will use it to train Lake County maintenance staff and residents to use sustainable management practices.
The Foundation's participation in the project was made possible by a generous grant from the W.T. Bland Jr. Charitable Trust.