Jeff Caster receives 2020 Coreopsis Award
It takes a special kind of superhero to save the world, and in many ways, Jeff Caster is just that to natural Florida. Thanks to his decades of thoughtful leadership of the Florida Department of Transportation (FDOT) Wildflower Program, Florida is a more beautiful and environmentally sustainable place to live.
In recognition of his service to Florida's wildflowers and impending retirement from FDOT, the Florida Wildflower Foundation board of directors recently voted unanimously to select Caster as the 2020 recipient of the organization's Coreopsis Award, its highest recognition. After stepping down from his FDOT post on April 8, Caster will continue his service to wildflowers as chair of the Foundation's Planting and Conservation Committee, which he has led since 2015.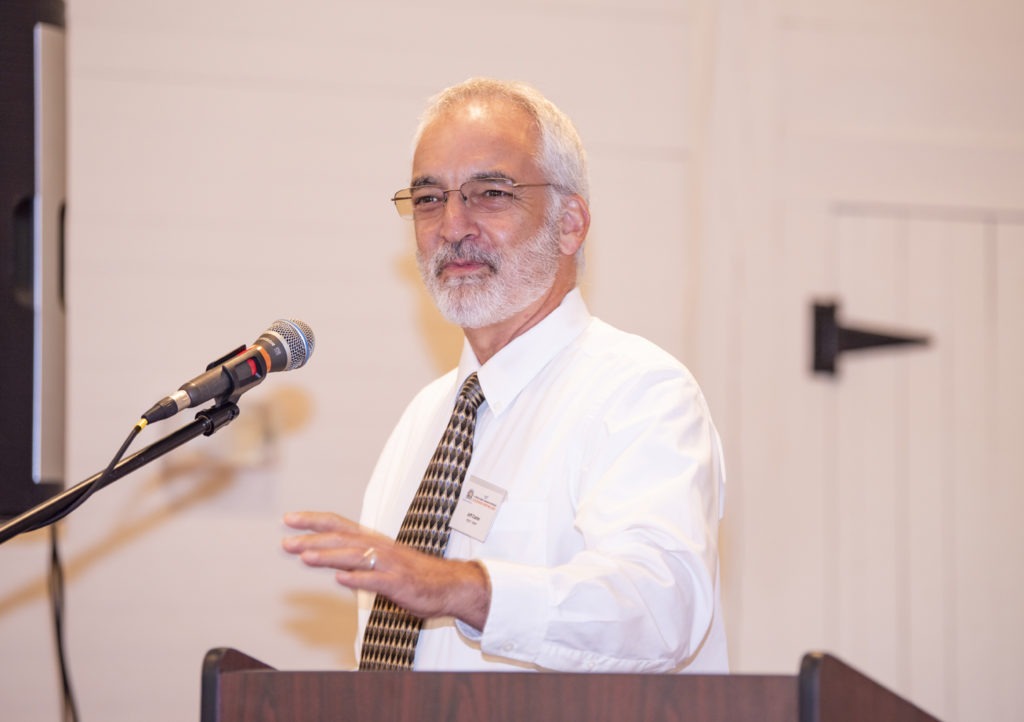 Since 2001, Caster, FDOT landscape architect, has headed the department's movement to preserve and plant native wildflowers on roadsides. From 1999 to 2016, he also served on the Foundation's board of directors, helping to steer and build its programs statewide. His leadership has saved and spread millions of native wildflowers along county, state and federal roadways while helping pollinators thrive.
"Jeff Caster has been the anchor that has kept FDOT involved with wildflowers for these last 20 years," says Terry Zinn, the Foundation's immediate past board chairman. "Every cause needs a champion in large organizations, and Jeff is that champion and anchor for wildflowers on our roadsides."
A leader in all respects
"We have been fortunate to have Jeff's vision and leadership on the board from the beginning days of the Florida Wildflower Foundation," agrees Anne MacKay, a legacy board member. "His talent as a landscape architect with the Department of Transportation and his love of wildflowers have made him an invaluable part of our efforts to beautify Florida's roadsides."
"He devoted innumerable hours to the wildflowers of Florida by serving on the Florida Wildflower Foundation board and as past chair," says Zinn. "He has pushed Florida's landscape architects to paint the landscape with native species and Florida wildflowers in residential, commercial and urban settings. Above all, he is the consummate statesman for Florida wildflowers."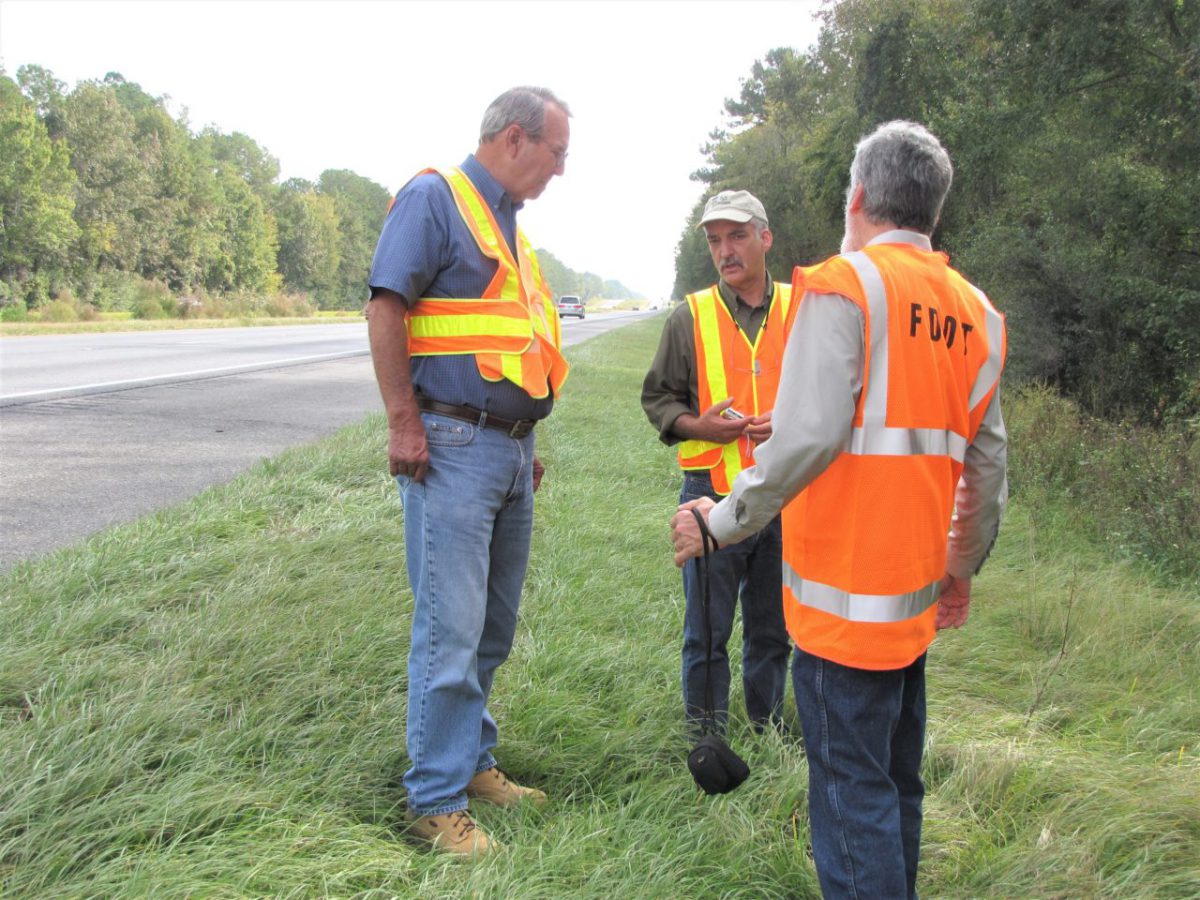 Caster's ability to ask the hard questions always brought clarity to discussions, remembers Nancy Bissett, a fellow FWF board member. "I so much appreciated his viewpoint and wisdom on the board. I especially remember the meeting where we were deciding how to move forth to a wildflower center. He asked twice — no, three times — if this was really the right move, considering the widespread latitude of our state and the costs of building and maintaining a center. I too saw the wisdom of that and am so glad we stepped back."
Dedication sows wildflowers
"Jeff Caster's dedication to the FDOT and the Florida Wildflower Foundation is one of the main reasons that Florida has an abundance of wildflowers on our state highways," says Brightman Logan, who served on the Foundation board with Caster. "His professionalism is evident in everything he pursues, and his leadership on the Foundation board of directors and Planting Committee have helped to greatly advance the success of many of our programs."
Jeff joined FDOT in 1993, working under then-FDOT Landscape Architect Gary Henry, who created the department's Wildflower Program.
Remembers Henry, "I first met Jeff in the early '80s while working with a volunteer organization dedicated to beautification of roadways and significant features in the Tallahassee area. He took on the landscape design of a main approach into the city. The community responded tremendously with finances and labor. His involvement proved the ability of the organization.
"It was fortunate for the Department of Transportation, when a position was created for a designer, and of all the applicants, Jeff stood out. He had just graduated from Cornell University with a landscape architecture degree. He was an impressive employee no matter what the assignment," Henry says.
"When Gary Henry retired from FDOT in 2001, he left a large void for Jeff to fill," says Jeff Norcini, FDOT wildflower and horticultural specialist. "Jeff has done an outstanding job of building on Gary's impressive accomplishments to keep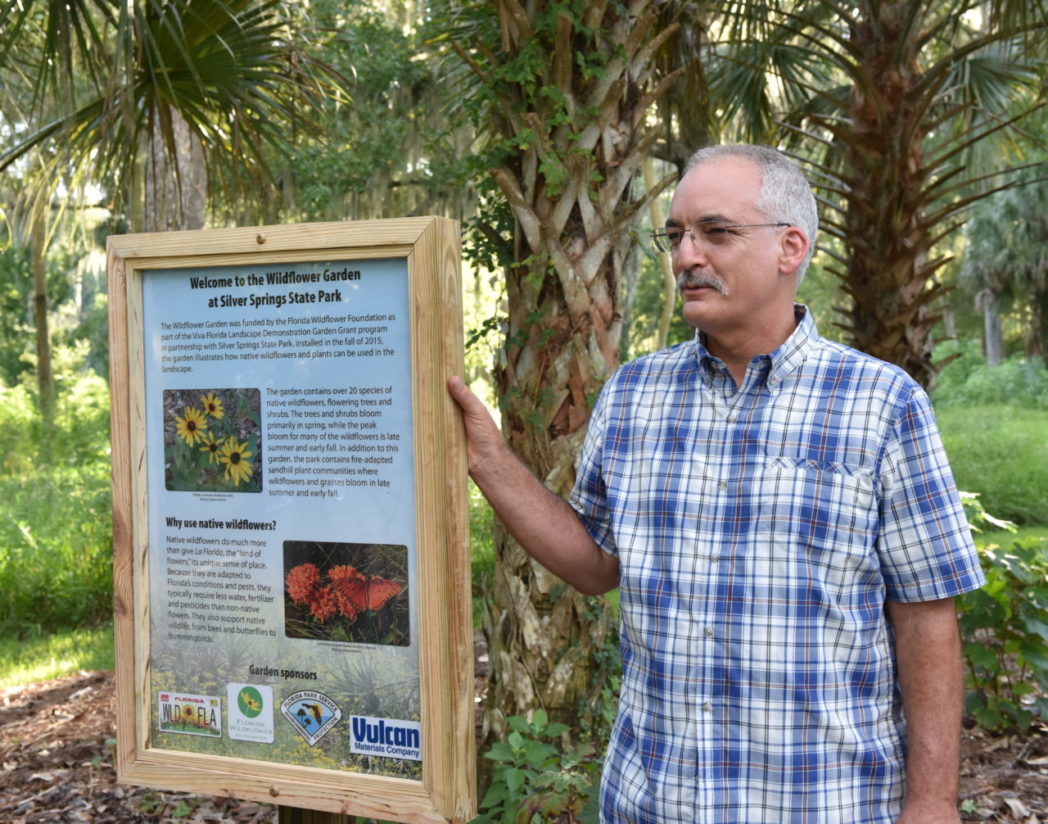 FDOT's wildflower program as one of the nation's best. Under Jeff's principled leadership, Florida's roadsides not only are more beautiful, they are being managed more sustainably, as there has been an increased emphasis on preserving naturally occurring stands of wildflowers and native plant community remnants. He is an evangelist for those initiatives, effectively communicating his views with a calm, insightful passion."
Raising the bar and pushing boundaries
"Florida's colorful roadside wildflower displays are hugely popular with residents and visitors alike," says Liz Sparks, the Foundation's regional wildflower alliance liaison. "The FDOT program that conserves these beloved wildflowers is largely successful due to Jeff's efforts. An affable, articulate spokesman for conservation of roadside wildflowers, he has tirelessly championed the program since its inception."
"Jeff Caster has been a tireless champion for roadside habitat and the Florida wildflower program," agrees Jaret Daniels, curator and program director at the McGuire Center for Lepidoptera and Biodiversity, Florida Museum of Natural History, Gainesville. "He masterfully embraced and pushed new boundaries of best practices to ensure that the Florida Department of Transportation met their mission. In doing so, he showed that safety and economic growth was not incompatible with environmental preservation, but was, in fact, a synergistic relationship where the collaborative outcome was greater than the sum of its parts.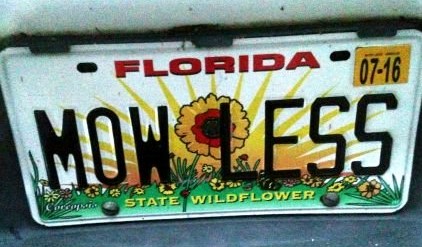 "In short, he is a fantastic colleague, true professional, and his presence within the FDOT and state of Florida will be sorely missed," says Daniels.
But Caster's service is broader than his guidance of the FDOT Wildflower Program. He also guides the department's Florida Scenic Highway Program, and "he is relied on by transportation professionals, industry and stakeholders to make projects more successful, enhancing safety, quality and value," says Ashley Binder, fellow FDOT landscape architect. He also has been "a tireless and selfless advocate for the citizens of the State of Florida."
An innovator, mentor and friend
Innovation is also a Caster trademark, according to those who have worked closely with him. Wildflower advocate Eleanor Dietrich, the Foundation's former FDOT liaison, says, "One of the qualities I admire most about Jeff is his collegial approach for participation in the FDOT Wildflower Program. This approach also allowed public input into departmental policies and procedures regarding wildflowers. Perhaps even wider access was made through providing a process for counties to request designation of Wildflower Areas for reduced mowing on federal and state roads. This process, via a county commission Wildflower Resolution, also encompassed the same process for county-maintained roads. He worked closely with the Florida Wildflower Foundation to develop and implement this process to meet FDOT agreement."
Caster's inclusive style made him a mentor to many. "As a Florida Wildflower Foundation board member, Jeff led the selection panel that interviewed me for the position of executive director in December 2007," recalls the Foundation's Lisa Roberts. "I was a stranger in a strange land when I was hired, but he steered and educated me with the knowledge, patience and encouragement that are the hallmarks of his personal brand. He became, and remains, a friend and mentor like no other I've had — my go-to when I need advice on all things diplomacy. I never fail to learn something when I talk with him. And his enthusiasm for Florida's environment and its wildflowers is infectious."
Caster's willingness to share knowledge and guidance were "huge assets when the Foundation was established," remembers founding board member Carolyn Schaag. "Jeff has been a leader, a joy to work with, an inspiration and a friend."
Urging others to get involved
Caster is always ready to lead and get others involved. "I first learned of Jeff when he was appointed to the Landscape and Environmental Design Committee of the Transportation Research Board within the National Academy of Sciences, Engineering and Medicine," recalls former Foundation board member David Fasser. "After I moved to Florida in 2004, Jeff managed to introduce me to the Wildflower Foundation and the Florida Chapter of the American Society of Landscape Architects. I remain extremely appreciative of his efforts, because becoming involved with those organizations allowed me to keep my retired pencil in the sharpener. And it allowed me to spend time with a kindred landscape architect. God bless you Jeff, you are loved and will be missed by many."
Whether as FDOT landscape architect or wildflower advocate, "Jeff is always convivial and polite, and goes out of his way to be friendly to others," FDOT's Binder says. "His demeanor, spirit and professionalism are exemplars for what a state employee should be. His impact will remain long after he has retired from the Department," she predicts. "All those who know Jeff have learned about preservation of natural resources and conservation."
Says Henry, "The people of Florida and the Department of Transportation were fortunate to have had his skills, management and direction."
Sparks agrees. "He will be missed as he begins a well-deserved retirement, but his legacy will continue among the beloved blooms of Florida's roadsides."
"Without question, Florida is a better place because of Jeff," Norcini says.