Grant spotlight: UF wildflower meadow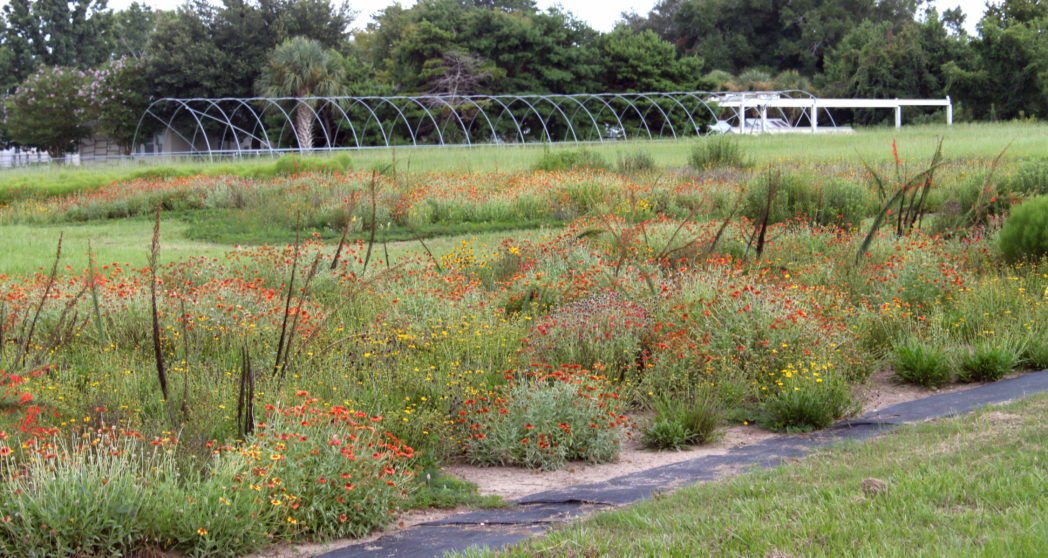 The University of Florida's "Long-term Educational Wildflower Meadow" in Gainesville is part of a larger project that included a survey to evaluate student perceptions and attitudes about Florida native wildflowers and creation of a wildflower meadow for teaching and research. Plans call for additional planting beds, trails, wetland areas and educational displays. The project, funded by the Florida Wildflower Foundation, began as joint effort in 2007-2008 between UF's Environmental Horticulture and Landscape Architecture departments with advice from the Florida Wildflower Growers Cooperative.
Students and staff conducted the site analysis, cleared turf for planting beds and installed irrigation lines. Seeds from North and Central Florida were propagated by students to create the plants that formed the beautiful flowering display in summer 2011.
Chief advisor for the project, Dr. Hector Perez, is an assistant professor in the Environmental Horticulture Department and a founder of the Plant Restoration and Conservation Horticulture Research Consortium at UF. The meadow is on No Name Road, which is north of Fifield Hall, east of the Microbiology building and south of Lake Alice.
Dr. Perez shared his comments about the wildflower meadow in a recent interview:
What was your impression of the garden last fall?
We had a dazzling floral show throughout the fall despite the drought and hot weather. It was impressive to see how many of the species in the meadow thrive under such adverse conditions. I was also impressed with the number of different insect floral visitors. I have not seen so many different types of bees, bee-like insects, and beetles in a long time.
What kind of maintenance does the garden need?
The wildflower meadow was established on an abandoned field. As you can imagine, this type of site hosts many types of weed species. During late spring through summer, we are focused on trying to control emergent weeds such as nutsedge, pusley, groundnut, Bermuda grass and others. It seemed like summer lasted throughout the fall this year, so we had to be extra vigilant. My team has done a fantastic job this season of managing weeds, but this is an on-going effort. Nevertheless, it was interesting to see how the established wildflowers could outcompete some of the weeds for light and other resources.
Does research continue in the garden?
Because of the mild fall/winter, we can still harvest seeds of some species growing in the meadow. We plan to use these seeds in a study focusing on seed viability after storage under different conditions. Informally, we continually observe how wildflowers perform in terms of flowering and durability.
Is there any particular research you would like to share with us?
We have some publications due out during the next several months. One paper, published in the journal HortTechnology (Volume 21, pages 779-788) this December, details the results of our survey of Florida native wildflower producers and their analysis of the current native wildflower market, views on research areas vital to enhancing the industry, and activities to help increase awareness of Florida native wildflowers. A second paper, due out in early 2012 in the journal Propagation of Ornamental Plants, deals with vegetative propagation of various Polygonella species. This study investigated the effectiveness of different concentrations of a rooting hormone and rooting substrate on rooting success at sites in North, Central and South Florida. We expect that this paper will have direct applications for wildflower growers. A third paper is under consideration for publication. This paper attempts to explain the variable response of germinating Rudbeckia mollis seeds to different temperature scenarios. We expect that the information generated from this research will inform end-users on effective establishment strategies.
Any other comments or plans for the garden's future?
Our vision for the garden is to transform it into a center for research, education and outreach on wildflowers. Undoubtedly, this will take time, resources and great effort. I feel we have fantastic support from many wildflower enthusiasts around the state that can help make this a reality.