Gary Henry: A remembrance
It is with immense sadness that we observe the passing of our friend, colleague and mentor Gary Henry, who died in Tallahassee on Aug. 8. He was 72. Not only was Gary a founding Florida Wildflower Foundation board member, he was the visionary who shaped the Florida Department of Transportation's (FDOT) Wildflower Program when it officially began in the 1970s.
Gary graduated from the University of Florida in 1971 with a landscape architecture degree and immediately joined FDOT. During the next 30 years, he was responsible for a variety of agronomic and horticultural programs. In 1972, he began developing the Wildflower Program, which had its roots in experimental plantings in the '60s.
Knowing that Florida native wildflowers needed an economic engine to fund programs, Gary began working with the Florida Federation of Garden Clubs (FFGC) in 1996 to establish the State Wildflower license plate. Legislation creating the plate was passed in 1999, and it went on sale in May 2000. The plate now has raised more than $4.25 million for wildflower education, planting, conservation and research projects throughout the state.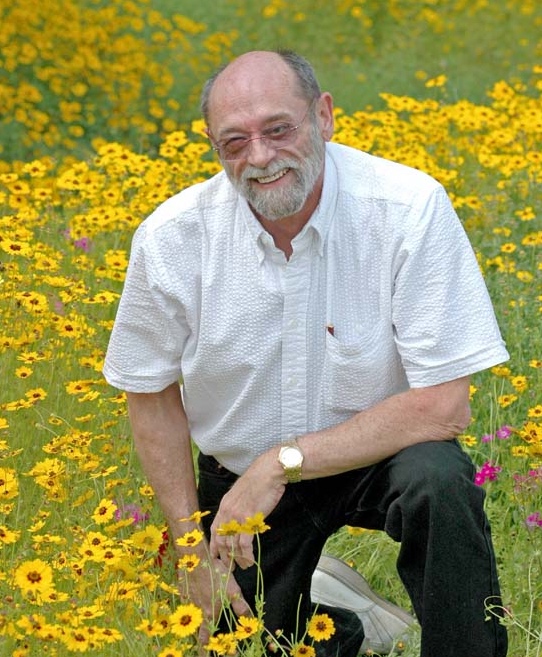 When the Florida Wildflower Foundation was founded in 2001 to receive license plate proceeds, Gary became the first of its directors, serving until his death. And upon his retirement from FDOT the same year, he took the organization's helm. He was appointed its first executive director in 2004, serving until his retirement in January 2008.
"When I took over the post of executive director in February 2008, Gary let me make it my own," says Lisa Roberts. "He offered advice when I asked for it then stood back patiently and quietly, letting me make and learn from my goofs and cheering my successes. I will never forget his kindness, generosity and love for the Florida Wildflower Foundation and its mission. I would often call him to work out some small detail or to get his advice. The conversation was almost always laced with his humorous quips. We enjoyed a lot of laughs together."
Creating a native, natural legacy
Jeff Caster, a former FDOT landscape architect who worked closely with Gary at FDOT, says, "Gary was good. He was strong and smart, and genuinely honorable, generous and kind. For me, Gary was like a big brother, always looking out for me and scolding me when I needed it. I learned and grew by watching how Gary treated his friends and family. Thirty years of friendship with Gary made me a better man, son, husband and father."
"He was decades ahead of his time; too frequently being the brunt of ridicule from hard-nosed engineers, the sand and gravel guys," Jeff says. "Gary was not deterred. Like a fox, Gary made the department work for the benefit of La Florida, the land of flowers. In the 1990s, when there were only a few specialty license plates in Florida, Gary turned a vision into reality. By his genius and heart, he motivated the lieutenant governor's office, Florida Federation of Garden Clubs and department to seek legislation to create a State Wildflower license plate and a Florida Wildflower Advisory Council. By his pen, the legislation committed tag proceeds to research, education and the planting of native wildflowers. Before anyone knew it, Gary enlisted the Florida Department of Agriculture and Consumer Services to help farmers start a wildflower seed industry and the University of Florida to initiate research projects into seed ecology and seed production.
"Fifty years after the start of Gary's career, we can look back and forward into the future and see the beauty of Gary's gifts to our natural world. Upon his retirement, Lady Bird Johnson, the world's most notable wildflower advocate, took time to write him a most meaningful letter of appreciation."
A visionary who motivated others
"I met Gary in 1993 when we both worked at FDOT," says Terry Zinn, a longtime FWF board member and former board chairman. "He was the champion inside and outside of FDOT for wildflowers. Nothing is accomplished in large organizations without a champion. The Foundation would not exist except for him. I will miss him dearly."
"Gary was a true gentleman and the original impetus for creating the Florida Wildflower Foundation," says Brightman Logan, FWF Research Committee chair and former board member. "He was the guiding influence for so many years, and we all deferred to him for his thoughtful vision of what the Foundation's direction and goals should be. The Foundation today is a direct extension of Gary's influence and caring for our native wildflowers, their natural habitats and their importance in our urban and rural environments."
FWF Board Vice Chair David Price agrees. "Gary made the world better and more beautiful for having been in it. His legacy lives on in his work and contributions. "
"I have known Gary Henry for a long time and have had the joy of working with him first as a member of FFGC," says legacy FWF board member Carolyn Schaag. "Gary supported FFGC in the Paths of Sunshine wildflower planting award, the designation of Coreopsis as Florida's state wildflower, the planting of Florida highways with wildflowers and native plants, the collection of wildflower seeds for distribution, and the collection of 10,000 signatures and $30,000 from FDOT for the State Wildflower specialty license plate. Florida has blossomed because of Gary's love of wildflowers!"
In honor of his dedication, FFGC awarded Gary its Medal for Achievement in Horticulture in 2009. The same year, he was awarded FWF's Friend of Florida's Wildflowers Award, now called the Coreopsis Award.
"When I look into my backyard and see my large patch of Blanketflower (Gaillardia pulchella), Gary's favorite wildflower, I will remember him in my heart!" Carolyn says.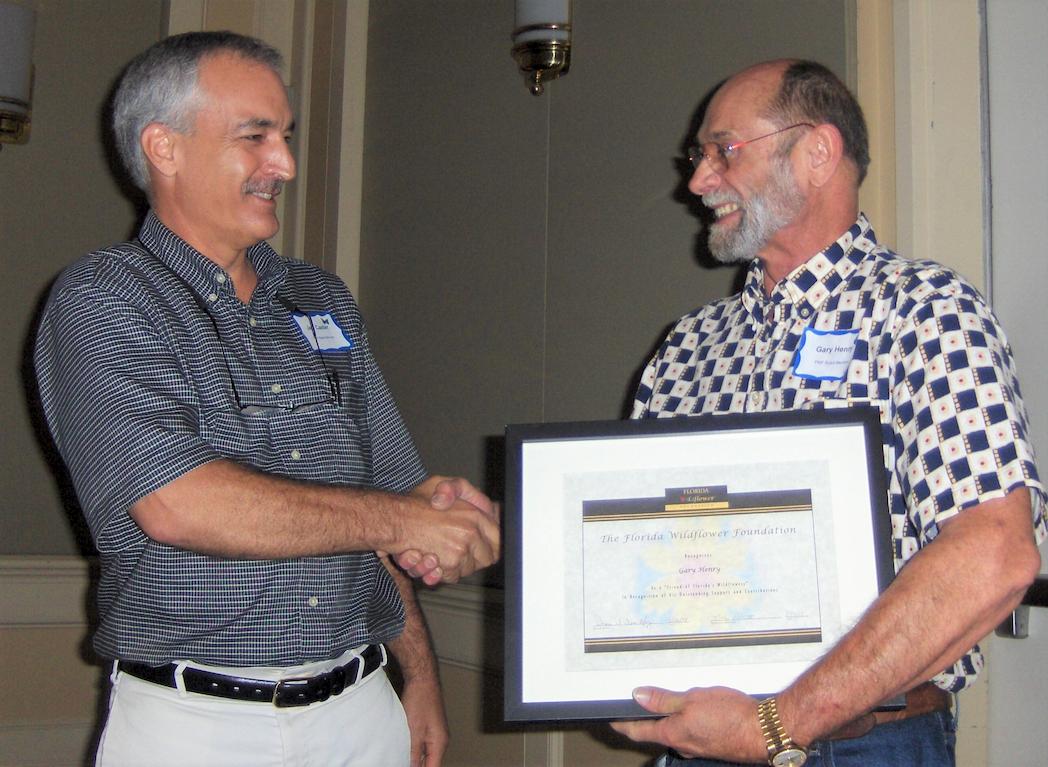 An encouraging voice
"He was always an encouraging voice," fellow founding board member Anne Mackay remembers. "Early on, when we were struggling with various outside interests and conflicts, his connections to FDOT and the Florida garden clubs, plus his generous financial contributions, made him the face of Florida wildflowers. We will miss him but will always remember how the Florida Wildflower Foundation began. What a legacy!"
Jeff Norcini, FDOT wildflower horticulturalist, agrees. "The FDOT Wildflower Program would not have reached its lofty heights without Gary's leadership and vision. While the wildflower program began in the early '60s, it was under Gary that it began to bloom and reach national prominence. And there would be no State Wildflower license tag had it not been for Gary's tireless efforts working with the Florida Federation of Garden Clubs."
"I am forever thankful for Gary's enthusiastic support of my fledgling wildflower program – not only was it a major boost, but it led to the development of Florida's wildflower seed industry in the early 2000s," Jeff says.
Good meals, good friends
One of the few things he loved just as much as talking about wildflowers was sharing a good meal with friends. "Gary made it known that any time I was in Tallahassee overnight, there was a dinner invitation with my name on it," Lisa says. "Steak was usually on his mind, and he never let anyone else pick up the check. Of course, he would insist on the best restaurant in town."
Former board member and University of Central Florida professor emeritus Dr. Walter Taylor met Gary when he came to tell the school's biology faculty about the Foundation's work. "Gary was a true lover of Florida wildflowers and other things of Florida's natural world," Walter remembers. "I had just begun to hone my interest in Florida wildflowers, and I spoke to him after his talk. Over the years my wife, Karin, and I became true friends of Gary's, and every year he would send us a Christmas card. He was super-generous to the Foundation in serving on the board and donating funds to its cause. He was honest, friendly, kind and beyond reproach. We will miss Gary much."
Gary's passion for Florida's natural world only grew after his retirement from FDOT. He loved trying out a new wildflower or native plant species in his yard and watching the numerous songbirds attracted to his feeders. He also enjoyed collecting art and doting over his Maine Coon cats. Never one to be idle, he practiced woodworking, enjoyed sewing quilts and excelled at baking treats. And he loved getting together over lunch with friends.
"He was always especially nice to me, taking an interest in my quilting. He shared his own quilting projects with me," says Karin Taylor.
Board member Nancy Bissett will miss his sunny optimism. "I have known him from way back when I was trying to fight for more natives preserved and planted on roadsides. Then as a board member, his cheerful face that brought yummy chocolate-covered toffees. And his incredible donations to FWF."
Supporting the future in all ways
Gary provided matching funds for many a year-end fundraising campaign, Lisa says. "His dedication to the success of our organization knew no bounds. He wanted to do all he could to help us accomplish our mission." His enthusiasm for the license plate often translated to marketing materials that would arrive with little to no notice at the office. "The creation of magnets bearing a photo of the plate was his pièce de résistance. We handed them out like hotcakes. Everyone wanted one for their fridge!"
In recognition of his enormous contributions to Florida's wildflowers and their natural ecosystems, the Foundation board of directors in 2007 established the Gary Henry Endowment for the Study of Florida Native Wildflowers at the University of Florida. The endowment's earnings provide assistance to UF graduate students conducting native wildflower research. FWF has invested $300,000 in the endowment, which is managed by the University of Florida Foundation Inc. The contribution was made possible by donations received through the State Wildflower license plate.
Gary also was a founding member of the Foundation's William Bartram Legacy Society, ensuring that the work he fervently believed in will live on through his estate.
Gary Henry: In his own words
The following is excerpted from a board member profile published in 2010.
"For quite a few years, I've had the pleasure of working with many people who love the natural beauty of Florida and treasure all that is unique about the state. Those of us who support the Florida Wildflower Foundation have worked hard to educate others about the value and importance of wildflowers to the environment and to mankind, but we still have a lot of work to do. We cannot educate ourselves and others without proper research and knowledge, and that is my endeavor in being a member of the Florida Wildflower Foundation.
"Growing up, I was fixated on flowers. It didn't matter what they were: If they caught my eye, I was interested. Spending summers during high school working in a nursery had the biggest impact on my future. Plants! Five years studying landscape architecture at the University of Florida galvanized my interest. But it wasn't until I began working at the Florida Department of Transportation that I had a true education. There was an effort to use the plants that were available in the industry and required the least maintenance. Unfortunately, back in the early '70s, besides exotic tropicals, which required some care to survive or to look decent in our public places, there weren't many choices.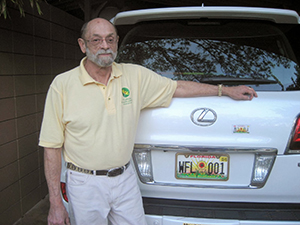 "About that time I was assigned FDOT's Wildflower Program. We tried planting all kinds of species that were available nationwide, but they were tremendously unsuccessful. It wasn't until a research project was funded that we learned the major problems: We were using non-native seed and planting out of season. The more I was challenged by my superiors and the Florida Federation of Garden Clubs, the more focused I became on trying to make the program a success.
"The Wildflower Program was one of the most rewarding programs I worked on; it became a personal interest that continued into retirement. Seeing a roadside or field covered in a fabulous display has never ceased to thrill me.
"To me, the creation of the Florida Wildflower Foundation was the best way to continue the program for the future and increase our knowledge of our native species and encourage public involvement."
If you would like to make a donation in Gary Henry's memory, please click here.