Pictured above: Shiny blueberry (Vaccinium myrsinites) by Mary Keim. Click on terms for botanical definitions. View post as a PDF.
Shiny blueberry (Vaccinium myrsinites) is a low evergreen shrub that flowers heavily in the spring. It occurs naturally in mesic pine flatwoods, sandhills, scrubby flatwoods, dry prairies and scrub habitats. The flowers attract a variety of pollinators. The fruits are consumed by birds and other wildlife — humans enjoy them, too!
Blooms are white to whitish-pink, urn-shaped and born in clusters. Sepals vary from green to dark pink. The alternately arranged leaves are elliptic to ovate with entire margins. They are glossy green on top, while the undersides have red glands that require magnification to see. Fruits are globose berries that turn purplish-black and glaucous when ripe. Fruiting typically occurs in late spring and early summer.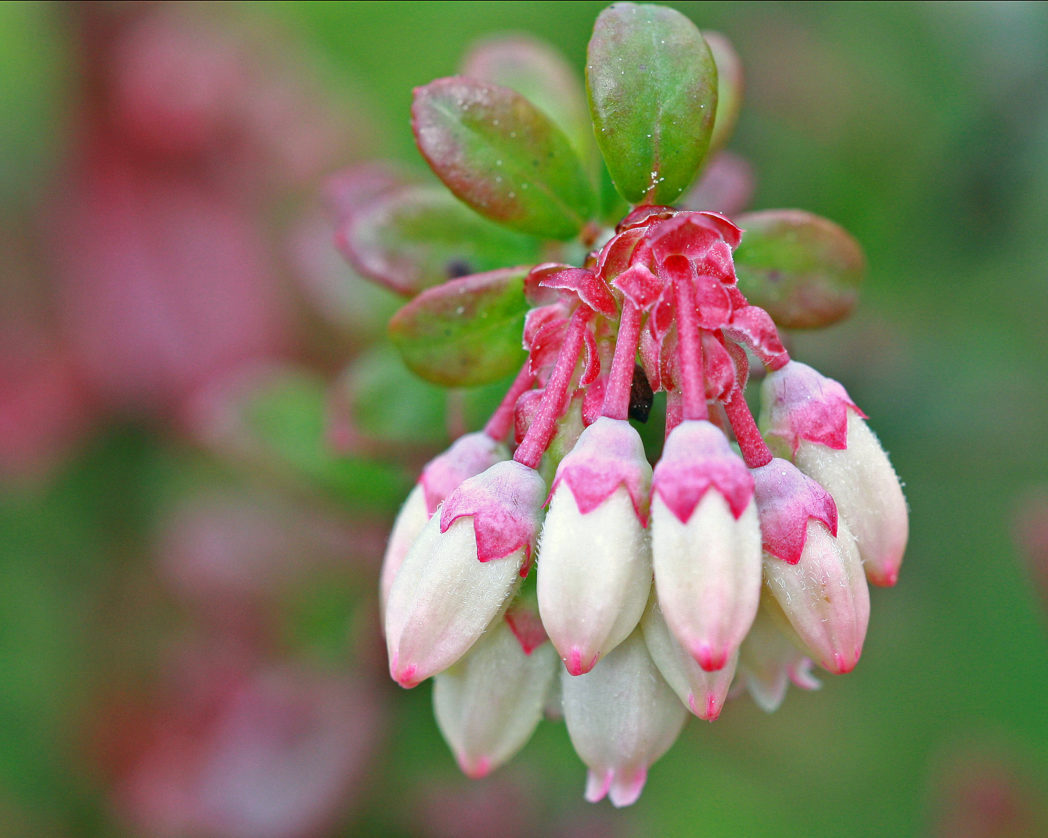 Family: Ericaceae (Heath or heather family)
Native range: Nearly throughout
To see where natural populations of Shiny blueberry have been vouchered, visit florida.plantatlas.usf.edu.
Hardiness: Zones 8A–10B
Soil: Moist to very dry well-drained acidic soils
Exposure: Full sun to partial shade
Growth habit: 1-2' tall and wide
Propagation: Division, ground layering, seed (can be difficult to germinate)
Garden tips: Shiny blueberry is densely vegetated and is suitable for a low hedge or border plant. It works well in a naturalistic landscape as well as a container. According to A Gardener's Guide to Florida's Native Plants, solitary plants rarely form fruit; two plants that are genetically unrelated are needed in order for maximum fruit production.
Shiny blueberry plants are occasionally available from nurseries that specialize in Florida native plants. Visit www.plantrealflorida.org to find a nursery in your area.