Pictured above: Southern beeblossom (Oenothera simulans) by Mary Keim. Click on terms for botanical definitions. View post as a PDF.
Southern beeblossom (Oenothera simulans) is an erect herbaceous annual. It produces wandlike spikes of fuzzy, reddish-pink buds that open in the evening as delicate white four-petaled blossoms. They turn pink the following day and then wither away. Each flower has four narrow sepals, eight prominent stamens with reddish-brown anthers, and a long pistil that flares open at the tip. Stems emerge from basal rosettes of long, lanceolate leaves with toothed margins. Stems are long, slender and widely branched, giving the plant a lanky appearance. Stem leaves are sessile with entire or toothed margins and are alternately arranged.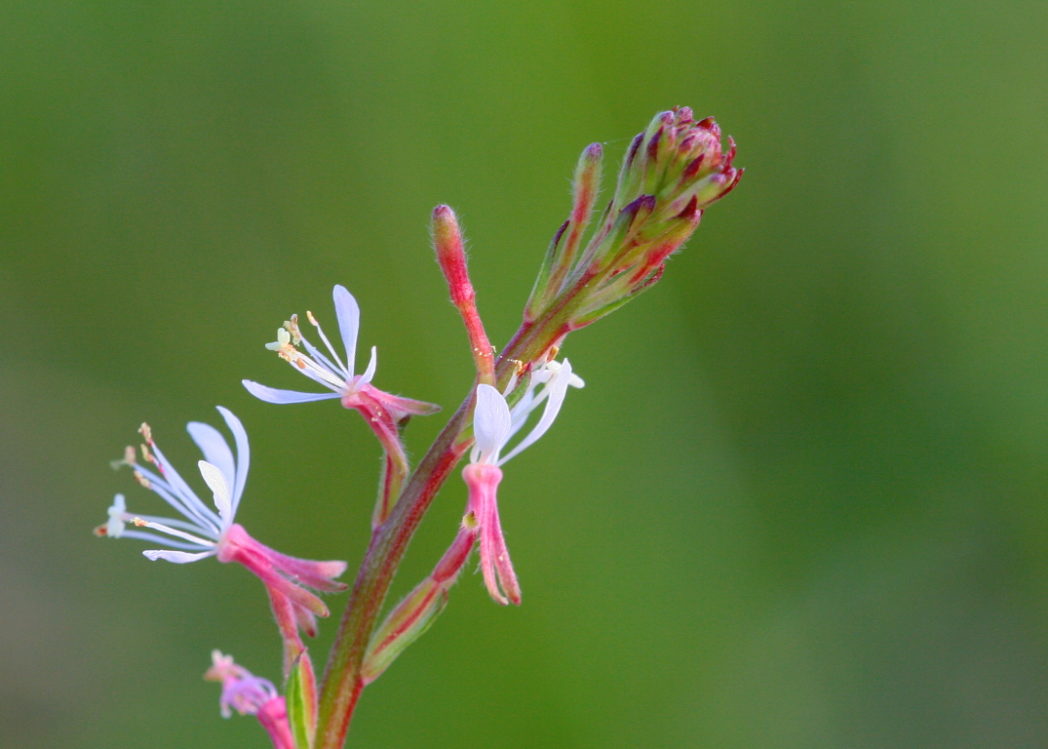 Southern beeblossom occurs naturally along roadsides and in pinelands, open woods and sandy fields. It flowers spring through summer and attracts a wide range of small pollinators, including moths and bees. The pollen grains are held together by a threadlike substance and can only be collected by pollinators that are morphologically specialized. Its flowers open at night (hence the family name, evening primrose), so only pollinators that forage at night can pollinate them. Birds have been known to eat Southern beeblossom seeds.
Oenethera simulans was previously named Gaura angustifolia. The genera Gaura and Calylophus were once separate but have now been combined with Oenothera based on DNA evidence.
Family: Onagraceae (Evening primrose or willowherb family)
Native range: Nearly throughout Florida
To see where natural populations of Southern beeblossom have been vouchered, visit www.florida.plantatlas.usf.edu.
Hardiness: 8A–11
Soil: Dry, well-drained sandy soil
Exposure: Full sun
Growth habit: 3-6'+ tall
Propagation: Seeds
Garden tips: Southern beeblossom self-seeds readily and produces many seedlings. Deadheading is recommended to prevent it from spreading.
Although Southern beeblossom plants are not widely available commercially, they are sometimes available from nurseries that specialize in Florida native plants. Visit www.plantrealflorida.org to find a nursery in your area.