Pictured above: White birds-in-a-nest (Macbridea alba) by Eleanor Dietrich. Click on terms for botanical definitions. View post as a PDF.
White birds-in-a-nest is a rare and unique wildflower endemic to only four counties in Florida's Panhandle. Its flowers bloom May through July and attract mostly bees. The plant occurs naturally in coastal pinelands, seeps, bogs and wet savannas primarily within the Apalachicola National Forest and is fire-dependent. White birds-in-a-nest is a state-listed endangered and a US-listed threatened species. Threats to this plant include destruction of habitat, suppression of fire, silvicultural, and herbicides used on powerline rights-of-way.
White birds-in-a-nest's flowers each have a double-lipped white corolla and a hood-like upper lip. Bracts are bright green to greenish-yellow. Leaves are lanceolate to spatulate and succulent with toothed margins. They are oppositely arranged. Leaf surface may be rough or sticky. Stems are square, erect and may be covered in tiny hairs. Although it is in the mint family, the plant is typically without fragrance.
White birds-in-a-nest gets its common name from the way its white mature flowers resemble birds encircling a green "nest" formed by bracts. The unopened white flower buds appear egglike nestled within the nest.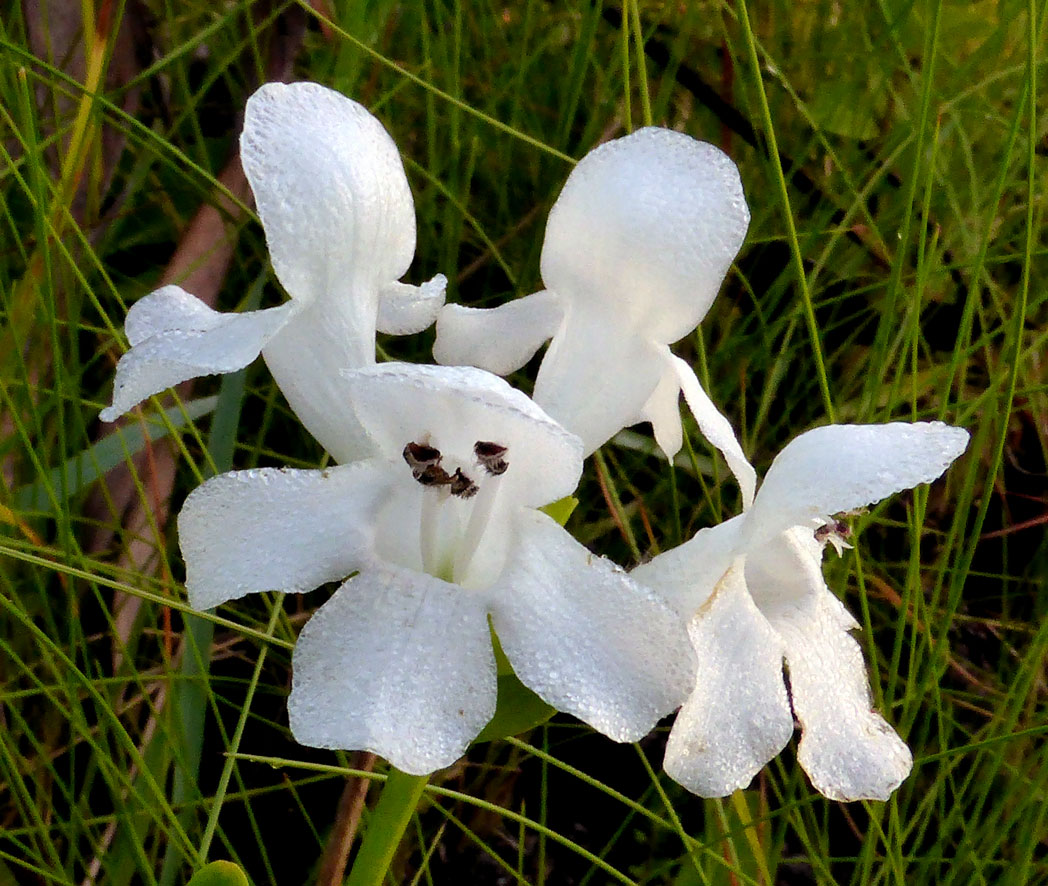 Family: Lamiaceae (mint family)
Native range: Bay, Gulf, Franklin, and Liberty counties
To see where natural populations of White birds-in-a-nest have been vouchered, visit www.florida.plantatlas.usf.edu.
Hardiness: 8A–8B
Lifespan: Perennial
Soil: Poorly drained soils
Exposure: Full sun to minimal shade
Growth habit: 1–2' tall
Garden tips: White birds-in-a-nest seeds and plants are not commercially available. You'll have to visit a natural area to see them.
To see where White birds-in-a-nest occurs naturally, visit www.florida.plantatlas.usf.edu.