Pictured above: Rose-rush (Lygodesmia aphylla) by Stacey Matrazzo. Click on terms for botanical definitions. View post as a PDF.
Rose-rush (Lygodesmia aphylla) is a striking perennial wildflower that occurs naturally in sandy flatwoods, scrub, sandhills and pine barrens throughout most of Florida. It is near-endemic, occurring outside of Florida in only a few Georgia counties. It blooms spring through summer; in South Florida, it may bloom into fall. Like other asters, it attracts a variety of pollinators.
Rose-rush flowers are solitary and relatively large (1–2 inches in diameter). Their long ray florets may be pink, lavender or whitish and have toothed tips. Disk florets are absent. Stamen are extended, twisted and conspicuous. Stems are slender, erect and rush-like. They are often branched. Leaves are long, linear and mostly basal. Stem leaves, if present, are reduced and scale-like. Seeds are achenes with silky white pappus that aids in wind dispersion.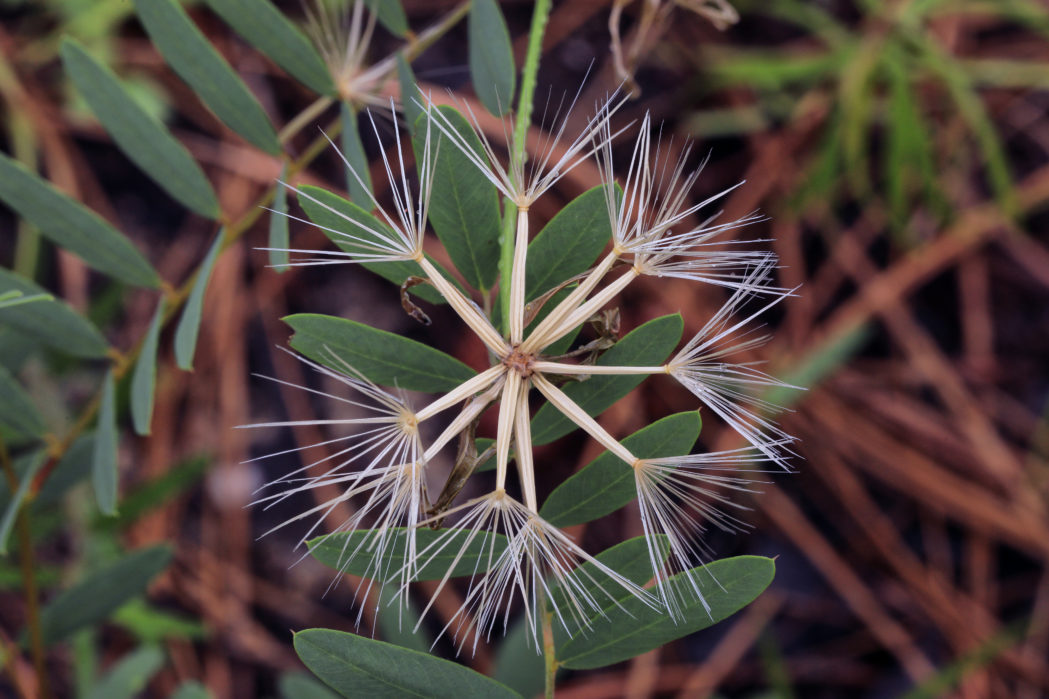 Family: Asteraceae (Aster, composite or daisy family)
Native range: Most peninsular counties to Collier and Miami-Dade in the south; Eastern Panhandle to Jackson, Calhoun and Gulf on the west.
To see where natural populations of Rose-rush have been vouchered, visit florida.plantatlas.usf.edu.
Hardiness: Zones 8A–10B
Soil: Well-drained, sandy soil
Exposure: Full sun
Growth habit: 1–2'+ tall
Propagation: Seed
Garden tips: While Rose-rush's attractive flowers make a nice addition to wildflower and butterfly gardens, its wiry and leafless stems all but disappear when the plant is not in flower. It makes the best show when planted in clusters. Rose-rush will self-seed more successfully if there are multiple plants; solitary plants often do not produce viable seed.
Rose-rush is typically not available commercially.