Pictured above: Wiregrass gentian (Gentiana pennelliana) by Eleanor Dietrich. Click on terms for botanical definitions. View post as a PDF.
Wiregrass gentian (Gentiana pennelliana) is a rare herbaceous wildflower endemic to only nine Panhandle counties, where it occurs naturally in pine flatwoods, wet prairies and seepage slopes. It is a state-listed endangered species and one of only four species of Gentiana that occur in Florida. Wiregrass gentian typically blooms in winter but may bloom from October into May. It is pollinated primarily by bees. The plant is fire-adapted and will bloom profusely after a burn.
Wiregrass gentian's flowers are white, funnelform and five-lobed. When open, the lobes spread out wide and flat. Between lobes, the floral tube is fringed. The tube interior is yellowish-green and lined with many tiny dark green dots; its exterior and underside of lobes may be purple. Lobes and fringe edges are often tinged with purple. Flowers are solitary and terminal. Leaves are linear or narrowly elliptic with entire margins. They are widely spaced and oppositely arranged along erect, unbranched stems. Lower leaves are reduced and scale-like.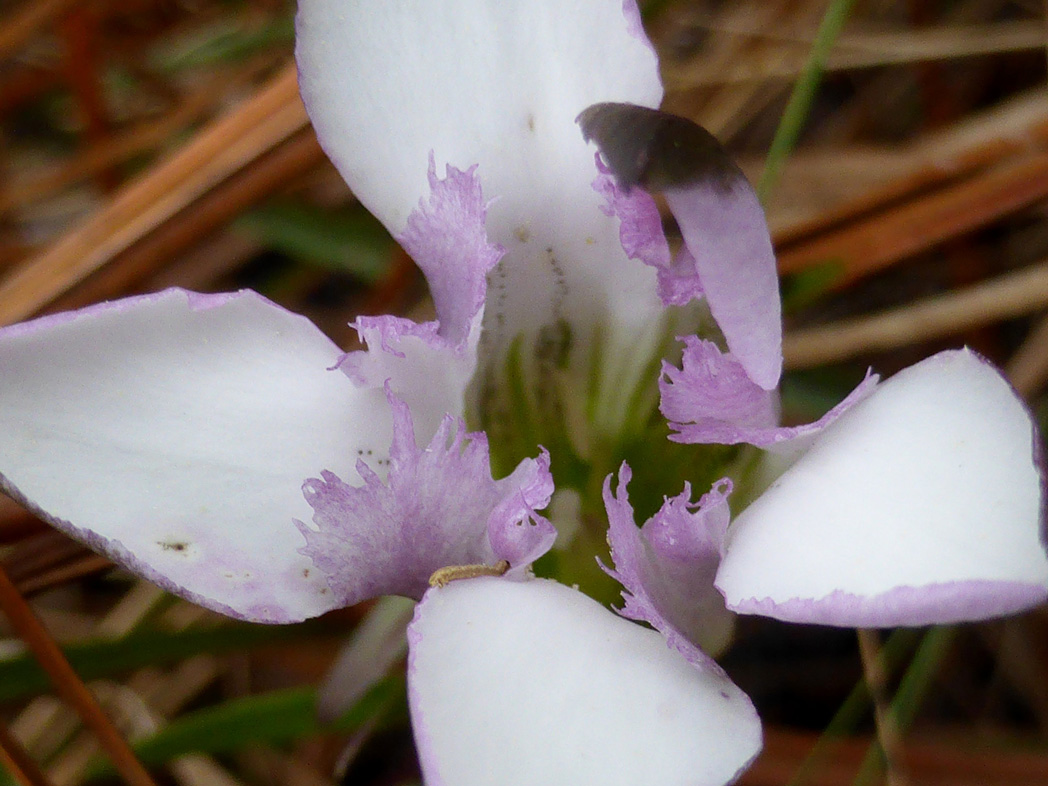 The genus name Gentiana and the family name Gentianaceae references the Illyrian king Gentius, who was thought to have discovered the tonic properties of Yellow gentian (Gentiana lutea). The species epithet pennelliana pays homage to American botanist Francis Whittier Pennell (1886–1952).
Family: Gentianaceae (Gentian family)
Native range: Central Panhandle
To see where natural populations of Wiregrass gentian have been vouchered, visit florida.plantatlas.usf.edu.
Lifespan: Perennial
Hardiness: Zone 8
Soil: Moist to wet, well-drained sandy or peaty soils
Exposure: Full sun to high pine shade
Growth habit: Up to 1′ tall
Wiregrass gentian is not commercially available. Visit a natural area to see them.