Pictured above: Dogtongue wild buckwheat (Eriogonum tomentosum) by Mary Keim. Click on terms for botanical definitions. View post as a PDF.
Dogtongue wild buckwheat is an herbaceous perennial that produces many creamy white to pinkish flowers in late summer and fall. Each flower has six sepals, no petals and nine long stamens topped with pinkish anthers. Flowers are borne in clusters on upper branches. Basal leaves are long (up to 6"), elliptical and whorled. They appear in the spring. Stem leaves are short (about 2"), sessile and arranged in a whorl. The undersides bear a dense cover of fine hairs. Stem leaves tend to wither and die in late summer. Stems are multi-branched and pubescent.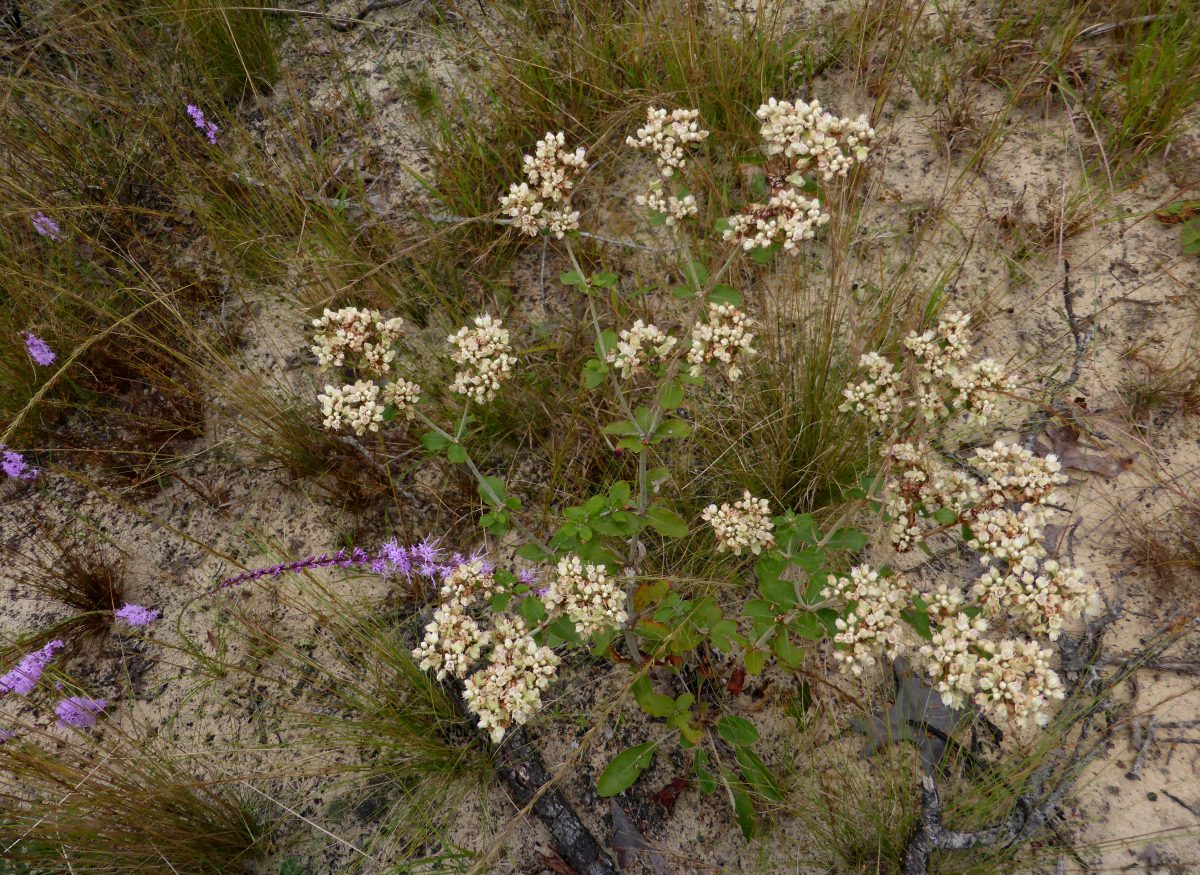 Dogtongue wild buckwheat is common in sandhills, scrub and dry pinelands. The flowers are attractive to a variety of pollinators, but are less frequented by butterflies.
The genus name, Eriogonum, is from the Greek erio (erion), or "wool," and goni, or "knee" ("joint"), alluding to the hairy joints found on many plants within this genus. The species epithet, tomentosum, refers to the hairy undersides of the leaves.
Family: Polygonaceae (Knotweed, smartweed or buckwheat family)
Native range: Panhandle west of Jefferson County; north and central peninsula (excluding eastern counties)
To see where natural populations of Dogtongue wild buckwheat have been vouchered, visit www.florida.plantatlas.usf.edu/.
Hardiness: Zones 8A–10B
Soil: Very dry, sandy soils
Exposure: Full sun
Growth habit: Up to 2' tall
Propagation: Seed
Garden tips: Although it is rarely available from nurseries, dogtongue wild buckwheat is easy to grow and maintain. Its profuse blooms make it a lovely addition to a mixed wildflower garden. Because it flowers in the fall, its white blooms contrast nicely against the yellows and purples of other fall-flowering species.