Pictured above: Black titi (Cliftonia monophylla). Photo by Alan Cressler, courtesy of Lady Bird Johnson Wildflower Center. Click on the terms for botanical definitions. View post as a PDF.
Black titi (Cliftonia monophylla) is a perennial evergreen shrub to small tree. Its fragrant white-to-pinkish flowers are borne in long, showy racemes. Its thick leaves are simple with glaucous undersides and entire margins. They are alternately arranged. The nutlike fruits are yellow-orange drupes that look like buckwheat grains, hence the plant's other common name of buckwheat tree.
Black titi typically blooms in spring. It occurs naturally in swamps, bogs, wet flatwoods and along stream edges. It is a wonderful attractor of pollinators — specifically honeybees who use its nectar and pollen to produce honey — and is also browsed by deer.
Black titi (pronounced tie-tie) is the sole species in the genus Cliftonia, which is one of only two genera in the Cyrillaceae family.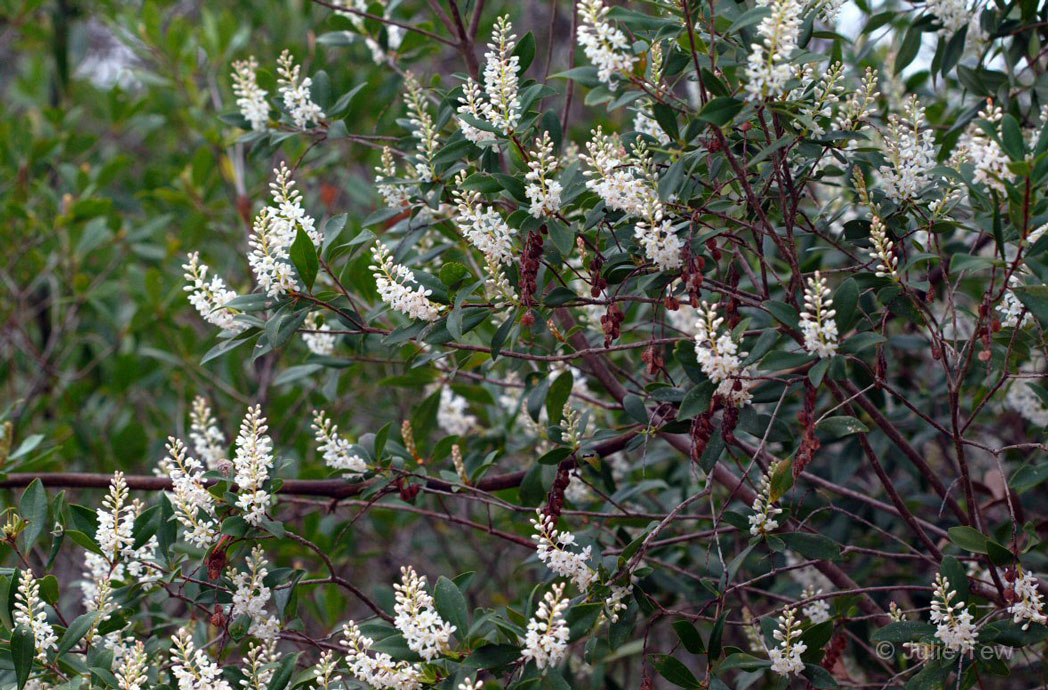 Family: Cyrillaceae
Native range: Panhandle and Clay, Marion and Putnam counties
To see where natural populations of black titi have been vouchered, visit www.florida.plantatlas.usf.edu.
Hardiness: 8A–8B
Soil: Moist to moderately dry acidic soil
Exposure: Full sun to partial shade
Growth habit: 15'+ tall
Propagation: Seed
Garden tips: Black titi can be easily maintained as a shrub or small tree. It can form dense thickets and makes for a nice hedge in moist sites or along pond edges. It can also tolerate moderately dry soils in a landscape.
Black titi plants are occasionally available from nurseries that specialize in Florida native plants. Visit www.plantrealflorida.org to find a nursery in your area.