Pictured above: Florida bellflower (Campanula floridana) taken at Green Swamp Wildlife Management Area. Photo by Stacey Matrazzo. Click on terms for botanical definitions. View post as a PDF
Florida bellflower is an herbaceous perennial wildflower endemic to Florida. It is found in moist meadows and along pond, marsh and stream margins and moist roadsides. Its delightful violet flowers bloom in spring and mainly attract bees and butterflies, although hummingbirds also have been known to visit them.
Florida bellflower has a five-lobed purple corolla. The lobes are linear and wide-spreading to form a star shape. The style is three-parted. The calyx is composed of five bright green linear sepals. Leaves are ½ to 1 inch long, linear to lanceolate and clasping. They are alternately arranged. Leaf margins may be entire or finely toothed. Stems are thin, weak and sprawling. Seeds are born in capsules.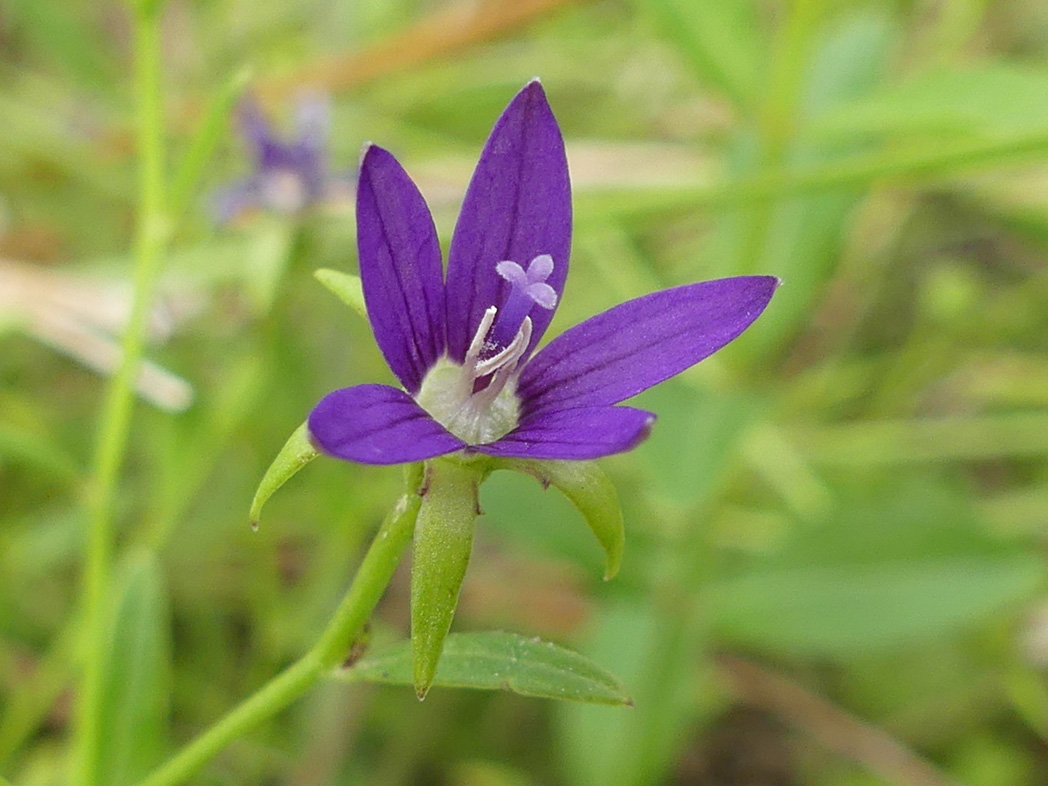 Florida bellflower's three-parted style. Photo by Stacey Matrazzo
The genus name Campanula and family name Campanulaceae are from the Latin for "little bell." The species epithet floridana literally means "of Florida."
Family: Campanulaceae (Bellflower, harebell or lobelia family)
Native range: Jackson, Liberty, Wakulla and most peninsular counties south to Collier and Broward
To see where natural populations of Florida bellfower have been vouchered, visit florida.plantatlas.usf.edu.
Hardiness: Zones 8–10B
Lifespan: Perennial
Soil: Moist well- to poorly drained sandy soils
Exposure: Full sun to partial shade
Growth habit: Stems 12–16" long, often prostrate
Propagation: Seed, cuttings, division
Garden tips:Florida bellflower spreads vigorously by underground rhizomes and may be used as a groundcover in open, moist areas. Although not generally available commercially, homeowners may find it flourishing within their turf lawns, particularly if they are overwatering.