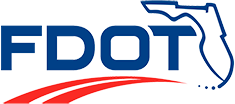 Florida Department of Transportation Wildflower Program
This page is hosted by the Florida Wildflower Foundation as a courtesy to the Florida Department of Transportation.
The decline of honey bees and Monarch butterflies over recent years has brought the issue of pollinators to the forefront of roadside management. Pollinators' importance to Florida agriculture and ecosystems is recognized by FDOT and is included in the Wildflower Program Purpose Statement:
"To develop and implement integrated vegetation management practices on roadsides and other transportation right of way, including reduced mowing, for the benefit of pollinators, while developing and maintaining safe, cost effective and efficient transportation corridors and systems …"
Reduced mowing is encouraged as a means of increasing roadside wildflowers and native grasses that benefit pollinators and other beneficial insects.
FDOT continues to sponsor pollinator and related initiatives, including: