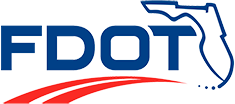 Florida Department of Transportation Wildflower Program
This page is hosted by the Florida Wildflower Foundation as a courtesy to the Florida Department of Transportation.
State Wildflower License Plate
The Florida Federation of Garden Clubs envisioned a wildflower specialty license plate in the early 1990s. In 1996, FDOT agreed to pay the $30,000 application fee for the plate if 10,000 signatures could be obtained and proceeds from the license plate were used to support FDOT's Wildflower Program. FFGC successfully collected the required signatures, and in July 1999, the Legislature approved the State Wildflower License Plate, which went on sale in spring 2000.
Each sale or renewal of the plate includes a $15 donation that supports wildflower education, research and planting throughout Florida. In 2002, the Florida Wildflower Foundation was established to receive and distribute plate donations.