Anne MacKay honored with 2019 Coreopsis Award
Anne MacKay received the 2019 T. Elizabeth Pate Coreopsis Award during the Florida Wildflower Symposium on April 13 in recognition of her 20 years of advocacy for Florida's wildflowers.
"Anne has been with us since the very beginning," said FWF Chairman Terry Zinn as he presented the award. "She was instrumental in the passage of legislation in 1999 that created the State Wildflower license plate while her husband, Buddy MacKay, served as the state's lieutenant governor. The plate has now raised more than $4.2 million for wildflower education, research and planting projects."
For 20 years, Anne has steered work for Florida's wildflowers, first serving on the Florida Wildflower Advisory Council, then on the Florida Wildflower Foundation's board of directors, on which she served as chair. Fellow legacy board member Gary Henry summed it up, "She is right there all the time – commenting, reviewing, supporting. She's always asking how she can help."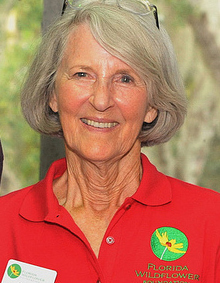 Anne is particularly passionate about wildflower education. Thanks to her vision, the Florida Wildflower Foundation now has the robust Wild About Wildflowers Activity Guide for third- and fourth-graders. It is used in many Florida classrooms, and teachers all over the United States have requested copies.
She also helps with fundraising by opening doors and encouraging donors, organizations and grant-makers to support our work. Her Southern graciousness and courtesy are known far and wide, and there's nothing finer than getting a handwritten thank-you note or phone call from Anne after making a donation to the Florida Wildflower Foundation.
The T. Elizabeth Pate Coreopsis Award is named in honor of a longtime Florida Federation of Garden Clubs and Florida Wildflower Foundation volunteer who was a passionate supporter of roadside wildflowers.
Past award recipients include Dr. Richard Wunderlin of the University of South Florida, botanist Nancy Bissett of The Natives, Dr. Walter Taylor of the University of Central Florida, Dr. Loran Anderson of Florida State University, Carolyn Schaag of the Florida Federation of Garden Clubs, and Gary Henry, founder of the Florida Department of Transportation's wildflower program.
Thank you, Anne, for your dedication to Florida's native wildflowers!