Roadside wildflower surveys — on the road again
by Laura Bennett-Kimble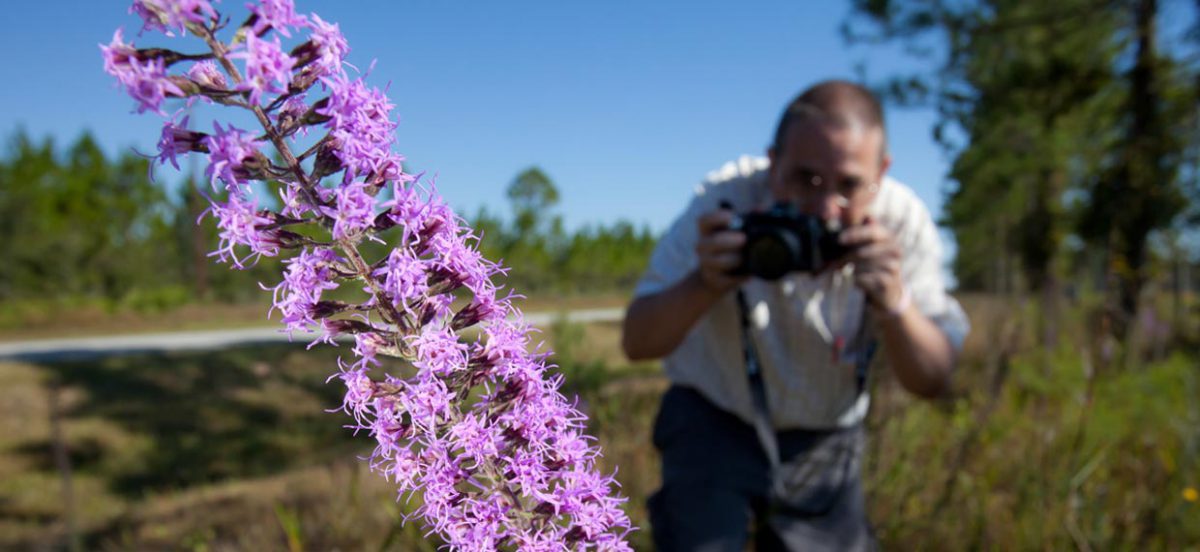 What native wildflower species are living along Florida's roadsides? Are they thriving or struggling? Is there enough plant diversity to support native pollinators, including Monarch butterflies and other insects that require specific host plant species?
These are some of the questions that will be addressed this week when wildflower horticulturalist Jeff Norcini, of OceoHort LLC, hits the road for the Florida Wildflower Foundation to locate roadside wildflower populations in two state regions. The goal of the surveys is to build a network of native wildflower habitat along roadsides to host insect pollinators as they travel between farm fields and forests.
Because most roadsides are sunny, highly disturbed sites, they are prime places for wildflowers to colonize. As noted in a 2014 presidential memo about pollinator decline, that makes roadsides one of the best places in which to build pollinator habitat that supports struggling native bees, Honey bees and butterflies.
The project will document areas of naturally occurring wildflower species along state, federal and county roads. Then the Foundation will work with the agencies maintaining those roadsides to preserve the wildflowers through management practices such as timed mowing.
Following the trail
When the first of the two surveys begins Thursday near Palatka, Norcini will follow the route of the St. Johns River-to-the-Sea Loop multiuse trail through Putnam, Volusia, Brevard, Flagler and St. Johns counties. In early July, he will traverse Dixie, Levy, Taylor, Madison, Lafayette, Gilchrist, Hamilton, Columbia and Suwannee counties in the state's Big Bend region. A seasonal survey in each region will be done in summer, fall and spring in order to observe plants in various stages of their life cycles.
In particular, Norcini will be keeping an eye out for native plant community remnants, rare and endangered plants, and milkweed plants, which are essential to support Monarch butterflies.
The routes were first surveyed by Norcini for the Foundation in 2009 and 2010. He is eager to see what's been going on since then.
"Weather can have a significant effect on wildflowers and grasses," he said. "It can affect the dormancy of seed banks, and you may not get the same show," depending on winter temperatures, very dry or very wet conditions and other factors.
More than pretty
Roadside wildflowers provide much more than pretty scenery for travelers to enjoy. The plant communities provide habitat for pollinators that are crucial to agriculture and, ultimately, the food we eat.
Florida's $12 billion fruit and vegetable and $124 million forestry industries depend on pollination provided by bees, butterflies, insects and a variety of animals, according to Duke Energy, which is sponsoring the Big Bend survey. Those pollinators, in turn, depend on wildflower habitat.
Research shows that providing wildflowers near crops can boost pollination and crop harvest, and quite a few of the roadside native plant communities to be surveyed are near forests and agricultural areas, Norcini said.
The hunt is not without its challenges. "It's hard to find a large stretch of native plant corridors; the ones I find are not even a mile long," he said.
"Ideal sites are where native plants are well-suited to their environments," Norcini added. "The plants have already sorted themselves out, and usually the only management needed is well-timed mowing."
He will concentrate his search in rural areas, because they are "pretty much left alone beyond the backslope. Urban areas are more difficult, because there's a higher expectation of manicured environments." Wildflower areas may get mowed at the wrong time in their life cycle if there are complaints about them being "weedy," which is more likely to occur closer to urban areas.
Safety concerns
Another public concern involves roadway safety. Does a shaggier roadside lead to safety issues? Not according to research Norcini shared in a January report for the Florida Department of Transportation.
"There is no evidence that reduced mowing is a safety issue with respect to sight distance or obscured signage," he says. "And here in Florida, reduced mowing on state roads has not been implicated in any crash from 2011 to mid-2018 with respect to sight distance or obscured signage."
In addition, evidence doesn't support a common concern that wildlife/vehicle crashes increase when roadside mowing is reduced. In fact, the habitat doesn't necessarily attract deer, because older turf is less appealing to them than tender shoots found in more frequently mowed areas.
Another plus? Fewer mowing crews leads to fewer potential crashes, as well as reduced mowing costs.