Good reads for trying times
Aldo Leopold's "Shack" in Wisconsin. Photo by Stacey Matrazzo
With stay-at-home orders in mind, we present three picks from our staff's bookshelves, guaranteed to provide pleasant hours of solace immersed in nature.
My life as a turkey
Illumination in the Flatwoods by Joe Hutto
This engaging book tells the story of Joe Hutto's incredible journey as a turkey parent. Working as a caretaker on a North Florida timber holding, he opens his door one day to find two dozen turkey eggs on his doorstep. He incubates them and begins raising the hatched poults, which quickly imprint on him. What follows is a beautifully written, uplifting story of his empathy for and dedication to a then-struggling species.
Hutto's recounting of his determination to return his brood to the wild includes vivid descriptions of roosting with them in trees, taking his young flock for walks in the woods, and teaching them survival skills. The book is sprinkled with his gorgeous pencil drawings, which depict the growing poults, encounters with predators, and many members of Florida's flatwoods community, including wildflowers, foxes, snakes and hawks.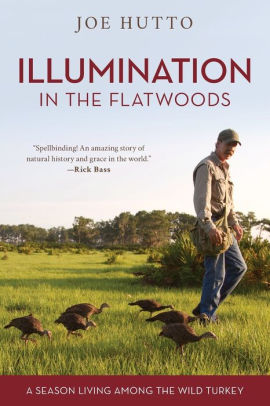 Hutto's rich first-person accounts follow the timeline of his efforts, inviting readers to join him in experiencing the highs and lows of his day-to-day journey. Emotions flow freely among his words. A breathless encounter with the grown Turkey Boy is wrenching, while his connection with the docile and affectionate Sweet Pea tugs at the heartstrings.
PBS' Nature featured Hutto's adventure in a segment titled My Life as a Turkey. If you don't read the book, consider ordering the DVD at the very least.
— Lisa Roberts
'The Land Ethic' takes root
A Sand County Almanac by Aldo Leopold
"There are some who can live without wild things, and some who cannot. These are the delights and dilemmas of one who cannot." So begins Aldo Leopold's A Sand County Almanac, a collection of essays combining beautiful narratives of natural experiences and observations with a highly charged and ethical argument for conservation and stewardship.
The book is laid out in four parts. The first details month by month the seasonal changes that transpired at Leopold's Wisconsin woodland retreat, "the shack." His curiosity and patience result in the most detailed observations of the interdependence that occurs within the natural world. He writes of the rough-legged hawk that "has no opinion why grass grows" but is "well aware that snow melts in order that hawks may again catch mice." He sees a dying oak, a victim of a lightning strike, not only as the source of his winter fuel, but as an historical text, each ring of the transect revealing another story, each bite from the saw penetrating another year like a trip back in time. He witnesses the expressive sky dance of the woodcock; although he does not fully understand this mysterious display, Leopold, an avid hunter, recognizes that the woodcock's utility is not simply as "a target, or to pose gracefully on a slice of toast" and willingly resolves to limit his future take.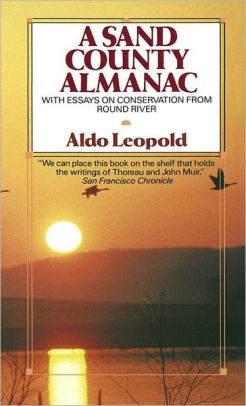 Parts two and three utilize the same technique as the first, with colorful descriptions to engage the reader in delight for the countryside. This time the geographical boundaries extend beyond Wisconsin to landscapes of the southwestern and northwestern United States and Canada.
Here, Leopold's tone begins to change from simple anecdotes and observations to more pointed commentary on the philosophical issues of conservation. Leopold describes the fertility and solitude of nature and of his own experience, his judgments transformed as a result of his immersion in nature. These are the experiences that, over time, helped frame the manifesto laid out in part four.
The book culminates in Leopold's most poignant essay, "The Land Ethic," in which he calls for an extension of human ethics to include the land and all that live and grow upon it. Leopold believed that an interconnectedness exists between man, his actions and nature. His basic tenet is the concept that land — which includes the whole of the biotic community, "the soils, waters, plants, and animals" — is to be loved and respected, and that humans are merely caretakers and not conquerors or masters of this community.
A Sand County Almanac is a carefully constructed argument for Leopold's tenet, largely made by allowing the reader to experience the beauty and wonder of nature and inspiring a personal connection to his experience. It is a masterfully woven tapestry of nature interrelated, illustrating the effects of one member of the community on another. Well ahead of his time, Leopold identified and wrote about concerns that, in decades to come, would perhaps be even more valid than when he first considered them. Through A Sand County Almanac, he demonstrated that it is not enough to simply know that nature exists; it is necessary to experience it in order that we may appreciate and understand our place within it.
— Stacey Matrazzo
Children deprived of nature
Last Child in the Woods: Saving Our Children from a Nature Deficit Disorder by Richard Louv
Passion is lifted from the earth itself by the muddy hands of the young; it travels along grass-stained sleeves to the heart. — Richard Louv
What happens when our children are raised without nature? At what expense will the safety of the indoors cost society? And what can society do now to incorporate nature into the lives of our children? Child-advocate Louv uses his well-honed journalistic skills in talks with child-development researchers, scientists, environmentalists, religious leaders, teachers, parents and children themselves to give us both warnings and solutions in his captivating seventh book.
"I like to play indoors better 'cause that's where all the electrical outlets are." Not atypical, as our children are now spending an average six and a half hours of screen time a day. But the social, psychological and spiritual implications of what Louv calls a nature deficit disorder — diminished use of the senses, attention difficulties and higher rates of physical and emotional illnesses — are now a harsh reality in the world today.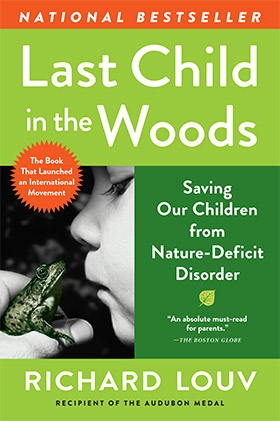 In Louv's well-drawn argument, he indicates how an education with frequent time spent in nature can enhance a child's critical thinking and decision-making skills. He also explains how children's time in the natural world is crucial to the future of our environment. When children connect with nature, they protect it. Future generations of children isolated from nature are not going to protect what they do not understand.
In this deep look at one of the most worrisome issues of modern-day life, Louv is hopeful. Nature, and its beneficial impacts, can be found on a trail, in a park, or in your backyard. This is not only a book for parents, teachers and anyone who has ever come into contact with a child. This book provides important reminders about why nature is crucial for the well-being of adults, as well.
— Rose Kinane