Spring news from PWA counties
Wildflowers are flourishing all over the Panhandle following a mild winter. We have some good news to report from across the region, with two new PWA leaders to introduce from Gadsden and Jefferson counties.
Bay County
PWA leaders Ray and Mila Benz were just getting oriented to the wildflower program last fall when Hurricane Michael turned the county upside down. Like many others, they have been displaced while they rebuild their historic Panama City home. They are just now getting back to a somewhat normal life where they can turn their attention to wildflowers. Ray and Mila share this recent report:
On October 11, Hurricane Michael hit Bay and surrounding counties of the Florida Panhandle. Severe damage was done to our ecosystem, structures and homes. We sustained extensive damage to our house and yard. Several large trees were lost, with one hitting our house. Some of the remaining trees began putting out new growth as if it were spring. The day after the storm, Monarch butterflies were fluttering around the yard, feeding on the remaining milkweed flowers. I wonder how they hunkered down to survive the storm. All through the winter, the monarch butterflies have remained. It was very uplifting to see the azaleas in full bloom last month.
Yesterday, Mila and I took a drive through the Bay County countryside to look at roadside wildflowers. We started on SR 79, heading north to SR 20. Last fall, we recommended the stretch between Steelfield Road and Pine Log Creek be designated a wildflower management area as there were significant fall flowers visible. We were pleased to see many spring flowers blooming along the roadside. We enjoyed the beauty of the blue, yellow and white flowers but are not sure of their names. We proceeded east on SR 20 to SR 77, then south to Panama City. The same wildflowers were observed along these roadsides. An additional FDOT designated wildflower sign was placed south of SR 388. Last fall, we also recommended the stretch between SR 20 and SR 388. Previously, only a two-mile stretch was designated. Unfortunately, a lot of debris had fallen on the roadside from trucks heading to the county landfill. The hauling of debris has been a monumental effort and I am confident that the roadside litter will be cleaned up.
In other Bay County news, the ReTreePC initiative has a goal to help restore Panama City's trees following the unbelievable devastation of Hurricane Michael. Panama City Parks and Recreation Manager Ty Farris hopes to solicit donations and volunteers to plant 100,000 trees in the next five years. Designated as a Tree City in 1992, the loss of an estimated one million trees within the city limits has been staggering. Ty enthusiastically promotes using native species of trees and plants during restoration efforts. Learn more about the effort and how to donate here.
Calhoun County
The fifth annual North Florida Wildflower Festival will celebrate the beauty and resilience of the region following the staggering county-wide hurricane devastation. Kristy Terry, the executive director of the Calhoun County Chamber of Commerce, states, "The community is gathering to celebrate being stronger than the storm." Please show your support and join the fun Saturday, April 27, from 9 a.m. until 2 p.m., in downtown Blountstown. The Florida Wildflower Foundation is a festival sponsor and is partnering with the FNPS Magnolia Chapter to share wildflower publications at the event.
Gadsden County
Gadsden County now has a team of stellar volunteer botanists scouting the county's roadsides and an energetic leader, Greg Jubinsky, to coordinate with county staff for modified roadside management. The county had been without a PWA leader since a wildflower resolution was signed by the county commission in 2013.
Now retired, Greg has a long history in conservation and land management, having worked with FNAI, DEP, and DNR. He brings a wealth of skills to the table. He and his wife, Mil, run Ragged Glory Farms, a small vegetable and herb farm. We look forward to seeing the designation of Gadsden's county roads to preserve a diversity of plant species.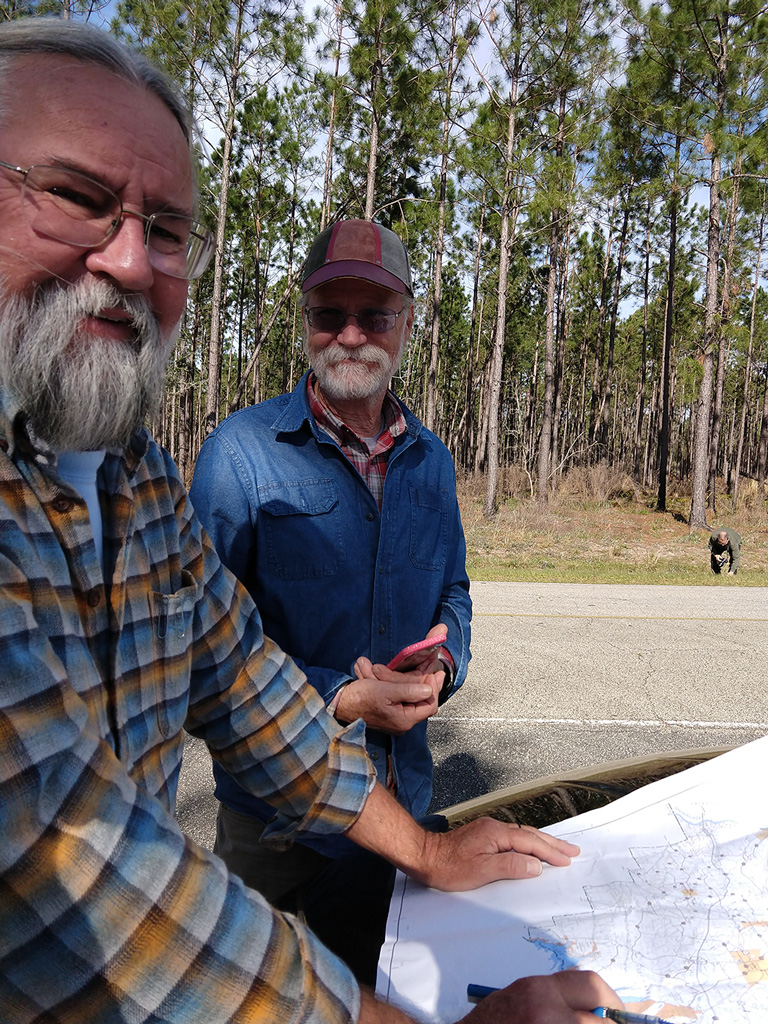 Gulf County
by Nancy Jones
Gulf County was hit hard by Hurricane Michael and Port St. Joe roadsides along CR 30A and US 98 were covered with debris (pictured, below right). Finally, most of the trash has been removed and roadside greenery and some spring wildflowers have returned (pictured, below left).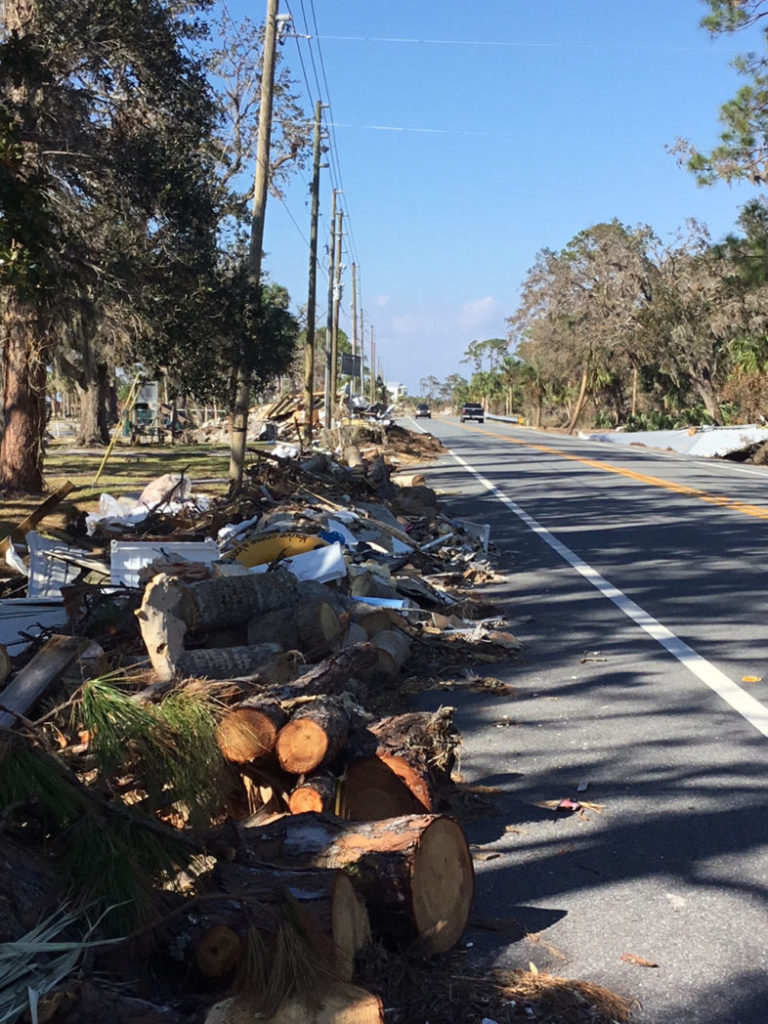 I am pleased to report that our Gulf County commissioners and administrators approved reduced mowing for wildflowers in January. And now, we have two recommendations for additional county roads to include from Bob Farley: CR 387 and CR 381. As we move forward, reducing additional mowing for wildflowers would be a great goal as well as targeting the timing for mowing.
As you are enjoying our spring wildflowers, watch out for nesting box turtles in roadways. Female box turtles are on the move as they look for nesting sites. If you see one in the road, be sure you move it to the side of the road it is pointed toward. Please don't put it in your car to release elsewhere. Box turtles have a home range and need to stay put for sources of food and water.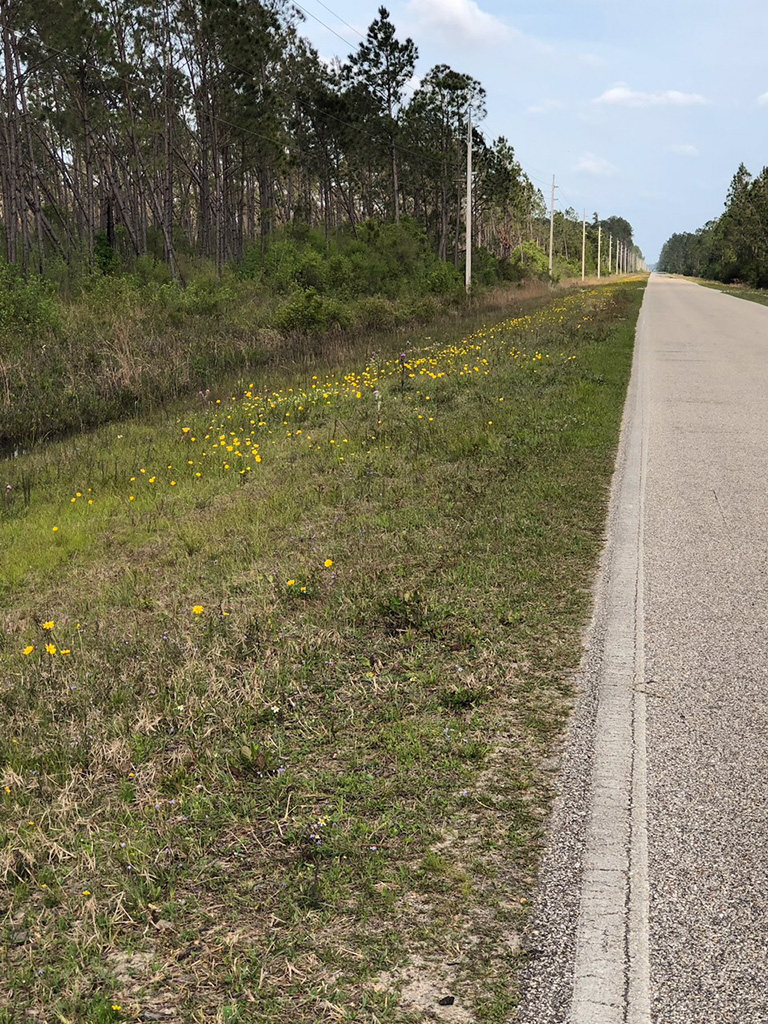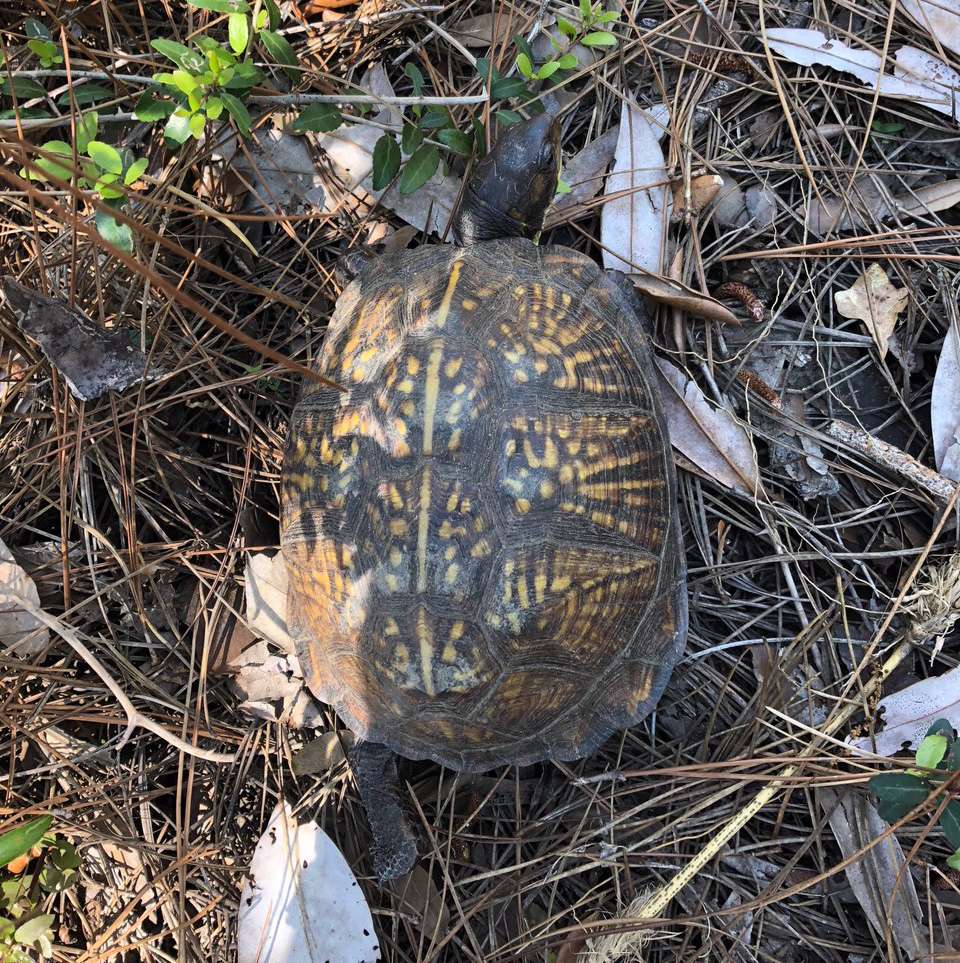 Jefferson County
We are happy to introduce Jennifer Mason, the new PWA lead for Jefferson County. She shares a little background with us:
Along with beginning to monitor the wildflowers along the Jefferson County roads, I am a fledgling member of the Monticello Garden Club and getting to know some pretty remarkable ladies!
I have been involved and in love with Florida wildflowers for decades. I was a propagator for a wholesale native plant nursery in Capitola in the early 90s. The farm is gone now, but I learned so much and knew exactly what grew well in this area and what didn't.
My husband and I own property near our home that we keep natural and preserve for future generations. I have brought many people to hike through these woods. Park rangers, a world-renowned aquatic entomologist, botanists and teachers have traversed the slope forest, creek and seepage springs. Many rare wildflowers turned up there and it sparked an interest and love in my kids for the flowers and wild places. I propagate some of these rarities and give them away. I have them in my garden and love to show folks the blooms. Always look out for the flowers before you mow!
Okaloosa County
We are sad to report that Mary Ann Friedman, PWA lead in Okaloosa County, is relocating to Colorado in a couple of weeks. Mary Ann has done an exceptional job of coordinating efforts with the local county staff and contractors to conserve habitat for the listed Frosted elfin butterfly (Callophrys irus)through modified mowing of select roadsides. Learn more about the butterfly and its intricate relationship with fire and the Sundial lupine (Lupinus perennis) here.
We thank Mary Ann for all she has done to conserve wildflowers (and a special butterfly) and wish her the best of luck in her new home. If anyone is interested in stepping into the leadership role Mary Ann is vacating, please contact Liz Sparks to keep Okaloosa's wildflower program active.
Wakulla County
Text and photos by David Roddenberry
Municipal public lands in Wakulla County are rare, and so are some of the County's wildflowers. Circumstance and vision have led to a wedding of the two things after the City of Sopchoppy established its Depot Park.
The park, situated opposite a historical restoration of the old Georgia, Florida and Alabama rail depot, will be multiple-use, but the local leadership envisioned native plant landscaping of appreciable parts. The Sarracenia Chapter of FNPS was asked to participate in the working group. It did, and with resources like the FNPS plant-finder tool, the chapter's representatives prepared a candidate list of native plant species. And with this really open opportunity, there was freedom to go a bit beyond the usual plant-selection confines and think about some of the most particularly indigenous plants.
Some really narrowly indigenous, Florida-endemic wildflowers have ranges touching or coming into Sopchoppy. For example, the aster Godfrey's blazing star (Liatris provincialis), with its native range of only a strip through part of Wakulla and Franklin Counties, follows the sandhills nearly to Sopchoppy. Scareweed (Baptisia simplicifolia), a legume that naturally occurs only in Wakulla and four surrounding counties, shows its handsome yellow flowers of summer in pinelands inside the city. And another Florida-endemic aster, Zigzag silkgrass (Pityopsis flexuosa), has a global range almost congruent with Scareweed's. (These species do have very large populations within their tiny ranges.)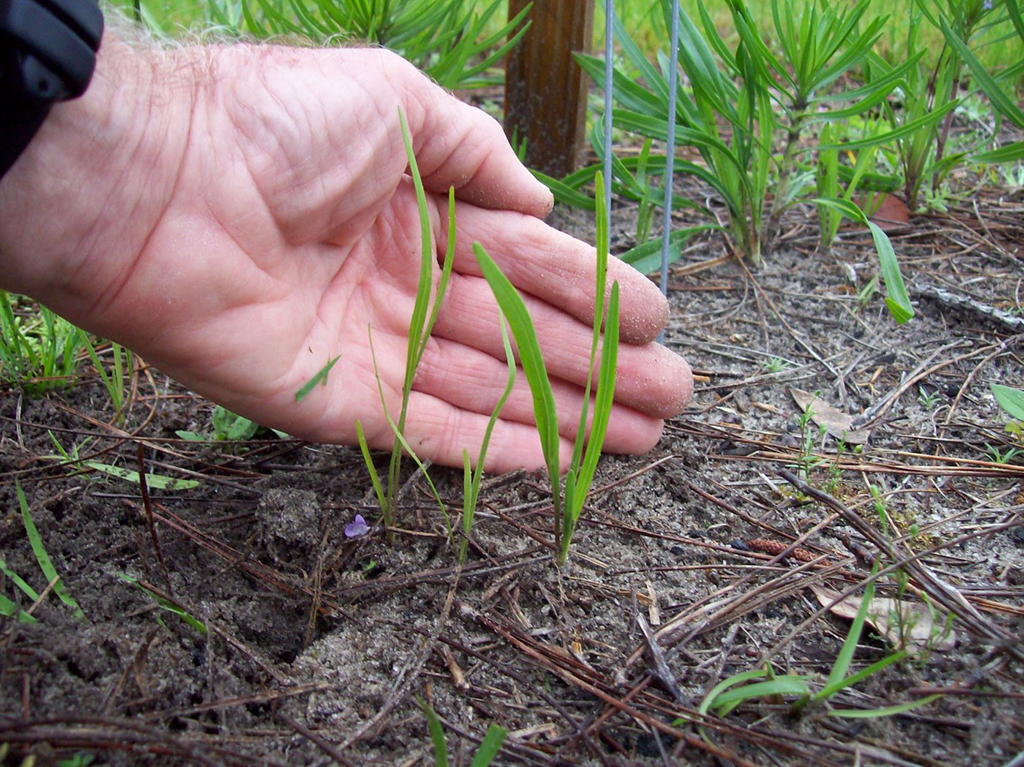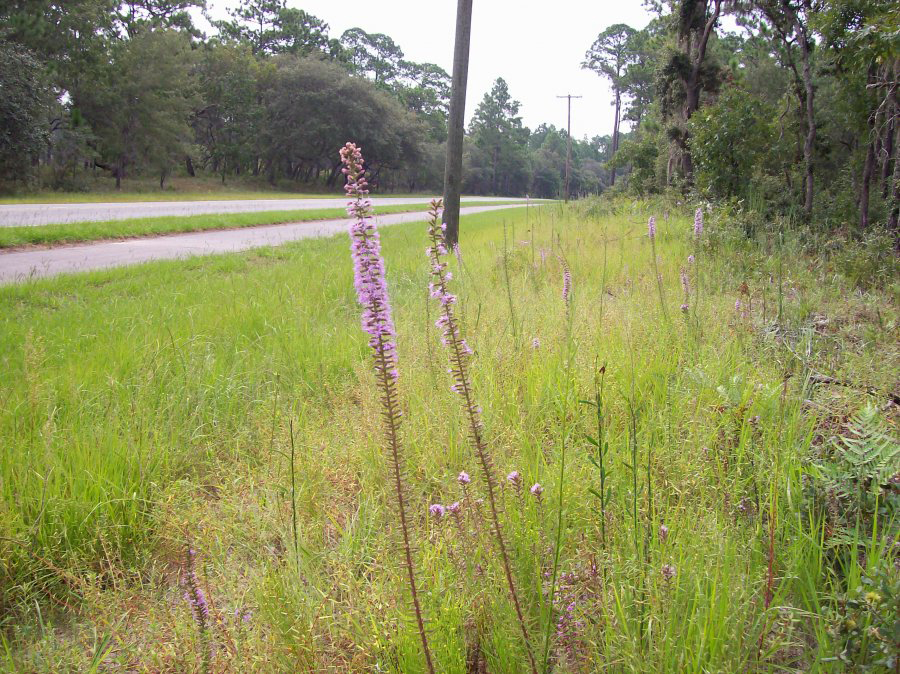 Those three are among some 44 species from Sarracenia's suggestions now given spots in the Depot Park native landscape design created by Betsy Smith. Not surprisingly, though, they and several other suggested wildflowers were not to be found in the nursery trade when plants were procured and installed in fall 2018. Still there is good news: Sarracenia's native plant enthusiasts were experienced in propagating all of them from the very abundant annual seed crops. They and collaborators are now producing the plants, mostly off-site, but some by direct seeding in the park.
Seeds of the two narrowly endemic asters above were sown in the park in late fall. There are now vigorous seedlings of both Godfrey's blazing star and Zigzag silkgrass in their designated spots. So far, so good. And with any luck, all species will be there in a matter of months.