Chris Waltz earns MVP Volunteer award
Facebook Live: Watch Chris explain how to assemble a pollinator pot.
Chris Waltz of Palm Bay was named the 2018 MVP Volunteer of the Year by the Florida Wildflower Foundation at its Florida Wildflower Symposium in Orlando on April 28.
At Foundation events, you're likely to find Chris unpacking, setting up then packing and helping load cars. He's there until the last of the Foundation's staff and volunteers leave the site, and he is always ready with a smile.
Chris has been an outstanding volunteer in every way, noted Lisa Roberts, the Foundation's executive director when she presented the award. "When we need a volunteer for an event, he's the first to raise his hand. When we need someone to lead a workshop, he handles it with finesse."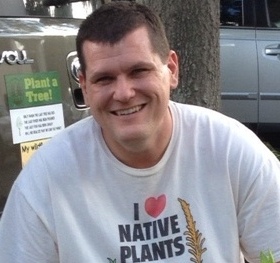 "His enthusiasm for native wildflowers and plants is contagious," Lisa said. "And today, you'll find him volunteering at our registration table and as a workshop leader who will explain how to assemble an ingenious pollinator pot for your patio or garden. He literally walks the walk and talks the talk."
Marissa Kaprow, a CPA with Ruggerio, Martinez & Norton, P.A., Winter Park, earned the inagural MVP Award. She serves as the Foundation's treasurer.